NORTH OGDEN, Utah -- A Utah mayor who was also a Utah Army National Guard major training commandos in Afghanistan was fatally shot by one of his Afghan trainees, officials said Sunday.
Brent Taylor, 39, had taken a yearlong leave of absence as mayor of North Ogden north of Salt Lake City for his deployment to Afghanistan.
He was a military intelligence officer with Joint Force Headquarters and was expected to return to his mayoral job in January. Another U.S. military member whose name was not immediately made public was wounded in Saturday's attack that killed Taylor, who died from wounds from small-arms fire, military officials said.
Maj. Gen. Jefferson Burton, the adjutant general of the Utah National Guard, told reporters that Taylor's mission was to help train and build the capacity of the Afghan national army.
"He was with folks he was helping and training. That's what's so painful about this. It's bitter," Burton said. "I do believe that Major Taylor felt he was among friends, with people he was working with."
Utah media outlets cited a statement from NATO saying that Taylor was shot by one of the commandos being trained and that the attacker was killed by Afghan forces.
The motive for Saturday's shooting -- the second insider attack at a base against foreign troops in less than two weeks -- was not immediately clear. The Taliban praised the attack.
Taylor leaves behind a wife and seven children. His remains are scheduled to arrive at Dover Air Force Base in Delaware this evening.
News of Taylor's death brought shock and grief to a Utah community in which he had served as mayor since 2013 and, before that, as a City Council member.
"I hate this. I'm struggling for words," Utah Lt. Gov. Spencer Cox posted Saturday. "I love Mayor Taylor, his amazing wife Jennie and his 7 sweet kids. Utah weeps for them today. This war has once again cost us the best blood of a generation. We must rally around his family. Thank you for your sacrifice my friend."
Utah Gov. Gary Herbert said Taylor "was there to help. He was a leader. He loved the people of Afghanistan... This is a sad day for Utah, for America."
"Brent was a hero, a patriot, a wonderful father, and a dear friend," U.S. Sen. Orrin Hatch of Utah said on Twitter. "News of his death in Afghanistan is devastating. My prayers and love are with Jennie and his seven young children. His service will always be remembered."
Herbert noted it is military protocol to wait 24 hours after contacting next of kin before publicly identifying a fallen service member, but acknowledged tributes to Taylor had already begun spreading on social media the day before.
Taylor served two tours in Iraq and was on his second tour in Afghanistan.
Taylor announced his deployment to his constituents in early January via Facebook Live, explaining that he had been called to help train Afghan commando units after President Donald Trump had ordered an increase in the number of U.S. troops in Afghanistan.
"There are three great loyalties that have guided my life and everything in it: God, family and country," Taylor said then. "While I am far from perfect in any of these respects, I have given my life to serve all three of these loyalties whenever and however I can. And right now there is a need for my experience and skills to serve in our nation's long-lasting war in Afghanistan."
He anticipated that his deployment would last 12 months and reassured North Ogden citizens that the city would be left in good hands.
Hundreds of residents of North Ogden lined the street to see him off as police escorted him and his family around North Ogden, a community of about 17,000.
Over the past 10 months, Taylor posted periodic updates of his Afghanistan service to Facebook, often sounding and looking optimistic.
In September, he celebrated from afar his 15th anniversary with his wife, Jennie Taylor. In their marriage, they had endured five years apart during four of Taylor's deployments to Iraq and Afghanistan, he wrote. Earlier that month, he wrote, he had watched his youngest child learn to walk via Skype.
"[Jennie] is truly the center of our home and at the very center of all our lives," Taylor wrote. "I second Winston Churchill, who said: 'My most brilliant achievement was ... to persuade my wife to marry me.'"
In his last Facebook post, dated Oct. 28, Taylor quoted Franklin D. Roosevelt -- "In the truest sense, freedom cannot be bestowed; it must be achieved" -- and spoke with pride about witnessing Afghanistan's first parliamentary elections in eight years, despite threats of violence.
"As the USA gets ready to vote in our own election next week, I hope everyone back home exercises their precious right to vote," Taylor wrote. "And that whether the Republicans or the Democrats win, that we all remember that we have far more as Americans that unites us than divides us. 'United we stand, divided we fall.' God Bless America."
Information for this article was contributed by staff members of The Associated Press and by Amy B. Wang and Sayed Salahuddin of The Washington Post.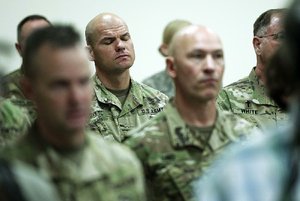 Photo by AP/The Salt Lake Tribune/FRANCISCO KJOLSETH
Soldiers attend a news conference Sunday about the death of North Ogden, Utah, Mayor Brent Taylor. Taylor, who was training Afghan commandos, was shot to death by a member of the Afghan security forces.
A Section on 11/05/2018