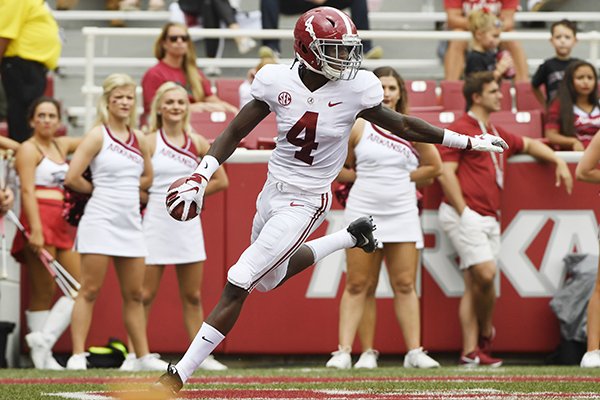 Alabama receiver Jerry Jeudy celebrates after scoring a touchdown against Arkansas in the first half of an NCAA college football game Saturday, Oct. 6, 2018, in Fayetteville, Ark. (AP Photo/Michael Woods)
This weekend's winner is CBS, which gets Georgia at Kentucky at 2:30 p.m. Saturday, then Alabama at LSU at 7 p.m. Most TVs won't change for eight hours.
The SEC has five bowl-eligible teams, and two more could join the list. One definitely will as the winner of Texas A&M at Auburn will get win No. 6. Mississippi State should also make it after hosting Louisiana Tech.
Did not have a good day picking last week. The Missouri Tigers really blew one, while Mississippi State made a big statement against Texas A&M. Went 3-3 to bring the season record to 60-22.
Here's this week's picks:
South Alabama at Arkansas State
It is time for the Red Wolves to make a move in the Sun Belt. They are at an unfamiliar 1-3 in league play, 4-4 overall. They were picked to win the West Division, and still could with a clean sweep of the final four games and some losses by the teams in front of them. Right now, the only goal should be beating the Jaguars to get one win away from bowl eligibility. ASU 35-24
Alabama at LSU
For two weeks, probably to build this game up even more, "experts" have said and wrote that the Crimson Tide haven't seen a defense like the Tigers. Well, the Tigers haven't seen an offense like the Tide's. The arguments are beginning that this is the best team in Alabama history, and it may be. The game is in Death Valley, but so far this year the Tide have been deadly no matter where they play. LSU is No. 7 in the country in points allowed at 15.1, but Bama is No. 10 at 15.9. The Tigers are No. 60 in the nation in scoring, averaging 30.4. Alabama is No. 1, averaging 54.1 points per game, and quarterback Tua Tagovailoa hasn't played in the fourth quarter. Alabama 38-21
Texas A&M at Auburn
One of these teams will become bowl eligible. The Aggies were lucky to beat Arkansas, Kentucky and South Carolina. The Tigers were lucky Arkansas' special teams weren't special. Last week, the Tigers were off while the Aggies lost to Mississippi State. Give Gus Malzahn an extra week, and he'll probably beat you. Auburn 31-24
Missouri at Florida
The Tigers' Drew Lock has thrown 16 touchdown passes, but he has a defense that is porous at best. The Tigers are looking for their first SEC win, while the Gators hope to move into a second-place tie in the SEC East. Florida 35-27
Georgia at Kentucky
This is the second biggest game in the SEC this week. The good news is the winner gets to the SEC Championship Game, while the bad news is Alabama likely awaits. The Bulldogs were expected to make it back to Atlanta, while the Wildcats have had some serious luck in three of their five conference wins. The Bulldogs' offense is really balanced. Georgia 35-21
South Carolina at Ole Miss
This is when the Rebels get to play spoiler. The Gamecocks need two more victories to become bowl eligible, and the Rebels are ineligible for a bowl. The Gamecocks need this one because two of their last three are at Florida and at Clemson. The Rebels had an extra week to prepare. Ole Miss 31-28
Louisiana Tech at Miss. State
This is the Bulldog Bowl. Tech is a solid football team that likes to throw it but also can run. State can become bowl eligible. Tech will try to stop quarterback Nick Fitzgerald from running, but if the defense sells out he's good enough throwing to beat the Bulldogs. Mississippi State 42-17
UNC-Charlotte at Tennessee
Show the 49ers the money, which is all that's in this for them. The Vols still have an outside shot at a bowl, and the push starts here. Tennessee 42-17
Sports on 11/02/2018
Print Headline: CBS hits jackpot with pair of SEC clashes
Sponsor Content
Comments