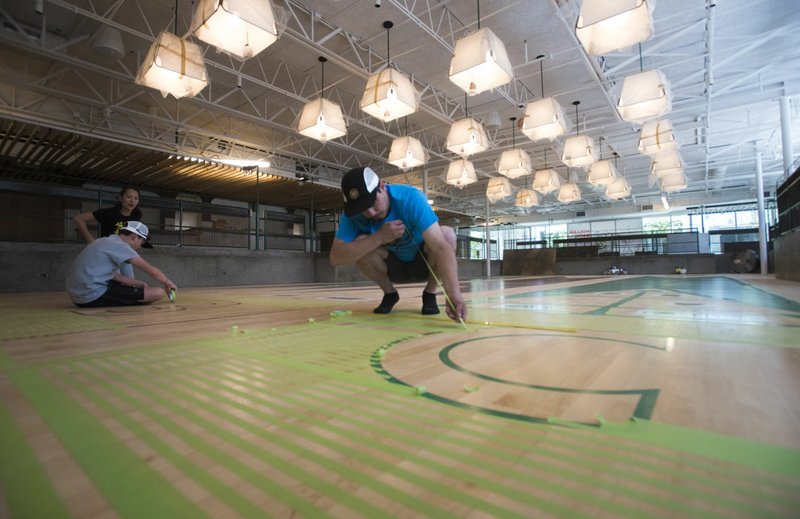 Graham Edwards (right) of Bella Vista works Saturday on the design for a shuffleboard game at The Holler at 8th Street Market in Bentonville. - Photo by Charlie Kaijo
BENTONVILLE -- Downtown shoppers will soon have another option to pick up fresh produce and artisan products, adding another layer to the city's growing food options.
Downtown Bentonville Inc. is launching a mid-week farmers market in The Vine, an outdoor space near the South Market entrance at the 8th Street Market. The market will be open from 3 to 7 p.m. every Wednesday from June 6 through Oct. 3.
There's a need for a midweek market in the city, and it makes sense to have it at 8th Street Market since its emphasis is on food, said Andrew Heath, Downtown Bentonville executive director.
"Eighth Street [Market] is becoming the centralized food hub of Northwest Arkansas, and while it is still in development, getting in this year will help us to become a more established market as the area builds around us," he said.
There's about 65 seasonal vendors and 10 to 15 additional vendors at the Saturday farmers market on the downtown square. About 2,000 people go to that market on any given Saturday, according to Heath.
The Wednesday farmers market at The Vine will have 20 vendors.
Eighth Street Market
The 8th Street Market is at 801 S.E. Eighth St. in what used to be a Tyson Foods plant. For more information on the market or the tenants of South Market visit, 8stmarket.com.
Source: Staff report
Fayetteville has two weekday farmers markets. One on Tuesday and the other on Thursday from April through October. It runs from 7 a.m. to 1 p.m. and can have up to 30 vendors in the peak summer season, said Leann Halsey, business and program coordinator for the market.
There have been attempts to have afternoon-into-evening markets at various locations, but they haven't been as successful as the morning markets held on the square, she said. It's still hot at 4 p.m., which affects the produce's freshness, but it also was a time people didn't want to get out and shop, she said.
It will only be a month or two after the Wednesday farmers market opens that the South Market will open with five local food vendors and a gathering space in the south end of the 8th Street Market.
"The South Market is really sort of our front room to the overall piece of the 8th Street Market, which is all about the celebration of food from a wide variety of point of views," said Daniel Hintz, one of the 8th Street Market developers.
Brightwater, which is Northwest Arkansas Community College's culinary program, and Bike Rack Brewing, are the market's two anchor tenants. They opened January 2017 and May 2017 respectively.
The South Market is a smaller format with multiple tenants allowing smaller businesses and startup restaurants a place to try new concepts, Hintz said.
Kalye Manila will offer Filipino cuisine; La Fonda will offer Colombian street food; Mai Papaya will offer the flavors of Southeast Asia; Pure Joy Ice Cream will scoop up unique flavors; and Sweet Freedom Cheese will sell artisan cheeses.
Having a space in the South Market will allow customers of Jessica Keahey, founder of Sweet Freedom Cheese, to explore cheese with wine and cured meats as well as learn about making cheese and purchase specialty products needed to do so.
The Holler -- a 10,000-square-foot gathering space where guests can eat, drink, work and play -- will anchor the South Market.
Ropeswing Hospitality Group announced the concept for the casual gathering place in March. It will feature work areas with high-speed Internet, coffee, dining and recreation areas that include three in-ground shuffleboard courts.
"We were eager to develop a concept that moves away from a traditional restaurant or cafe experience and leans into a local hangout that is unique to Bentonville," said Rob Apple, founder of Ropeswing. "We hope our guests will use this space to camp out and work, meet friends, start a business or join us for live music."
The Holler is also expected to open this summer.
Once The Vine, the South Market and the Holler are open, 8th Street Market will be "predominately done," according to Hintz. There may be other small opportunities or changes after seeing how the tenants work in the space, he said.
Eighth Street Market gives people more of a reason to explore the southeast area of downtown. But the market is only the beginning of southeast downtown's growth.
The Momentary -- Crystal Bridges Museum of American Art's second art venue -- is expected to open early in 2020 in the former Kraft Foods building just a few blocks west of the 8th Street Market.
Next to The Momentary, Lamplighter Restoration is developing the corner around Austin Baggett Park with housing and commercial space. Just a few blocks southwest of that the Thaden School is being built.
Revitalization of the downtown square was the focus of the city, developers and business owners in 2008.
"Now 10 years later, the entirety of that 1,700 acres [that makes up the downtown district] is growing with small businesses and big investments," Hintz said. "It's an incredible dynamic space, and the 8th Street Market is smack in the middle of all of it."
The city created arts and market districts in 2014. The 8th Street Market is in the market district.
NW News on 05/29/2018
Sign up for breaking news
& daily updates delivered
right to your inbox.
Print Headline: 8th Street Market vision comes into focus
Sponsor Content
Comments