An ultimatum issued by the Arkansas Supreme Court on Wednesday spurred Attorney General Leslie Rutledge to again begin endorsing citizen-driven proposals for the 2018 ballot.
Late in the afternoon, Rutledge signed off on four different measures -- on three topics -- that propose to raise the minimum wage, amend the state's redistricting process and expand casino gambling. Her endorsement gives the sponsors of those proposals the go-ahead to begin collecting signatures in hopes of having their ideas put before voters in November.
The sponsors now have a little more than a month to circulate petitions and gather tens of thousands of valid signatures of registered voters, or wait until the next general election in 2020. The sponsors also must advertise their proposals by June 6.
Rutledge has come under increasing criticism for declining to approve initiated acts and constitutional amendments that citizens groups have taken to her office in hopes of getting their measures placed on the ballot. The attorney general's office must approve the language -- the popular name and ballot title -- that appears on ballots.
Her decision to reverse direction came hours after the Arkansas Supreme Court gave her three days to either approve the wording of a ballot measure that would raise the state's minimum wage to $12 per hour, or to substitute in her own language.
"The wage decision by the Supreme Court apparently got the attorney general's attention," said David Couch, the attorney who drafted the minimum wage initiated act. He appealed the rejection of his proposal by Rutledge to the high court.
However, in a written statement released along with her decision to certify the proposals, Rutledge repeated an earlier complaint, placing the blame on Supreme Court justices for making her job more difficult.
"The Arkansas Supreme Court has once again muddied the waters on these standards by offering no insight in its decision requiring me to certify or substitute language of a ballot title that I had previously rejected," Rutledge's statement read. "In light of the Arkansas Supreme Court's failure to put forth clear standards, I am certifying these proposals in an exercise of caution to ensure Arkansans are given an opportunity to put these measures on the ballot."
Rutledge did reject one measure Wednesday, a proposal to legalize recreational marijuana that she has rejected numerous times over recent years. She said in a statement that the measure has "fundamental flaws."
The measures approved Wednesday include two different constitutional amendments that would allow up to four casinos to operate in the state. One is being sponsored by the group Driving Arkansas Forward and would place the casinos at Oaklawn and Southland racetracks, as well as in Jefferson and Pope counties. The other amendment, sponsored by Arkansas Wins in 2018, would place casinos at specific locations in Benton, Miller, Pulaski and Boone counties.
Another constitutional amendment approved Wednesday would create an independent citizens commission to redraw the boundaries for legislative and congressional districts after the U.S. census.
Couch, who also drafted the redistricting proposal, said he planned on hiring a single firm to help him canvass for signatures on both that and the minimum wage measure. He estimated that it would cost more than $1 million to gather the required signatures for both proposals.
That cost will be inflated, he said, because there will be less time and more competition for professional canvassers being hired in other states. Outside political groups had expressed interest in bankrolling the canvassing for the measures, Couch said, but may have gone and spent their money elsewhere.
"We're going to give it our best shot," he said.
The Driving Arkansas Forward casino amendment was drafted by a group of attorneys in Little Rock. Alex Gray, an attorney with the group, said his partners would likely drop a lawsuit over the attorney general's approval process that was due for a hearing in federal court today in order to focus on the petitioning process.
"This changes a lot of things," Gray said of the Supreme Court's order.
To get on the November ballot, sponsors of amendments like Gray's casino proposal must gather 84,859 signatures by July 6, while sponsors of initiated acts like the minimum wage proposal must gather 67,887 signatures.
Under state law, the attorney general has the task of reviewing the proposed measures to make sure that their names and descriptions -- officially known as ballot titles and popular names -- are not misleading or confusing to voters.
Rutledge had not approved any measures as sufficient for the ballot since 2016, when she says the Supreme Court imposed higher standards for such measures when it kicked three measures off the ballot right before that year's general election.
Since then, she has rejected more than 60 proposals, some several times over.
The ballot approval process has even become an issue in her re-election campaign, with her Democratic opponent, Mike Lee, criticizing her handling of the cases.
But on Wednesday, a 5-2 majority of the court gave Rutledge instructions on how to handle one measure. Justices Rhonda Wood and Shawn Womack indicated that they would have rejected Couch's request for an order.
"Either approve and certify one of the versions of the ballot title submitted, or substitute and certify a more suitable and correct ballot title within 3 days," the order from the Supreme Court said.
The measure in question would raise the state's minimum wage incrementally over the next four years until it reaches $12 per hour in 2022. Arkansas' current minimum wage is $8.50 per hour.
Couch's minimum wage proposal had been rejected by Rutledge three times in the past month, even though Couch says it's mostly similar to a measure that got the previous attorney general's approval -- and the support of voters -- in 2014.
Rutledge has defended her process for considering proposals for the ballot, pointing to the Supreme Court's 2016 decision in Lange v. Martin, in which the court struck down a casino proposal after ruling that the description given to voters failed to disclose how the measure would have conflicted with federal law.
"Only proposals that I am confident meet the Supreme Court's stringent test are approved," Rutledge said in a statement last week.
Even recently, the Supreme Court appeared to lend support to Rutledge's position. When Gray and the drafters of the Driving Arkansas Forward casino amendment appealed to the Supreme Court last month after having their proposal rejected by Rutledge, the justices unanimously denied their petition.
Along with another group, Gray challenged the constitutionality of the law, Arkansas Code Annotated 7-9-107, that gives Rutledge the authority to review and deny citizen-initiated initiatives and amendments. Then last week, Rutledge successfully moved to have the lawsuit transferred to federal court, where it is scheduled for a hearing today.
On Wednesday evening, Gray said he would likely inform U.S. District Judge Kristine Baker that the group no longer wishes to proceed with its lawsuit.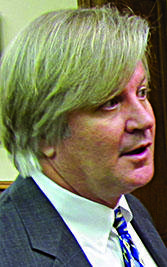 A Section on 05/24/2018