The final state numbers for early voter turnout surpassed those of the last similar primary although officials in Northwest Arkansas said voting was comparatively slow.
Early voting began May 7 and ended at 5 p.m. Monday. Today, the polls will be open from 7:30 a.m. to 7:30 p.m. Among the ballot choices are races for governor, Congress and the Arkansas Supreme Court. There are also races for the Legislature, other judicial positions and some local government offices. Some counties also have school elections.
In some races, the nominees selected in primaries will face opponents in the Nov. 6 general election. In others, the winner faces no opposition later.
An unofficial, preliminary count showed that about 109,426 Arkansans -- or 6.4 percent of the state's 1.7 million registered voters -- cast early or absentee votes, according to data from Brandon Newell, department supervisor in the Elections Division of Republican Secretary of State Mark Martin's office.
Early and absentee totals showed that Republican votes of 69,033 -- or 63 percent of the total early votes -- surpassed the Democrat vote of 38,681 (35.5 percent) and 1,712 (1.5 percent) "other" votes, or those cast in only the nonpartisan judicial general election. People can choose to vote only in the judicial election and skip the party primaries.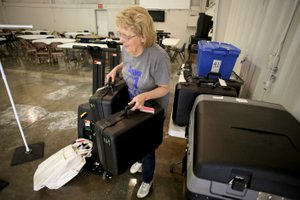 Photo by David Gottschalk
Judy Faulkner, Washington County election official supervisor, moves voting equipment Monday into position at Ridgeview Baptist Church in Fayetteville. Voting in the Arkansas primaries is today.
Election day
Polling places are open today from 7:30 a.m. to 7:30 p.m.
Need help? Call the secretary of state's Elections Division at (800) 482-1127 or go to the division's website, votenaturally.org.
Help also is available from county election commissions and county clerk's offices.
Voter ID
Voters will be asked to show a photo ID and tell poll workers their name, address and birth date. The poll worker will verify the information on a tablet computer and have the voter sign the tablet. Then the ballot will go in the voting machine, where the voter can mark his selections, and review and print his ballot. The marked ballot goes in the ballot box, which will scan and count the ballot.
In the event a voter doesn't have a state or federal photo ID, the voter can cast a provisional ballot and sign a sworn statement he is registered. The provisional ballot will be counted if the voter returns with a valid ID, or if the election commission determines the voter's registration is valid.
Election Day polling places
Benton County polling places will be open from 7:30 a.m. to 7:30 p.m. today at the following locations. Any registered voter in Benton County can vote at any polling place in the county.
Bella Vista
Bella Vista Fire Station, 101 Towncenter Drive
New Life Christian Church, 103 Riordan Road
Highlands United Methodist Church, 371 Glasgow Road
St. Bernard's Catholic Church, Parish Hall, 1 St. Bernard Lane
Bentonville
Bella Vista Church of Christ, 989 N.W. McNelly Road
Benton County Fairgrounds, 7640 S.W. Regional Airport Blvd.
Bentonville Church Of Christ, Activity Center, 708 N. Walton Blvd.
Bentonville First Presbyterian Church, 901 N.E. J St.
Northwest Assembly, 301 S.W. Unity Blvd.
First Landmark Baptist Church, 206 S.E. 28th St.
NWACC, Shewmaker Center, 1000 S.E. Eagles Way
Cave Springs
Lakeview Baptist Church, 1351 E. Lowell Ave.
Centerton
Reach Church, 900 W. Centerton Blvd.
Decatur
Decatur Municipal Building, 310 Maple St.
Garfield
NEBCO Community Building, 17823 Marshall St.
Gentry
First Baptist Church of Gentry, 221 W. Main St.
Gravette
Gravette Civic Center, 401 Charlotte St. S.E.
Hiwasse
Beautiful Savior Lutheran Church, 14070 Arkansas 279
Lowell
Hickory Creek Fire Station, 15645 Arkansas 264 East
Lowell First Baptist Church, 209-A Washington St.
Bethel Heights
Moose Lodge No. 877, 215 W. Apple Blossom
Pea Ridge
First Baptist of Pea Ridge, Family Life Center, 1650 Slack St.
Rogers
Central United Methodist, 2535 W. New Hope Road
Centro Cristiano Assemblies of God Church, 2121 S. First St.
Charity Baptist, 2901 W. Olive St.
Cornerstone Assembly Of God, 4055 N. Second St.
Prairie Creek Association Community Center, 14432 Arkansas 12 East
Rogers First United Methodist, 307 W. Elm St.
Southside Church Of Christ, 919 S. Dixieland Road
Bland Chapel, 8530 Twin Cove Road
Siloam Springs
First Christian, 1405 W. Jefferson St.
St. Mary's Catholic Church, Parish Hall, 1998 U.S. 412
Logan Community Building, 15249 Logan Road
Siloam Springs Community Building, 110 N. Mount Olive St.
Washington County polling places will be open from 7:30 a.m. to 7:30 p.m. today at the following locations. Any registered voter in Washington County can vote at any polling place in the county.
Cane Hill
Cane Hill College, 14219 College Road
Elkins
Durham Community Building, 11699 Arkansas 16 South
Elkins Community Center, 162 Doolin Drive
Elm Springs
Elm Springs United Methodist Church, 118 N. Elm,
Evansville
Evansville Fire Station, 20493 Arkansas 59 South
Farmington
Main Street Baptist Church, 49 W. Main St.
Fayetteville
The Awakening Church, 5763 E. Mission Blvd.
Baldwin Church of Christ, 4399 Huntsville Road
Central United Methodist, 6 W. Dickson St.
Christian Life Cathedral, 1285 E. Millsap Road
Covenant Church, 4511 W. Wedington Drive
Genesis Church, 205 Martin Luther King Jr. Blvd.,
Ridgeview Baptist Church, 1850 E. Huntsville Road
Sang Avenue Baptist Church, 1425 N. Sang Ave.
Sequoyah Methodist Church, 1910 Old Wire Road
Shiloh Community Church, 4262 W. Mount Comfort Road
Trinity Fellowship, 1100 Rolling Hills Drive
Trinity Methodist, 1021 W. Sycamore St.
Wedington Woods Fire Station, 13496 Arkansas 16
Wheeler Fire Station, 6946 W. Wheeler Road
Yvonne Richardson Center, 240 E. Rock St.
Goshen
Goshen Community Building, 244 Clark St.
Greenland
Greenland Community Center, 170 Letita St.
Johnson
Johnson City Hall, 2904 Main St.
Lincoln
Lincoln Community Center, 112 N. Main St.
Rheas Mill Community Building, 11871 N. Wedington Blacktop Road
Morrow
Morrow Fire Station, 19783 Latta Road
Prairie Grove
Prairie Grove Christian Church, 611 Wayne Villines Road,
Springdale
Cross Church, 1709 Johnson Road
Elmdale Baptist Church, 1700 W. Huntsville Road
First Church of the Nazarene, 2300 S. 40th St.
Nob Hill Fire Station, 19375 Nob Hill Loop
Oak Grove Baptist Church, 499 Oak Grove Road
Sonora Baptist Church, 17330 U.S. 412 East
Springdale Rodeo Community Center, 1423 E. Emma Ave.
Springdale Youth Center, 1000 Watson Drive
Turner Street Baptist, 4305 S. Turner St.
Summers
Cincinnati Fire Station, 12700 Cincinnati Road
Weddington Community Building, 15503 N. Jackson
Tontitown
St. Joseph's Catholic Church, 110 E. Henri De Tonti Blvd.
West Fork
Strickler Fire Station, 18510 Strickler Road
West Fork Community Center, 222 Webber St.
Winslow
Blackburn Community Building, 10467 W. Devil's Den Road
Boston Mountain Fire Station, 1047 Ella Road
Brentwood Community Building, 169450 U.S. 71
By comparison, the 2014 preferential primary and judicial general elections had about 100,793 early and absentee voters -- or 6.2 percent of the 1,624,187 registered voters in that election.
This year's preliminary, unofficial early voting total is an increase of 8,633, or 8.5 percent, compared with 2014's spring elections.
Voting is heavier in presidential election years. In the 2016 primaries, 220,151 early and absentee votes were cast, or about 13 percent of the 1.6 million registered voters at the time.
"I think it will be below what we've seen in the past for a nonpresidential election," Jennifer Price, Washington County's election coordinator, said Monday.
By the close of the polls Monday, Washington County had 4,550 early and absentee votes. That's higher than in the 2014 primary when 2,817 early and absentee ballots were cast, but much lower compared with the 2016 presidential primary, in which more than 12,000 early votes were cast.
In Benton County, election officials echoed Price's characterization of voter turnout.
"Right now, we're at about 4.5 percent voter turnout, which is low," Dana Caler, elections administrator for the Benton County Clerk's Office, said midday Monday. "In 2014 we had 5.19 percent in early voting, so we're below that."
The Benton County early vote total reached 7,341 by the end of the day Monday, or 4.8 percent. Benton County has 152,826 registered voters.
Chris Powell, a spokesman for Martin, declined to make a statewide projection of how many will make it to the polls this year. Primary turnout seems to be inconsistent from one cycle to another, Powell said, and depends heavily on whether there are local races.
"Turnout so far seems to be pretty low, but not uncommon for an midterm primary election," Powell said.
Kim Dennison, election coordinator for Benton County, said the county has had no problems with the new voting machines that are being used for the first time in a major election. Washington County voters have used the same machines in the past.
Connie Vanni of Bentonville and Jessica Bunch of Rogers are mother and daughter and said they always try to vote in the early voting period.
"There's less traffic and fewer people in line," Bunch said.
Both women said the new machines worked well.
"They were very nice," Vanni said. "It was quick and easy."
"They had everything organized," Bunch said.
Caler and Dennison said most Benton County voters were complying with the requirement to show their identification before voting.
The Arkansas Supreme Court recently reversed a circuit court injunction blocking Act 633 of 2017 and ruled that election officials could enforce the state's disputed voter-ID law.
Dennison said the county staff was spending some time Monday delivering voting machines to the last of the 34 vote centers that will be open today.
Price said she and her staff also were spending much of their time Monday gearing up for today's voting.
"We're delivering and getting everything all laid out in all 45 sites for tomorrow," she said Monday. "That's what today is for. We're ready for a larger turnout if we're going to get it."
Early and absentee voters arrived at a steady pace in Boone County, said County Clerk Crystal Graddy said.
A couple of local races drew 1,742 early and absentee voters by the close of the polls Monday, Graddy said. The numbers are low compared with the 2014 primary, in which 2,210 Boone County voters headed to the polls early.
She credits new voting machines and the Boone County voting center on Central Avenue in Harrison for a carefree election. The stand-alone center is easier to navigate than the usual aging and narrow county courthouses and is a one-stop shop for voters, Graddy said.
"It's been phenomenal," Graddy said. "It makes all the difference in the world. There was never a line over 15 minutes long in the presidential election. We were the first in the state to report the results and be out of the building by 9:30 that night."
NW News on 05/22/2018