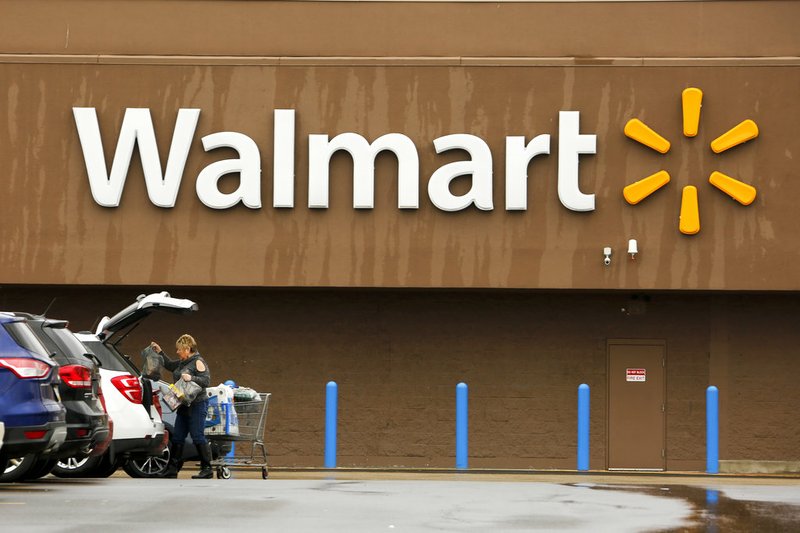 In this Feb. 22, 2018, file photo, a shopper loads her car after shopping at a Walmart in Pittsburgh. Walmart Inc. reports earnings on Thursday, May 17, 2018. (AP Photo/Gene J. Puskar, File)
Walmart Inc.'s domestic e-commerce business rebounded in the first quarter and in-store sales and traffic increased once again, but concerns about profits amid its competition with Amazon.com and others continued to weigh on the company's stock Thursday.
Walmart reported net income of $2.13 billion, or 72 cents per share, during its fiscal first quarter, which was a 30 percent decrease from $3.04 billion, or $1 per share, a year ago. Much of the decline was attributed to a change in U.S. accounting principles, which now requires companies to report unrealized gains or losses of certain equity investments within net income.
Walmart recorded an unrealized loss of $1.8 billion because of a decline in Chinese e-commerce company JD.com's stock price, and it affected first-quarter profits by 47 cents per share.
Adjusted earnings per share, not including the JD.com stock loss and a 5 cents per share gain related to U.S. tax revisions, was $1.14 and topped analyst expectations of $1.12. First-quarter revenue of $122.7 billion also beat forecasts of $120.5 billion and was a 4.4 percent increase from a year ago.
Walmart said U.S. same-store sales increased 2.1 percent and traffic was up 0.8 percent. But the results were softer than analysts had hoped. Operating income fell 3.1 percent in the U.S. business as well in what Edward Jones retail analyst Brian Yarbrough described as a "mixed" quarter.
Shares of Walmart stock closed Thursday trading at $84.49 per share, down $1.64.
"It's kind of down the middle of the road," Yarbrough said. "But if you think back to last year they seemed to be in this mode where they were beating earnings and surprising on sales and the bottom line quarter after quarter. The last two quarters have been ho-hum."
The company provided some promising news for investors Thursday, posting a 33 percent increase in U.S. e-commerce sales a quarter after sales growth had slowed to 23 percent. The fourth quarter report played a key factor in Walmart's stock tumbling 10 percent in trading on Feb. 20. Walmart's stock has fallen about 23 percent since reaching an all-time high of $109.98 in late January.
Marc Lore, Walmart's U.S. e-commerce chief, said the company's first quarter e-commerce growth was driven primarily by sales on Walmart.com and through its online grocery business.
Walmart's online grocery pickup service had been extended to 1,400 locations by the end of the quarter with plans to reach 2,100 locations by the end of the year. Grocery delivery is being introduced to 800 stores as well. Walmart also began unveiling its redesigned website late in the quarter, promising a site that is easier to navigate. The website will soon include a flagship store dedicated to Lord & Taylor as Walmart tries to attract higher-end customers to Walmart.com.
Executives said the e-commerce first-quarter results were in line with Walmart's plan and the company continues to anticipate a 40 percent growth in U.S. online sales this year.
"The growth during the quarter was driven really by focusing on improving the fundamentals," Lore said during a conference call with reporters. "We saw growth coming from improvements in price. We've seen improvements on site, assortment and delivery experience. So it's all of the above."
Ken Perkins, a retail analyst and president of Retail Metrics LLC, believes the results contributed to a "solid" quarter for the retailer. Perkins said it was especially important for Walmart to show e-commerce acceleration once again after the fourth quarter slip.
"I think it's a big deal," Perkins said. "I think they're making a concerted effort and investing heavily on that side of the business and trying to drive it. To bounce back and hop back up into the [30 percent range], that's a significant improvement and shows that they're heading in the right direction."
Business at Walmart's U.S. stores remained solid despite headwinds. Grocery sales were strong, but other areas -- like general merchandise -- were affected because of unseasonably cool weather in April. Traffic increases lagged below their usual pace as well, but the company said business has picked back up again as the weather has "normalized."
Walmart's U.S. net sales increased 3.1 percent to $77.7 billion, while operating income fell to $3.9 billion and gross margins were affected primarily because of price cuts and higher transportation costs. But executives said Walmart was able to absorb investments like raising its minimum wage to $11 an hour.
"We're being very careful in terms of operating efficiency and were able to leverage expenses in our stores this quarter," Walmart U.S. chief Greg Foran said during a conference call with reporters. "So overall, we're pretty pleased with the first quarter results and feeling that the momentum continues."
Walmart's U.S. business accounts for roughly 56 percent of the company's revenue and remains critical to success. But Walmart was busy reshaping its international portfolio in recent weeks, including plans to spend $16 billion to invest in a 77 percent stake in India online retailer Flipkart.
It's the biggest deal in Walmart's history and expected to take a larger toll on profits. Walmart reiterated its belief that if the deal closes in the second quarter it would negatively impact the company's fiscal 2019 earnings per share between 25 and 30 cents. But executives believe it also will position Walmart for future revenue growth, helping the company better position itself to compete against Amazon.com in one of the world's fastest-growing markets.
"They're doing a lot of great things and they're not just sitting still," Yarbrough said. "But it always goes back to being that same fundamental question: Is it ever going to lead to decent profit growth?"
For now, Walmart reported international nets sales of $30.3 billion, an increase of nearly 12 percent from a year ago. Eight of its 11 markets reported same-store sales increases in the quarter.
Net sales at Sam's Club, the company's warehouse chain, saw net sales fall 2.7 percent in the first quarter. But Walmart noted the company closed 63 clubs during the quarter and also ended tobacco sales in certain locations, which had an impact on the results.
Sam's Club did report same-store sales and traffic increases of 3.8 percent and 5.6 percent, respectively, behind improvements in its fresh food business and online sales growth. Chief Executive Officer Doug McMillon said it was a "strong" quarter for the warehouse business.
Overall, McMillon believes the first-quarter results show the progress Walmart has made across its business and believes it will continue moving forward.
"We are encouraged by the health of our overall business and remain confident in our ability to win over the long term while delivering results in the short term," McMillon said.
Business on 05/18/2018
Print Headline: E-sales leap in Walmart's 1Q
Sponsor Content
Comments