Unopposed candidates won't appear on the ballot for the first time, but school board candidates will join primary and judicial ones when voters head to the polls beginning Monday.
And this time, voters need to bring a photo ID.
Voter ID
A total of 34 states have laws requesting or requiring voters to show some form of identification at the polls. The remaining 16 states use other methods to verify the identity of voters. Most frequently, other identifying information provided at the polling place, such as a signature, is checked against information on file.
Seven states have strict photo voter ID laws.
Ten states, including Arkansas, have nonstrict photo ID laws. That means voters who don't have an ID can fill out a provisional ballot and/or sign an affidavit affirming registration status.
Three states have strict, nonphoto ID laws, such as a bank statement or document without a photo.
Fourteen states have nonstrict, nonphoto ID laws.
Source: National Conference of State Legislatures
By the numbers
Registered voters
Benton County — 152,869
Washington County — 128,727
Voter turnout, May 2014 primaries
Benton County — 20,900
Washington County — 18,674
Source: Staff report
Sign up for breaking news
& daily updates delivered
right to your inbox.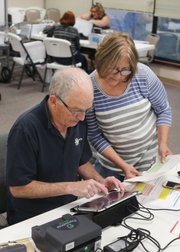 Election officials do what they can to inform the electorate and keep the process simple. Washington County's election commissioners sat around a table Wednesday trying to figure out which set of documents they would post at poll sites on Monday.
Each set outlined different protocols for poll workers and voters depending on what happened with a lawsuit challenging the state's voter ID law. The law was in limbo after a circuit judge deemed it unconstitutional April 26. The state wanted the Arkansas Supreme Court to halt the judge's order blocking the law's enforcement.
Election Commission Chairman Bill Ackerman told the group he had just gotten off the phone with the Secretary of State's Office, and no one knew anything yet. As of 9 a.m., the policy was that poll workers had to ask voters for an ID, but voters weren't required to produce one.
"Are we living in a schizophrenic world?" Renée Oelschlaeger said to her fellow commissioners.
By 4 p.m., the state Supreme Court decided enforcement of the law, originally enacted in August, could resume.
Voters having to prove who they are is the latest in a string of changes to how, when and for whom Arkansans cast their ballots.
Primary politics
In 2016, the primary election was held in March. Gov. Asa Hutchinson and a GOP-led Legislature enacted a law to temporarily move the election date. The date, March 1, was dubbed the "SEC Primary" by national media and politicians because of several Southern states holding their elections.
The state changing its electoral procedures is nothing new, said Jay Barth, political science professor at Hendrix College. However, the changes have been more frequent in the last few years, he said.
Primaries in Arkansas used to happen in August. It changed to May in 1972 to better position U.S. Rep. Wilbur Mills of Arkansas, a Democrat, in his run for president, Barth said. Mills didn't win the nomination, but the May date remained.
A push to get Arkansas more engaged in the national conversation regarding presidential primaries began in 1988, Barth said. Al Gore won the state's Democratic vote held in March, and although Bill Clinton didn't run for president that year, he had become part of the national spotlight, delivering the nomination speech for Michael Dukakis at the Democratic National Convention.
In 2008, Arkansas presidential primaries were held in February, but the rest of the primary elections happened in May. Hillary Clinton and Mike Huckabee, both candidates with Arkansas ties, won their respective primaries in the state that year.
The desire has been to keep the nonpresidential primaries out of the Super Tuesday months of February or March, Barth said. State candidates typically don't want to campaign during the holidays, he said.
"It's hard to go door-to-door in February. I think they really like pushing things a little bit later," Barth said. "I think May is the preferred date for Arkansas candidates. If they want to be a part of the conversation in presidential politics, then March is the time."
What's on the ballot?
May 22 is really several elections.
The Republican and Democratic parties hold primaries to nominate their candidates for the general election Nov. 6. A voter does not have to be registered with the party whose ballot he selects.
May 22 also serves as the general election for nonpartisan judicial races in the state, which includes judges and prosecutors. A voter can participate in this election whether or not he votes in a party primary. Everyone in the state will vote in the open Supreme Court seat. Boone and Newton counties in Northwest Arkansas will have a Court of Appeals election.
And for some school districts in the state, May 22 also will be school board elections. School millage renewals also will appear on the ballot.
A state law passed last year gives school districts the option of holding elections in May or November, in conjunction with primary and general elections, respectively. Odd-numbered years will have school board elections on the dates an election would have happened.
School board elections used to be held the third Tuesday in September. Proponents of the change have said holding school elections at the same time as primaries and general elections will bolster turnout. In Northwest Arkansas, Bentonville's school district chose to hold its election in November.
Unopposed candidates for all elections will no longer appear in a long list at the end of the ballot, per a new state law, but can be found online.
Two Northwest Arkansas towns have tax questions on the May 22 ballot. Goshen has a special election for adoption of a 1 percent local sales tax. Siloam Springs has a sales tax renewal for water treatment improvements.
Who and what an individual voter will see on his ballot depends on where he lives. Washington County has 705 versions of the ballot. Benton County has 654.
Residents can vote at any polling center in the county in which they live, both early and on election day. Polling sites on a voter registration card indicate the closest site to the voter, but he doesn't have to go there, said Jennifer Price, Washington County election coordinator.
All polling stations in Benton and Washington counties will have the same voting machines and equipment. Both counties purchased new machines within the past two years. Casting a paper ballot is no longer an option. The machines essentially serve as an electronic marker, and the printed ballots that come out of the machine are scanned and processed, Price said.
At no point are the machines connected to the internet, officials in both counties said. Alleged Russian meddling in United States elections has frequented headlines in recent months.
"A lot of people joke about it, but we haven't had anybody calling and asking those kinds of questions," said Kim Dennison, Benton County election coordinator.
Time to vote
Most of the complicated aspects of voting stay behind the scenes thanks to the outstanding efforts of election coordinators, said Scott Brownell, chairman of the Republican Party of Benton County.
"I think for the most part, the general public waits and says, 'Hey, it's time to vote,'" he said. "It's not meant in an insulting way, it's just people are going about their daily lives and doing their business and then all of a sudden it's time to vote."
Instructions on what voters will need to do will be posted at every polling site. Voters will be asked to show a photo ID and tell poll workers their name, address and birth date. The poll worker will verify the information on a tablet computer and have the voter sign the tablet. Then the ballot will go in the voting machine, where the voter can mark his selections and review and print his ballot. The marked ballot goes in the ballot box, which will scan and count the ballot.
In the event a voter does not have a state or federal photo ID, the voter can cast a provisional ballot and sign a sworn statement that he is registered. The provisional ballot will be counted if the voter returns with a valid ID, or if the election commission determines the voter's registration is valid.
Brownell said he supports enforcement of the voter ID law. Making the common-sense measure as easy as possible for voters will ensure no one is disenfranchised, he said.
Joyce Hale, president of Washington County's chapter of the League of Women Voters, said the group has amped up its outreach and education efforts. Hale said voting is becoming increasingly confusing. Also, any measure that could possibly restrict voting, such as a voter ID law, is a detriment to the process, she said.
"The structural element of all of these changes within the system creates a lot of confusion for those who are rather new to the process," Hale said.
NW News on 05/06/2018