BENTONVILLE -- Rebecca Rusch described her bicycle as a kind of tool allowing her to accomplish many things beyond winning races.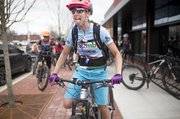 "It's become a tool for my career, a tool for my fitness, a tool for my mental wellness, a tool for socializing, a tool for fundraising," Rusch said. "It's a lot more than just going out on a mountain bike ride and having a good time."
Accolades
Men's Journal named Rebecca Rusch among its 25 most adventurous women of the past 25 years in a 2017 article. Outside magazine named Rusch to its list of 40 women who have made the biggest impact on the outdoor world through their "leadership, innovation and athletic feats."
Source: Staff Report
Sign up for breaking news
& daily updates delivered
right to your inbox.
Rusch was the keynote speaker Friday at the International Mountain Bicycling Association's inaugural conference for women, called Uprising, which continues today. Dozens of women gathered at The Record to hear Rusch's 45-minute presentation.
Rusch, 49, of Ketchum, Idaho, has earned numerous accolades for her success in multiple sports, including mountain bike racing, whitewater rafting and cross-country skiing. She's also written a book, Rusch to Glory, and has used her platform to raise money for organizations and causes she cherishes.
She was featured in the 2017 documentary Blood Road, which traces Rusch's 1,200-mile journey across the Ho Chi Minh Trail in search of the place where her father's F-4 Phantom II fighter plane was shot down during the Vietnam War in 1972. Stephen Rusch's body was never found, though in 2007, two teeth were found, Rebecca Rusch said.
Blood Road won "Best of the Fest" at last year's Bentonville Film Festival.
"This ride was the culmination of everything I've done in my life," Rusch said. "It challenged me more than I ever could have imagined."
The challenge of the trip was more emotional than physical, she told the audience. Along the way she learned a lot, including about the unexploded ordnance left over from the war that still kills people today. She acknowledges in the film her father was partially responsible for that unexploded ordnance.
Rusch also spoke of her 2016 trip to Tanzania to climb Mount Kilimanjaro on her mountain bike. Along the way she raised enough money to buy 550 bicycles for African kids to use to get to and from school. Some of those children, she said, otherwise would have to walk two or three hours to get to school.
Rusch said after her presentation she hoped conference participants remember they don't have to be professional athletes to make a difference in their community.
"Small change eventually makes big change," she said. "Things don't change unless we get involved. Instead of waiting around for change to happen, these women in the room are going to be the ones who make it happen."
About 130 women from across the country are attending the Uprising conference, according to Aimee Ross, director of brand development for the International Mountain Bicycling Association.
The association was building a website last year when officials started digging through their analytics and found nearly 70 percent of their audience was women. Those women were looking for resources and not finding what they were looking for, Ross said.
Uprising is a chance to bring together some of the most successful female mountain bike advocates in the country to share their ideas and their stories, Ross said.
The association held its world summit in Bentonville in 2016 and has developed a relationship with organizations like Visit Bentonville and the Walton Family Foundation, she said.
Kalene Griffith, Visit Bentonville's president and chief executive officer, called the world summit a "huge success" showcasing Bentonville as a mountain bike trail destination to more than 500 participants. She said she was talking with Ross after the summit about Ross' idea for Uprising.
"I said, 'We'd love to host the first one,'" Griffith said.
The city likely will see an economic impact of $20,000 to $30,000 from this weekend's conference, she said.
NW News on 03/24/2018