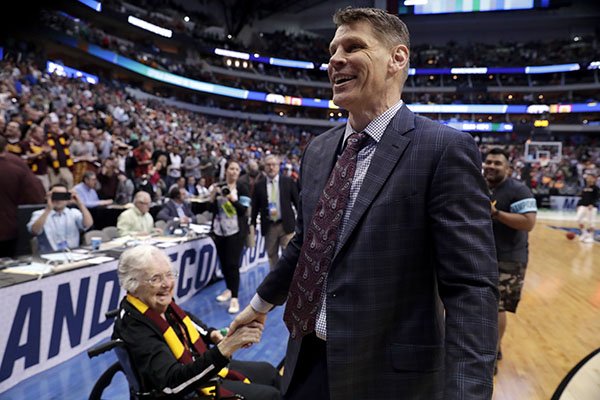 Sister Jean Dolores Schmidt, left, greets Loyola-Chicago coach Porter Moser after the team's 63-62 win over Tennessee in a second-round game at the NCAA men's college basketball tournament in Dallas, Saturday, March 17, 2018. (AP Photo/Tony Gutierrez)
No one could have scripted this year's NCAA Tournament excitement, entertainment and untimely exits that have set up one of the wildest Sweet 16s in history.
Along the way the world has discovered Sister Jean and the University of Maryland-Baltimore County. Sister Jean Dolores-Schmidt is the official chaplain of the South's No. 11 seed, Loyola-Chicago, and she's received more TV time than head coach Porter Moser.
UMBC is a commuter school much like the University of Arkansas at Little Rock which incidentally has a head coaching search going on and has two former coaches in the Sweet 16, Moser and Chris Beard of Texas Tech. UMBC will forever be a trivia question when it comes to being the first No. 16 seed to beat a No. 1 seed.
The South Regional is by far the most dynamic, and the East Regional is the most boring with only one upset. That was No. 13 seed Marshall beating No. 4 Wichita, then Marshall lost badly to West Virginia. Other than that it, the East has been about as predictable as San Diego weather.
UMBC was part of the South Regional until beaten by No. 9 seed Kansas State.
Also in the South Sister, Jean and Loyola beat No. 6 seed Miami and No. 3 seed Tennessee by a combined three points, with both wins coming on last second shots.
There have been only three No. 11 seeds advance to the Final Four, LSU, George Mason and VCU and none made the championship.
For Loyola to become the fourth team the Ramblers would have to beat No. 7 Nevada, which overcame a 22-point deficit in the second half to beat No. 2 seed Cincinnati, and most likely No. 5 Kentucky, which is favored to advance to the Final Four. They are in Lexington South (Atlanta).
The Big Blue take on Kansas State, which finished fourth in the Big 12 and were swept by Kansas, Texas Tech and West Virginia (all part of the Sweet 16), and the K-State Wildcats are the ones who sent home UMBC.
A perfect region would have a No. 1 vs. a No. 4 and a No. 2 vs. a No. 3, giving it a total number of 10 for the seeds. The South Regional adds up to 32.
The West Region doesn't have a No. 1 or No. 2 seed and No. 3 Michigan has become the buzz to win it all despite beating Houston just 64-63 to get to Los Angeles where it faces Texas A&M, a No. 7 seed. The Aggies are now playing like they did last November when they were actually mentioned as a possible Final Four team.
The other match-up is No. 5 Gonzaga vs. No. 9 Florida State. The Zags were once a Cinderella team which has become a national power. The Seminoles finished eighth in the ACC, but are one of four teams from the ACC still playing.
The Midwest Regional has the other three ACC teams. Clemson, a No. 5 seed takes on No. 1 seed Kansas and No. 2 Duke faces conference-foe Syracuse, a No. 11 seed and the last at-large team to make the field.
The Blue Devils and Orange played once this season and Duke won 60-44. Chances are good the tournament tough Devils will be better prepared for Jim Boeheim's 2-3 zone than Michigan State.
From this point on there will be no TruTV or TNT. All games are shared between CBS and TBS.
Thursday, look for No. 11 Sister Jean's Ramblers to ease by Nevada and Eric Musselman, saving the world another shot of him ripping his shirt off.
Michigan will eliminate the Aggies, and Kentucky will coast over Kansas State. The final game of the night expect the Zags to cry about every call as they get eliminated by the Seminoles (where Dickey Nutt is on staff).
Don't be surprised if Clemson beats Kansas on Friday, Villanova edges West Virginia, Duke downs the Orange and Texas Tech survives. More fun to come.
Sports on 03/21/2018
Print Headline: Plenty more excitement left in tournament
Sponsor Content
Comments