The Bentonville Film Festival has an audience size rivaling those of Tribeca and Sundance after only three years of operation.
"In terms of attendance, we're already in the top," said Trevor Drinkwater, festival co-founder. "Sundance had 40,000 attend, and we had 75,000. Over time, we'd like people to recognize our festival as a place to come and get content in front of people who get a wider audience."
FYI
The Bentonville Film Festival announced the dates for the fourth annual festival to return to Bentonville May 1-6, 2018. Films accepted into the festival will be announced this month.
Source: Staff report
Frank Scheide, a professor of film history and criticism in the department of communications at the University of Arkansas, said the Bentonville Film Festival is comparable to the Cambridge Film Festival in the United Kingdom in size, type of content and involvement. The Cambridge Film Festival is the third longest running film festival in the United Kingdom. The eight-day festival drew 11,078 visitors and 223 films in 2017, according to its website.
Comparing the Bentonville Film Festival to these iconic events gives some context for the level it can have, but the local festival doesn't strive to be their competition, Drinkwater said. It has a different role and aspiration to level the playing field for women and diversity in filmmaking, both on screen and behind the scenes.
"We have a great relationship with Tribeca and Sundance," Drinkwater said. "We help each other out. We love to play films from those two at our festival, and we had events at both Sundance and Tribeca. It's a collaboration."
Tribeca and Sundance screen independent films that may not reach many people beyond the festival. The Bentonville Film Festival, however, wants to be a stepping stone for inclusive films to be widely distributed.
"The type of content and the way it's distributed is different," Drinkwater said. "With our sponsors, Walmart, AMC and Lifetime, we have the ability to get them in front of a wide audience and to find storytellers a platform."
Filmmakers seem to understand the value of this unique festival trait. Submissions to the festival have increased exponentially. About 700 films were submitted this year, which is 100 more than 2017 and more than double the submissions of 2016.
Drinkwater said the increase is in part because film agents in Hollywood are now aware of the festival.
ABOUT CONNECTIONS
Drinkwater hopes the Betonville Film Festival will gain a reputation as an ideal place for filmmakers and storytellers to network with major broadcasters and eventually get films produced because of those connections.
Bonne Bartron, a film writer and director who screened her documentary Unbridled at last year's festival, said it has already helped her make valuable connections.
"You can meet people at BFF who can make things happen," Bartron said. "I got to talk to plenty of other filmmakers, writers and producers. I met the producer of my multimillion dollar feature film there."
Bartron's feature film Abducted? is a mixed-genre. It begins as a comedy about what it's like to be a young woman in the modern world, but the storyline goes to a scary, dark place.
She had pitched the idea to other producers and was discouraged. They all suggested changing the main characters to men, which would have changed the entire premise. The producer she met in Bentonville understood the film would be more powerful the way she originally intended it.
"I stuck with female characters, and I would usually have to drag people to my perspective (on that), but not here," she said.
Scheide said access to visiting filmmakers, producers, writers and celebrities is a unique quality of a film festival.
"One of the great things that BFF does is bring in personalities and makes them accessible, that's particularly nice," he said. "You're able to meet them, talk about the craft and get a perspective that fans are interested in."
The festival's programming, which includes many panel discussions and question and answer sessions, contributes to that environment as a great place to exchange ideas, Scheide said.
Creating those opportunities for the community to enjoy and learn about what's going on in entertainment is exactly the intention, Drinkwater said.
People can "buy tickets to a movie, a panel discussion, live music and, while they're there, we bring decision-makers from the entertainment industry to talk about how we can improve the world we live in, with the hope that NBC, Warner and other big studios make a change and the shows we see start to reflect the world we live in," he said.
STAND OUT VENUES
Bartron, who has attended film festivals throughout California and Colorado, said the best time she had was at the Bentonville Film Festival. It had the most supportive atmosphere, made filmmakers feel like the red carpet was rolled out for them, and had an unusual screening venue.
"The trailers for watching movies is cool, I haven't seen that before," Bartron said. "Other festivals just have little rooms for screenings. Also BFF programs the crap out of it. There's constantly something amazing going on."
It's typical to have a makeshift set up while a film festival is getting established, said Scheide, who was on the board of directors for the annual Buster Keaton Celebration from 1994-2017. The two-day event in Iola, Kan., has screenings, lectures and workshops on the comedy era of Buster Keaton. Scheide also attends other festivals based on silent and retrospective films.
"Films shown in venues other than a theatre are nice, as long as there's easy access," he said.
HOW IT'S GROWING
The Bentonville Film Festival won't stay exclusively in Bentonville forever, Drinkwater said. He'd like to expand programming in the region.
"We have aspirations to have a one day script-writing competition in Eureka Springs and a short film competition in Fayetteville near the University of Arkansas," he said. "We'd like to expand events to the region and have more visitors all over Northwest Arkansas."
One of the reliable ways the festival is growing is by word-of-mouth, Drinkwater said.
"We have a great track record in getting people to come back," he said. "They become advocates for us, and it creates growth."
Bartron can attest to that, saying filmmakers she met at the festival had a little "Bentonville reunion" when they returned to Los Angeles.
"I entered a short film to Bentonville Film Festival this year, and I really hope I get in," Bartron said. "I'd love to come back."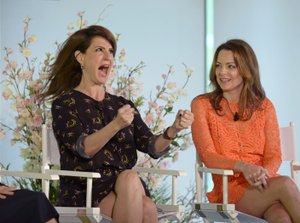 File Photo/NWA Democrat-Gazette/BEN GOFF @NWABENGOFF Nia Vardalos (left) tells a humorous story about singing while driving as fellow panelist Kimberly Williams-Paisley listens during the Bentonville Film Festival's 'In Control of Her Destiny' panel discussion in the Great Hall at Crystal Bridges Museum of American Art in Bentonville.
NW News on 03/18/2018