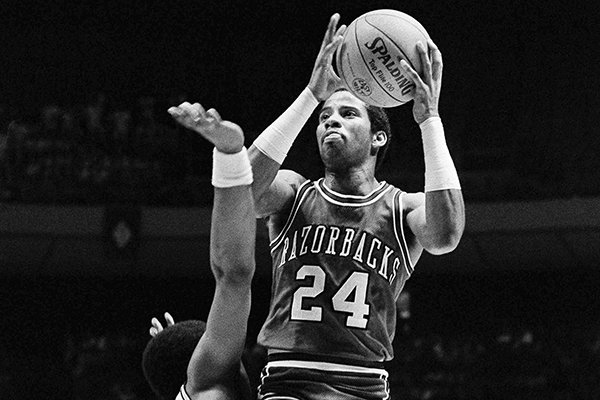 Arkansas' U.S. Reed (24), jumps to sink a basket as Louisville's Rodney McCray (22) attempts a block in this first half action from their second round, Midwest regional NCAA Playoff Game at Austin, Texas, on Saturday, March 14, 1981. Later in the game, with one second to play, Reed sank a half-court shot to win the game for Arkansas, 74-73. (AP Photo/Cooper)
Most of the past 38 birthdays have been spent in the bowels of a big gym covering conference or NCAA Basketball tournaments.
It all began in 1981, after the Southwest Conference Tournament in San Antonio was shipped to Austin, Texas, where U.S. Reed shot himself into the history books with a 49-foot shot that beat No. 12 Louisville 74-73 and sent the University of Arkansas, Fayetteville to New Orleans, where they lost to No. 4 LSU 72-56.
Your trusty scribe was hooked, and from then until today every conference tournament has been covered, and every round of the NCAA Tournament and the Final Four was covered until 2011.
In the SuperDome minutes before the 1982 championship game, a touch on the shoulder and the question, "You have a an extra smoke and a light?" was as close to Dean Smith as any media guy would get that day.
Smith broke his jinx that night and won his first national championship. Arkansas had won the Southwest Conference that season but was beaten in the first round of the NCAA Tournament, 65-64, by Kansas State. My ticket to the Final Four was punched by the Houston Cougars, probably the greatest team to never win a national championship.
In 1983, North Carolina State stunned Houston's famed Phi Slama Jama in Albuquerque, N.M., to win the national title.
The next year was the season of "Hoya Paranoia," and the powerful Georgetown Hoyas winning it all with an 84-75 victory over Houston. Patrick Ewing, who now coaches Georgetown, was the MVP.
Sutton's last season at Arkansas was 1985. The Hogs finished second in the SWC Tournament, but Joe Kleine was named Most Outstanding Player. That season ended in Salt Lake City with a 68-65 loss to No. 3 St. John's.
Just 17 days later Sutton was named the new coach at Kentucky, and shortly after Frank Broyles made SWC history by hiring Nolan Richardson to coach the Razorbacks.
It was the beginning of a new education about basketball. That was the last season of no shot clock, and Sutton liked to pass the ball until someone was open from 2 feet.
Richardson was ready for the shot clock, although it took two seasons to get his players in place. In his third season, the Hogs won the SWC conference and tournament, beat Loyola-Marymount 120-101 and then fell to Louisville, 93-84, but notice had been paid.
For the next six years, Richardson created a monster that was respected from coast to coast.
The 1991-1992 season was the Hogs first in the SEC, and Richardson went out and won the regular season.
This time of year during that six-year span, the question was never would the Hogs make the NCAA Tournament but would they be a No. 1 or No. 2 seed.
The Razorbacks went to three Final Fours and won it all in 1994 in Charlotte, N.C., beating Duke 76-72. Scotty Thurman had a big three-pointer late, and Corliss Williamson was named Most Outstanding Player.
They returned to the championship game the next season, but UCLA triple-teamed Williamson and won 89-78.
Richardson had to rebuild, and in the next four years he took the Hogs to the Big Dance just twice and in 1999-2000 was 19-15 overall, 7-9 in SEC play and rumors were rampant a change would be made.
But Joe Johnson, Brandon Dean, Teddy Gipson, Chris Walker and Alonzo Lane went to Atlanta and became the first team to win four games in four days.
That's what the Razorbacks are hoping to do starting tonight, and for the 38th time I'll blessed to be there.
Wednesday's birthday was spent at home with family. How old? Let's say 60. It's an age I have a lot of experience with.
Sports on 03/08/2018
Print Headline: Basketball keeps delivering birthday presents
Sponsor Content
Comments