Design magazines love them. So do movie stars and environmental activists. New technology, including the use of robots in factories, makes them even easier to build.
So why are advocates of prefab houses still talking about "disrupting" the home-building industry?
Architects, environmentalists and some forward-thinking builders embrace prefab construction -- whose products run the gamut from affordable manufactured homes to sleek tiny houses with ultramodern finishes to contemporary mansions -- as the way every home should be built in the future, says Greenwich, Conn.-based Sheri Koones, author of Prefabulous + Almost Off the Grid and other books about prefab houses. But despite having been around for decades, prefab or modular homes made up just 2 percent of new single-family houses in 2016, according to the U.S. Census Bureau.
Prefab construction gained traction in the 1970s when builders and architects recognized they could save on build time and labor costs by moving the majority of the building process into a factory. Initially, says Koones, modular homes were fairly basic and boxy, but over time architects, builders and factory owners have improved their methods, and nearly anything that can be built on a home site can now be assembled first in a factory.
While prefab houses can cost less than a traditionally built home, the financial savings are not always the most compelling reason for people to choose this construction method. "The real saving is in time," says Brian Abramson, co-founder and director of business operations for Method Homes, a prefab factory in Seattle that works mostly on modern, custom homes. "It typically takes 50 percent less construction time to complete a prefab house."
Building the house in a factory limits weather delays and makes the delivery date more predictable. Change orders are usually not allowed, which also speeds construction.
Fewer hours on-site translates into some savings on labor costs. Michael Winn, owner of Winn Design + Build in Falls Church, Va., which uses prefab construction for additions and custom-built homes, estimates that prefab construction can save as much as 15 to 20 percent compared with the cost of a traditional custom build.
COOL CONSTRUCTION
The "cool" factor has also helped fuel interest. Actor and environmental activist Robert Redford is so enamored of prefab building that he has written introductions to several of Koones' books. Design magazines and blogs regularly showcase prefab houses.
Modern-style architecture is commonly associated with modular construction simply because the clean lines and flat surfaces can be shrink-wrapped and stacked on a truck more easily than the parts of a Victorian-style home, says Mimi Hoang, co-founder and principal of nARCHITECTS in Brooklyn, designers of micro-units in Manhattan that were built with modular construction.
But as long as the architect understands the guidelines of the engineering that takes place in the factory, there's really no limit to what you can build with modular construction, says Mark Giarraputo, an architect with Studio Z Design Concepts in Bethesda, Md. "You can do any style you want from traditional to Craftsman to Colonial to Tudor or contemporary," says Giarraputo. "Prefab lends itself a little more to contemporary homes because of the clean lines, but you're not limited to that style."
A significant turning point for prefab homes came in 2002-03, when Dwell magazine held a competition for architects to design a $200,000 prefab house, says Ryan Smith, director of the Integrated Technology in Architecture Collaborative at the University of Utah in Salt Lake City. Suddenly, prefab houses were the epitome of cool architecture.
"Prefab construction became the holy grail of design," says Joseph Tanney, co-founder of Resolution: 4 Architecture in New York City, winner of the 2002 Dwell magazine competition. "The idea was that it would be the answer for modern, affordable, mass-produced housing. We've seen far fewer prefab factories than what we expected."
Some of the buzz around prefab architecture continues, says Tanney, enticing architects to create renderings for prefab houses and occasionally build one. More than half of the 15 to 20 houses Resolution builds annually are prefab. But the reality is that most prefab houses are more pedestrian, Tanney says: "Most modular factories are building prefab houses for communities that are naturally more traditional to attract more buyers. The excitement around modern prefab architecture is just because it's more interesting."
Smith says that prefab housing is more common in other countries, particularly Sweden, Japan and Germany. "The difference is that they tend to be production-based, so the homes all look alike, even if they are high-end homes. The North American preference is for more customization."
Tanney says prefab construction hasn't changed architecture, although it's gotten more people outside of the architecture world interested, and the quality of the buildings has improved over the past 15 years. "I expect to see more single-family home production with prefab construction in the future," says Smith. "But not custom, high-end prefab homes. That's more of a novelty."
Today, modular parts can even be constructed by robots in some factories, which addresses the current shortage of construction labor. Parts are put together on-site in a few weeks rather than months. "Prefab construction is the best-kept secret in America," says Koones. "Every house should be built this way, but most builders want to build the way they always have. They can charge more money when they use traditional methods, too."
HOUSES BUILT BY ROBOTS
Among those interested in shifting the pattern of home building is Prefab Partners (PFP) in Washington, D.C., founded by Steve Salis and John Thompson. The two met when they built the first &Pizza restaurant together. This is Salis' first foray into residential construction, but Thompson has been in the business for 14 years and saw the potential for the prefab method.
"I had an 'aha' moment with a pizza oven when I started &Pizza, and I had the same experience when we started looking into how to disrupt the building industry," Salis says. "We're building the first houses in the city out of panels built by robots."
While you might expect that type of innovation in one of the city's hip neighborhoods such as the Wharf or Shaw, PFP's first two houses, which it calls "farmhouse modern," are in the Palisades. "We made sure the houses will look right in the neighborhood and work with the local DNA, but still have contemporary features inside," Salis says.
Each of the homes, which were prefabricated at Blueprint Robotics in Baltimore, is priced at $1.995 million and has 4,320 square feet with five bedrooms and five bathrooms.
The process of designing and building a prefab home requires similar steps to a traditionally built home: finding the lot, designing the home and getting permits. The difference is that builders need to contract with a factory to construct the house and transport it to the site, where the builder will then provide the finishing work and landscaping. Custom-home buyers can work with a design-build firm, hire their own architect or work with an in-house architect at a modular home factory.
Just like every building method, prefab has its hassles. Robert Gurney, an architect in Washington who designed a prefab home in Bethesda, says he will never design another prefab house. "I can design a stick-built house that's faster and less costly to build," he says.
The biggest obstacle, says Gurney, was that it took six months longer than normal to get the permits. However, he believes the control offered by a factory can produce quality construction and insulation.
State transportation rules also affect the design of prefab houses, says Tanney. The maximum size that can be transported varies, but often the pieces must be no more than 16 feet wide, 11 feet tall and 60 feet long, he says. And then the delivery trucks must get past trees and power lines to reach the home site.
"It can be tricky to get these 60-foot-long boxes into neighborhoods and to figure out where to store them overnight," says Giarraputo. Utilities and topography can present obstacles or even be dealbreakers.
"One challenge is when people want a large, open great room, which can be tough to build in a factory and transport," says Abramson, of Method Homes. "In that case, the home becomes more of a hybrid with most of it panelized and the great room built on-site."
PREFAB TAKES LESS TIME
Living in a modular home is the same as living in a traditionally built home, says Brendan O'Neill Jr., president of O'Neill Development in Gaithersburg, Md., who has lived for 19 years in a modular home he built with his father. The house took four months to complete from plans to occupancy, while a stick-built house typically takes six to 10 months. "My house has been through an earthquake, a derecho, a few blizzards and some wild windstorms without damage, so I know it's solidly built," he says.
Prefab construction results in a structurally stronger residence, says Winn, because the walls need to withstand being transported by truck.
Salis and Thompson anticipate that panelized construction will become more common, in part because the money saved by having houses built in a factory could be spent on upgraded finishes and fixtures.
"The big question is why is it taking so long for prefab to be the way all houses are built?" says Tanney. "There's lots of interest in this. Every day, another project or prototype is being developed and another investor gets excited about prefab construction. But the construction industry has been slow to embrace it. One reason is that, like many industries, this is a litigious one. That means people have a greater propensity to do something the way it's already been done."
Whether it's to save time, to reduce construction waste, to execute a cool design or to be able to say your home was built by robots, prefab is likely to maintain its fans. But even they admit it may be years before prefab becomes the most popular way to build a home -- if it ever does.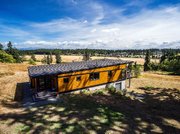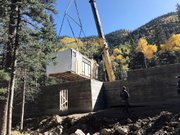 HomeStyle on 06/30/2018