FAYETTEVILLE -- The School Board unanimously voted to terminate Superintendent Matthew Wendt's contract Monday after an employee sexual harassment claim more than three months ago.
The board cited a breach of contract by violating the district's sexual harassment policy. Wendt violated the policy through his derogatory and offensive conduct and communication with a female subordinate employee, explained Susan Kendall, lawyer with the Kendall Law Firm in Rogers and the School Board's legal counsel.
Policy of Sexual Harassment
Forms of sexual harassment shall include, but are not limited to, the following:
•Verbal harassment, including derogatory comments, jokes, requests, or other sexually oriented language.
• Uninvited letters, telephone calls, digital transmission or materials of a sexual nature.
•Physical harassment, including unnecessary or offensive touching, repeatedly brushing against another person's body, impeding or blocking movement, or invading personal space
• Visual harassment, including offensive posters, cards cartoons, graffiti, drawings, or gestures.
• Attempted or actual rape or sexual assault.
Source: Polict 4180 of the Fayetteville School District
"The superintendent shall...execute all powers and duties in accordance with board policies and the laws, rules and regulations of the State of Arkansas and its regulatory agencies," according to Wendt's contract.
The employee's lawyer, attorney Suzanne Clark, filed a sexual harassment claim March 14 and presented Chris Lawson, district general counsel, on March 15 with voice recordings of Wendt and copies of text messages between her client and Wendt that support her client's complaint, Clark said in the news release.
The district "immediately instituted an investigation into the allegations" after being notified, Lawson said April 5. The investigation concluded April 13, he said.
The special meeting to consider Wendt's termination began shortly after 5 p.m. Monday.
The board was to hold an open hearing at the request of Wendt; however, Wendt waived his right to a public hearing, and the board was free to consider the personnel matter, Kendall said before the board went into executive session around 5:30 p.m.
The board remained in executive session until about 7 p.m. The board voted 7-0 on three findings of fact regarding Wendt's "offensive and derogatory communication with a female subordinate employee" in violation of the board's Policy on Sexual Harassment policy 4180 and of the Duties of Superintendent policy 2.1.
Kendall provided notice April 25 to Elizabeth Robben Murray, Wendt's lawyer, the board was considering disciplinary action against Wendt based on the findings, Kendall said in the meeting. This took place after the school board voted April 18 to further consider a personnel matter it discussed during an executive session.
Murray objected to the board at the beginning of Monday's meeting, saying the board is allowed to unilaterally terminate if it's pursuant to Arkansas Code Ann. 6-17-301, but that doesn't apply in this case.
According to this code, a superintendent's contract of employment with a school district may be terminated for cause and without the school district's having any further financial obligation to the superintendent if the school district has been placed on fiscal distress by the Department of Education because of the superintendent.
Kendall responded, "I disagree with her position that it is contrary to Arkansas law that provides that a failure of one party to perform its contractual obligations, or in other words breach the contract, excuses and releases the other party from its obligations."
The board then voted 7-0 to terminate Wendt's contract. Justin Eichmann, School Board president,gave a statement on behalf of the board:
"I would like to express our deep disappointment in the actions that have led to the termination of Dr. Wendt's employment as Superintendent of the Fayetteville School District. The termination of Dr. Wendt's contract is effective immediately.
"Every employee of the district, including the Superintendent, is subject to district policies. Likewise, the due process and protections afforded to every district employee must be observed in all instances. For these reasons, the district conducted this process as it would for any employee. The protection of employee confidentiality and the provision of due process with regard to employment discipline are required by our policies and by law.
"Throughout such a process, while the district maintains confidentiality in order to protect the rights of employees, there can be wandering speculation that may be damaging to certain individuals who, through absolutely no fault of their own, then become a target. Such speculation is wrong and harmful, and there must be a basic level of decency and respect afforded to any person who is a bystander to this matter.
"The Fayetteville School District expects, and will continue to expect, that our district workplace is a safe, appropriate, and professional environment for all employees at all times. In the near future, we will focus our efforts to make sure that this expectation is a top priority from top to bottom throughout the district. We will work with the community and engage our stakeholders to ensure trust.
"While this matter has required the board's attention for these past few months, we are gratified that the teachers, staff, students, and school board of Fayetteville Public Schools continued forward to a very successful conclusion of the school year."
The board will look at revising policies with the help of legal advice and taking community input as well in regards to any other measures that should be taken.
"Anything we can do to make sure this type of thing does not happen again," Eichmann said.
Wendt and his lawyer, Murray, were present at the meeting as was Clark. Wendt and Murray left the meeting before they could be asked for comment.
Wendt was hired July 1, 2016. His annual salary was $231,080 or about $19,256 a month, according to his contract. Wendt will have received around $40,000 in salary since being placed on leave.
The board didn't discuss a buyout as part of the termination.
Washington Elementary School parent Sarah Moore was one of the many community members present at the packed meeting
"I'm here in support of all the students, many who don't have food at home and are fed by the school staff," Moore said. "The money that has been spent on the superintendent's salary while he has been on leave could go to feeding students. It's wasteful."
Clark said her client's complaint with Equal Employment Opportunity Commission against the School District and board filed May 25 is still pending.
Her client's complaint to the commission details Wendt's abusive conduct after the woman refused to continue to have sex with him. The woman complained Wendt stalked her, sent her numerous text messages while she was at home and at work and told her she could be fired for her actions, according to a news release sent by Clark on June 14.
Wendt cursed the woman at work, reminded her he was her boss and would not give her a raise if she refused to have sex with him, according to a letter from Clark to the district in April.
They will wait until they receive the right to sue letter before deciding how exactly to move forward, but plan to move forward with a suit, Clark said Monday.
"As far as I'm concerned, nothing has changed with regard to the damage to my client in this," Clark said. "We are delighted Dr. Wendt no longer has his job."
John L Colbert will remain serving as acting superintendent, Eichmann said.
"I've known John L for a long, long time. He has been a well loved principal and associate superintendent for a number of years," Eichmann said. "He has done a wonderful job. John L's response is always, 'How can I help?'"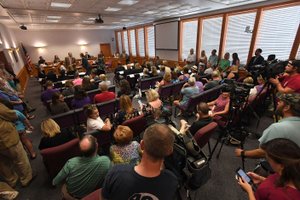 Photo by J.T. Wampler
A capacity crowd attends a Fayetteville School Board meeting to determine the fate of Superintendent Matthew Wendt's employment at the School District on Monday. The board voted to terminate Wendt's contract.
NW News on 06/19/2018