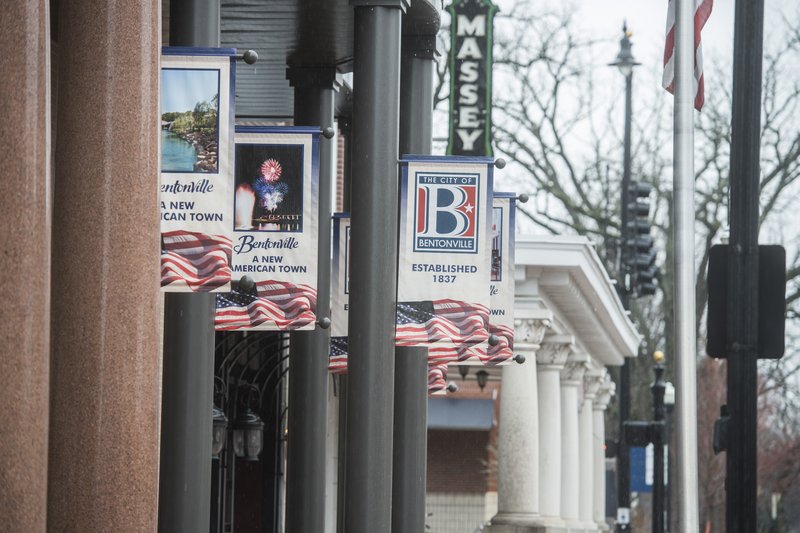 NWA Democrat-Gazette File Photo/ANTHONY REYES Downtown Bentonville Tuesday, Feb. 14, 2017. - Photo by Anthony Reyes
BENTONVILLE -- One of the Wastewater Department's clarifiers is inoperable, causing the need for a $37,500 repair.
Clarification is one of the final steps before water is released into Town Branch Creek. The water is clarified by separating the micro-organisms from it.
The city has two clarifiers.
A gear shattered in one of them, destroying other pieces of the equipment, Nancy Busen, wastewater utilities manager, told City Council members in a memo.
"The plant cannot operate effectively with one clarifier for an extended period of time," she wrote.
Both are more than three decades old and in need of new parts. The City Council accepted Seven Valleys Concrete's $431,200 bid in April to rebuild the interior moving parts and the walkway to the gearbox and motor for maintenance in both clarifiers.
"Failure of these components would be catastrophic to the treatment process," Mike Bender, public works director, said in April. "Operating on this equipment to failure is not an option."
Council members unanimously approved Tuesday $37,500 for emergency repair of the gears, gearbox and pinion gear of the clarifier that isn't working.
That also includes the new gears and gearbox for the second clarifier so it can be on-site should it fail prior to the complete assembly being ready to install, according to Busen.
Council action
Bentonville City Council met Tuesday and approved:
• Amending the pay plan for City Council members and the city clerk.
• Appointing Jordan Garner to the Advertising and Promotions Commission.
• Declaring eight Glock handguns surplus from the Police Department.
• Bills Electric Inc to installation of four decorative streetlights on Main Street for $42,558.
• Buying a $25,126 fork lift from Wiese USA for the inventory control warehouse.
• Diamond C Construction to paint and apply anti-graffiti sealer to two tunnels on the Razorback Greenway for $43,889.
• Ozark Mountain Glass to replace 13 door assemblies on various buildings for $33,975.
• Eliminating the purchasing manager position and replacing it with a purchasing administrator and accounting specialist.
Source: Staff Report
The emergency repair should be completed by the end of this month, she said in an email.
The other pieces of the assembly are in the manufacturing phase and will be shipped to the city in 2019, Busen said in an email. They will be installed when weather and plant conditions are best for the project to take place.
"You should have ready what's going on," Mayor Bob McCaslin said to council referring to Busen's memo at Tuesday's meeting. "When we bring you something from the wastewater facility, that's probably something we should address pretty quickly."
The City Council voted without discussion.
McCaslin also told council members the City Hall building on West Central Avenue needs a new roof and mold removed.
Both issues were discovered when minor repairs to the roof were recently made to fix a leak in the lobby area of the mayor's office, he explained.
The roof project could cost between $200,000 and $500,000, he said.
Before spending that money, the city is going to hire an architectural or engineering firm to evaluate the structural integrity, space limitation and specific equipment, such as the server room, in an effort to shore up the building for a few decades, McCaslin said.
The city is going to put out requests for proposals and should have a contract back for the council's approval within three months, McCaslin said.
"Our building has a lot of character," he said. "It's really a fun, great place to work and conduct business, but it has some issues, and we need to address them."
NW News on 06/13/2018
Sign up for breaking news
& daily updates delivered
right to your inbox.
Print Headline: Emergency repair required for wastewater clarifier
Sponsor Content
Comments