Division II Player of the Year BRANDON ULMER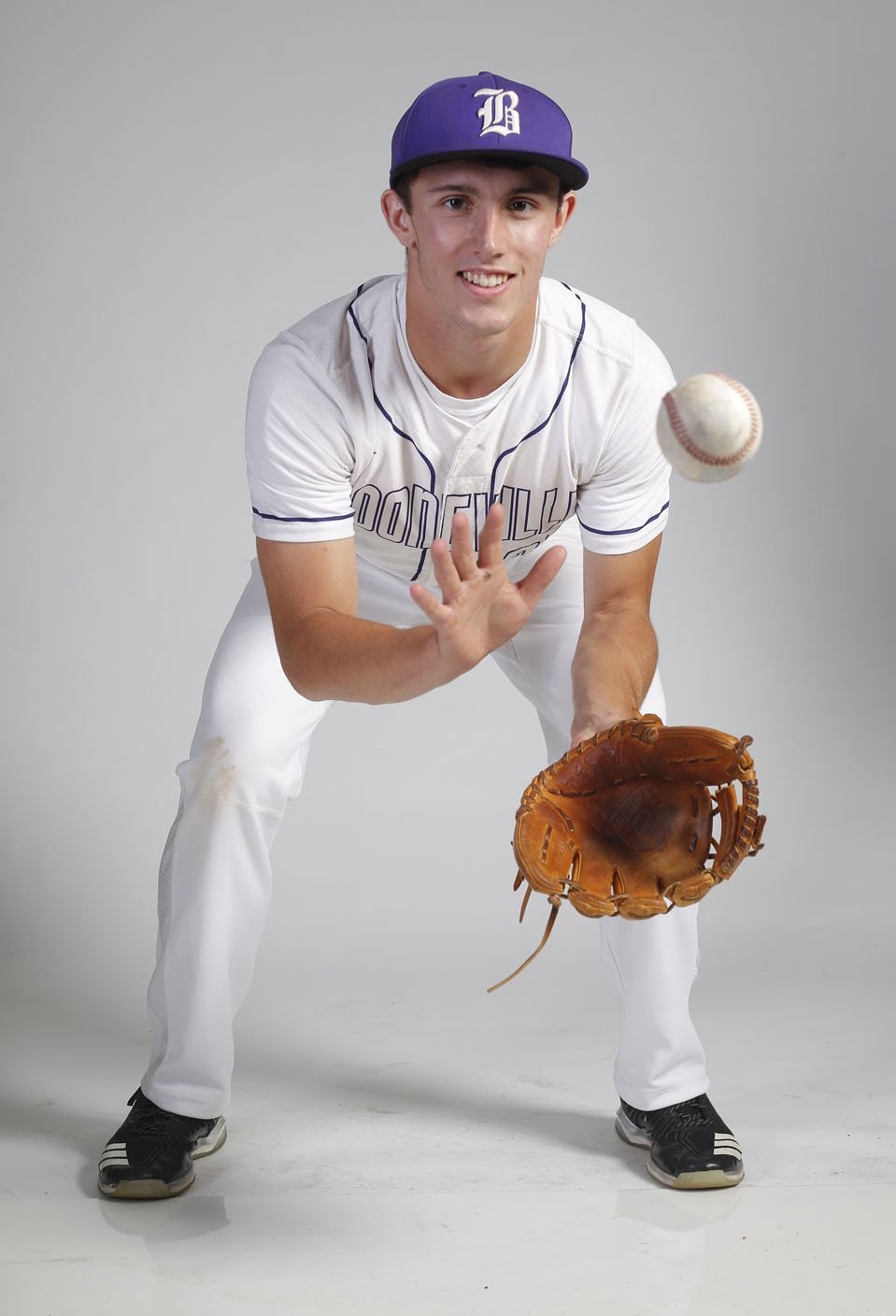 NWA Democrat-Gazette/DAVID GOTTSCHALK Brandon Ulmer of Booneville is the All-Northwest Arkansas Democrat-Gazette Division II Baseball Player of the Year.
SCHOOL Booneville
CLASS Senior
HEIGHT 5-11
WEIGHT 175
POSITION Pitcher/shortstop
THE SCOOP Ulmer did it all for the Bearcats this season as the team's shortstop and top pitcher. ... At the plate, Ulmer put up staggering numbers with a .500 batting average that included 44 hits, 44 runs scored, 12 doubles, nine home runs and 25 RBIs. ... Ulmer batted lead-off most of the season and also saw time in the two-hole. Seven of his nine home runs came when he batted leadoff. ... As a pitcher, Ulmer was 6-2 with a 1.10 ERA and 65 strikeouts. ... Ulmer has signed with Arkansas State, where he will move to the outfield. ... As a Bearcat, he played for his father, Darby Ulmer, a longtime Booneville teacher and coach. ... Ulmer plays for Sticks Academy out of Little Rock in the summer. ... Ulmer was also the quarterback on the Bearcats' football team and ran track.
DID YOU KNOW Ulmer is named after legendary Arkansas Razorback All-American offensive lineman Brandon Burlsworth, who was tragically killed in a car accident in 1998 near his hometown of Harrison.
QUOTABLE "In the offseason I really worked hard with my dad, a lot of hitting in the cage and mental practice. Just visualizing myself at the plate and seeing yourself hitting the ball. I think baseball is a big mental sport," Ulmer said of his stellar senior season.
-- Chip Souza • @NWAChip
---
ALL-NWADG BASEBALL Division II Newcomer of the YearWALKER WILLIAMS
NWA Democrat-Gazette/J.T. WAMPLER Walker Williams of Shiloh Christian is the All-Northwest Arkansas Democrat-Gazette Division II Baseball Newcomer of the Year.
SCHOOL Shiloh Christian
CLASS Sophomore
HEIGHT 5-10
WEIGHT 190
POSITION Pitcher/Outfielder
THE SCOOP Williams' early success on the pitcher's mound elevated him to the No. 2 starter and allowed the Saints to move senior Connor Clark to the closer's role. ... Williams, a left-hander, is hitting mid-80s with his fastball and had a lot of success with a two-seamer this season, posting a 7-0 record with a 1.08 ERA and 81 strikeouts, helping the Saints return to the Class 4A state title game. ... Williams proved just as successful at the plate as a hitter, batting .390 with 32 hits, 15 doubles and 27 RBIs. ... Made a web-gem sliding catch in the state title game on a foul ball. ... Plays for the Arkansas Prospects 16U summer team. ... He is also a member of the Shiloh Christian football team.
DID YOU KNOW Most people would think that Williams is named for a family member, but that is not the case at all. He is actually named after Walker Elementary School in Springdale, where his parents first met as grade school sweethearts. Williams' middle name is Tim after his father, and most people call him Walker T.
QUOTABLE "They kind of just threw me in there one day, and I guess I just did good enough that they kept using me throughout the year. I was ready to go, it didn't overwhelm me or anything. I knew we had a lot of seniors coming back this year, but I thought I could find a way to help the team," Williams said.
-- Chip Souza • @NWAChip
---
ALL-NWADG BASEBALL Division II Coach of the Year GREG HARRIS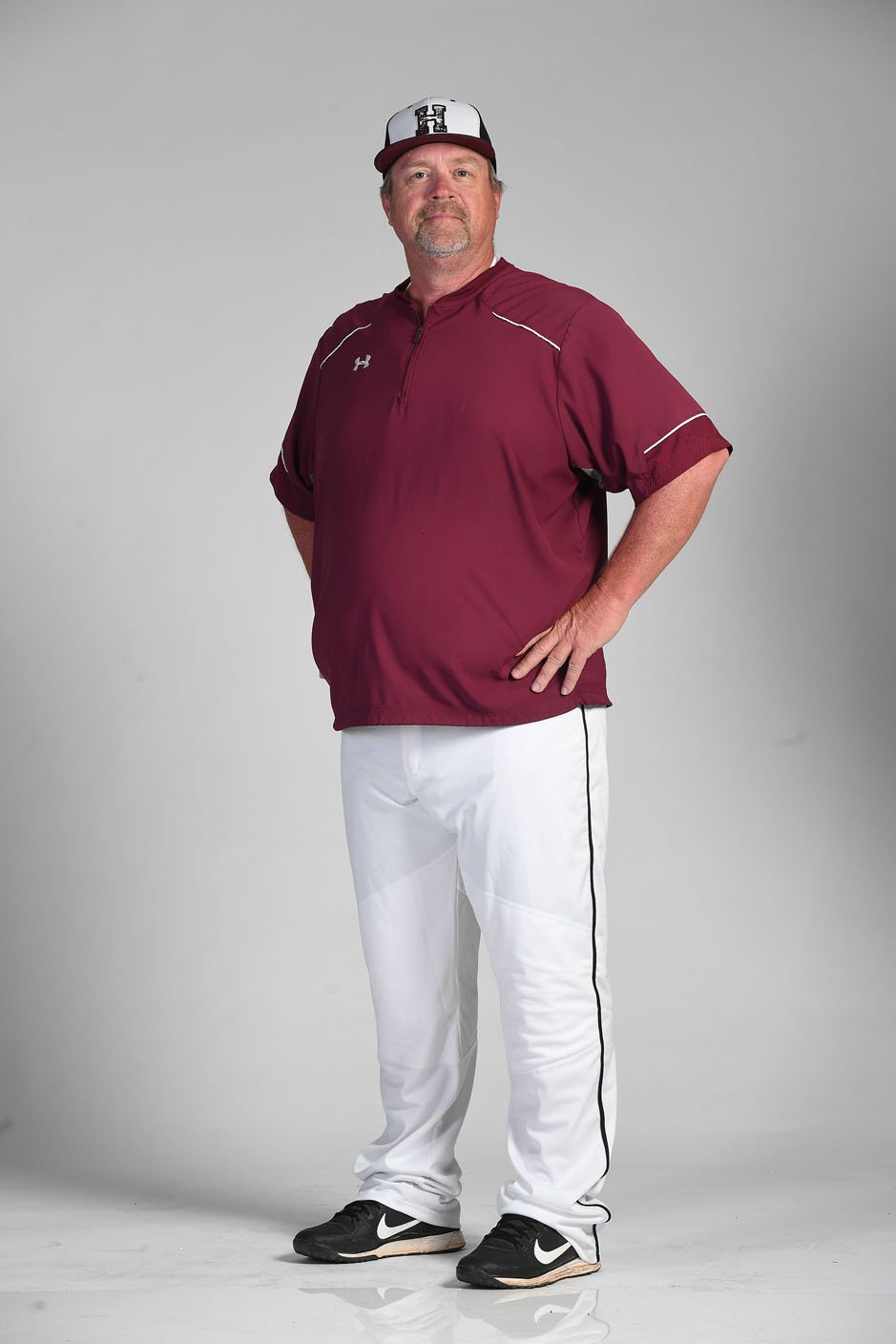 NWA Democrat-Gazette/J.T. WAMPLER Greg Harris of Huntsville is the All-Northwest Arkansas Democrat-Gazette Division II Baseball Coach of the Year.
SCHOOL Huntsville
THE SCOOP Harris has turned a once mediocre program in a conference contender in his three seasons as the head coach after coming over from Rogers Heritage where he was an assistant coach. ... In Harris' first season, Huntsville won 17 games. The past two seasons the Eagles have won 24 games each season. ... The Eagles were close to punching a ticket to the state tournament with a narrow 2-1 lead against Dardanelle late in the 4A-North Regional opener but ran out of steam in the elimination loss. ... Harris played collegiately at Ouachita Baptist University 1982-87. ... He graduated from Haskell High School, which did not field a high school team. He played American Legion baseball in the summers. ... Harris' son Ty Harris signed and played at Arkansas but has since transferred to Alabama-Birmingham.
DID YOU KNOW Prior to taking over at Huntsville, Harris coached at a number of schools over a long career. He was an assistant under Kirk Bock at Bryant, he was the head coach at El Dorado for three seasons and also coached at Camden-Fairview and Hampton.
QUOTABLE "One thing a lot of people don't know is we graduated seven senior starters from last year, and the thing that tickled me the most is we just picked up right where we left off. We swept Pea Ridge, which we couldn't remember the last time we even beat Pea Ridge. So I'm very proud of the season we had. Our kids have bought into our plan, and it's just carried over all three years. So it's a credit to the kids. Great parents, great kids, they just had to be developed. And that's what they did; they bought into the plan," Harris said.
-- Chip Souza • @NWAChip
---
All-State Baseball
Class 4A
Alex Day - Ashdown
Jaden Hill - Ashdown
Brett Kernodle - Baptist Prep
Riley Loyd - Baptist Prep
Brandon Ulmer - Booneville
Jake Algee - Brookland
Brandon Glenn - Brookland
Landon Jones - Brookland
Levi Smith - CAC
Bennett Holt - Crossett
Brayden Myers - Dardanelle
Tate Vestal - Dardanelle
Andy Roberts - Gosnell
Bailey Soule - Gravette
Steven Huff - Hamburg
Zach Biggers - Harrisburg
Tanner Harris - Huntsville
Kade Stuart - Lonoke
Demias Jimerson - Malvern
Nick Griffin - Monticello
Mason Philley - Monticello
Tyler Hanson - Nashville
Eddie Graham - Ozark
Tyler Odell - Pea Ridge
Nick Hagerty - Pottsville
Greyson Stevens - Pottsville
Drew Cates - Prairie Grove
Brandon Hudson - Robinson
Luke Pectol - Robinson
Landon Brown - Shiloh Christian
Connor Clark - Shiloh Christian
Braden Jones - Southside Batesville
Chance Johnson - Star City
John Hoskyn - Stuttgart
Treylon Burks - Warren
Avery Felts - Westside Jonesboro
Class 3A
Ben Jackson - Atkins
Kennen Martin - Atkins
Rhett Roach - Bald Knob
Brayden Roberts - Bald Knob
Bryce Dodd - Clinton
Ty Johnson - Clinton
Mason Silberstein - Corning
Phillip Bryant - Episcopal Collegiate
Dearieus Sledge - Fordyce
Austin Lawrence - Fouke
Mason Sellers - Genoa Central
Jarred Rogers - Glen Rose
Chandler Alaniz - Greenland
Austin Anderson - Greenland
Hunter Cartwright - Greenland
Peydon Harlow - Harding Academy
Dalton Koch - Harding Academy
Wade Beasley - Horatio
Zach Izzo - Horatio
Logan Perkins - Jessieville
Kellan Hodge - Junction City
Clay Jolley - Junction City
Michael Jorgensen - Manila
Brennan James - Mansfield
Brady Wilcox - Mayflower
Ethan York - Mayflower
Andrew Pitts - Melbourne
Brock Johnson - Perryville
Josh Lyman - Piggott
Tucker Evans - Smackover
Jake Moorehouse - Valley Springs
Cade Burris - Walnut Ridge
Class 2A
Andrew McFarlin - Buffalo Island Central
Canon Walling - Buffalo Island Central
Blake White - Carlisle
Nick Scherrey - Conway Christian
Winston Strawn - Conway Christian
Ben Cantrell - Danville
Ryan Rosel - Des Arc
Peyton Phillips - East Poinsett County
Ty Holt - Hackett
Gannon Bearden - Harmony Grove Camden
Cody Day - Hector
Martin 'Rey' Lozano - Lavaca
Randon Baumgartner - Magazine
Justin McKim - Magnet Cove
Dalton Holland - McCrory
Matthew Herron - Mountain Pine
J.C. Motley - Murfreesboro
Austin Teal - Palestine‐Wheatley
Gavin Barnett - Pangburn
Carson Worthy - Parkers Chapel
Zach Klien - Poyen
Riley Tomlinson - Salem
Kaleb Blair - Spring Hill
Wesley Featherston - Spring Hill
Class 1A
Ethan Block - Alpena
Brett Harris - Armorel
Travis Southern - Armorel
Nathan Higgins - Bay
James Mills - Bradley
Hunter Hartwick - Concord
Gage Gattis - County Line
Pacyn Reames - County Line
Adam Garcia - Decatur
Dylan Richardson - Deer
Zane Cox - Dierks
Blayn Turner - Dierks
Gauge Welch - Hampton
Hunter Saunders - Hermitage
Tyson Durham - Hillcrest
Colton Rose - Hillcrest
Carson Smith - Kirby
Ethan Nuessner - Lead Hill
Tommy Sindland - Lead Hill
Tristan May - Midland
Cade Jackson - Mount Ida
Logan Adcock - Mount Vernon‐Enola
John Riley - Nemo Vista
Bryson Rhodes - Nevada
Trey Stone - Omaha
John Fowler - Ouachita
Conly Lockhart - Rector
Landon Wharton - Sacred Heart
Levi Forst - Scranton
Cody Decker - Shirley
Ben Gorden - Shirley
Brody Smith - SS Bee Branch
Griffin Smith - SS Bee Branch
Myles Jones - Taylor
Keagan Dunn - Viola
Will Wilson - Viola
T.J. Lewis - Western Yell County
Zane Haney - Wonderview
Matthew Aiken - Woodlawn
Will Richardson - Woodlawn
Sports on 06/13/2018