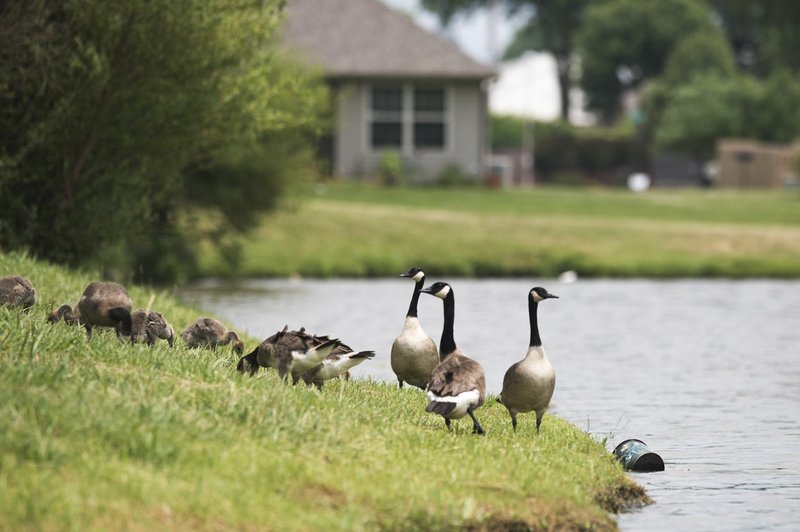 A gaggle of geese forage Thursday at Lake Bentonville north of the Bentonville Airport. - Photo by Charlie Kaijo
BENTONVILLE -- Something needs to be done about geese congregating at the north end of the municipal airport's runway, but what exactly isn't clear, the Airport Advisory Board discussed Thursday.
A photo of 26 geese crossing the runway circulated by email among board members about two weeks ago.
"They're pretty acclimated out there, enjoying themselves," said Richard Ham, chairman.
The birds typically spend about four months each spring at the airport, posing a safety hazard that includes possible plane crashes, officials said.
Board members, city staff and airport officials say they want to come up with a plan for when the birds return next year.
The ways to combat geese are to change the habitat, movee them, harass them or kill them, Ham said.
Harassment -- to scare them off with dogs, hawks or another method -- is the most expensive, and the geese would have to be moved at least 300 miles so they don't find their way back to the airport, Ham said.
Changing the habitat isn't an option because a conservation project at Lake Bentonville will only enhance the kind of habitat geese are attracted to, said Chuck Chadwick, airport manager.
Lake Bentonville wraps around the north end of the airport's runway and Osage Park is north of the lake. The Walton Family Foundation is spearheading the park's development that would expand the 9-acre lake by 7 acres.
Chadwick also said killing the geese should be one of the last options.
"I can't tell you exactly what the plan's going to be, but we're working through it," he said.
The board discussed creating a subcommittee that includes pilots.
Ham and Dave Powell, owner of Summit Aviation, the airport's fixed-base operator, said they would be interested in serving on the committee.
Ham likened the situation to Thomas Edison and the light bulb.
"You try 10,000 things until you find the one that works," he said.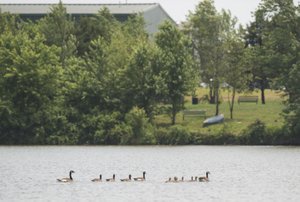 Photo by Charlie Kaijo
A gaggle of geese swim Thursday at Lake Bentonville north of the Bentonville Airport.
NW News on 06/08/2018
Print Headline: Geese pose problem at city airport
Sponsor Content
Comments