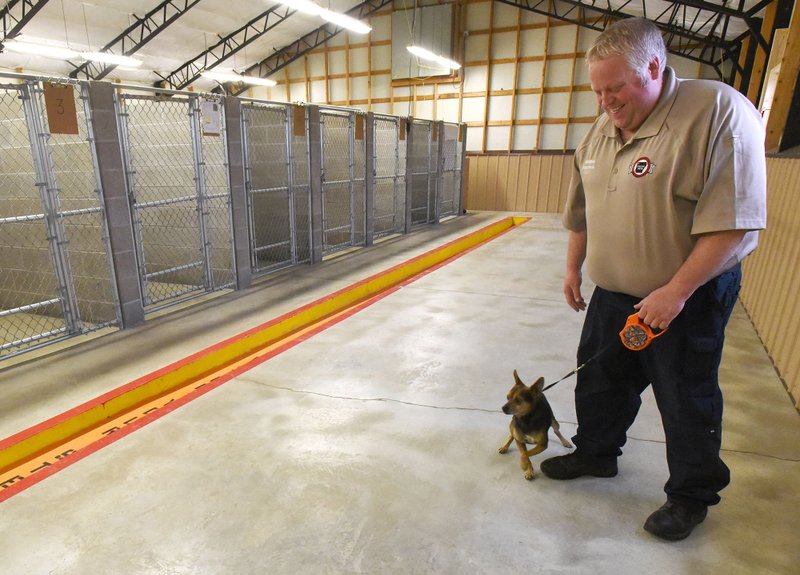 Cody Wilson, a Centerton animal control officer, shows a dog available for adoption at the Centerton Animal Shelter. Bentonville currently contracts with Centerton to take lost and stray dogs to its animal shelter but has selected land as its top choice for an animal shelter. - Photo by Flip Putthoff
BENTONVILLE -- The Animal Shelter Task Force organized four subject-specific committees and set its first community meeting during its first gathering Thursday.
Ten of the 11 members met at the Community Center for about an hour and a half.
The board will be one that works, said Stephanie Orman, task force chairwoman. Committees will need to do research and work between meetings and be able to provide recommendations to the task force, she said.
Orman is one of three City Council members on the task force. Bill Burckart and Tim Robinson are the other two. Other members include animal advocates, a veterinarian, a small business owner and members from a couple of foundations, including the Walton Family Foundation.
Best Friends Animal Society did an assessment of animal services needs in Benton and Washington counties last year. There were two representatives at Thursday's meeting.
The assessment, which looked at information from 2014 to 2016, identified a Bentonville facility and more cat services in Benton County as two of the most pressing needs, Brent Toellner, regional director of Best Friends Animal Society, told the task force.
Bentonville is the only one of Northwest Arkansas' four largest cities without an animal shelter. Animal control officers have been taking lost and stray dogs to the Rogers Animal Shelter for 10 years. It began a three-year contract with Centerton on May 1.
Animal advocates opposed the contract and asked council to at least look into what it would take for the city to have a shelter. The task force was born from that request.
Much of Thursday's meeting had to do with members volunteering to head or serve on four different committees.
Burckart is chairman of the land and zoning committee, which will look at possible locations for a shelter.
Romaine Kobilsek, board president of Spay Arkansas, will lead the services committee, which will look at what the shelter would provide in terms of services and programming.
Task Force members
• Stephanie Orman, City Council
• Bill Burckart, City Council
• Tim Robinson, City Council
• Deborah Billingsly, BARC
• Romaine Kobilsek, Spay Arkansas
• Bobby Critselous, Three Dog Bakery
• Lee Harper, Village Pet Hospital
• Kristin Switzer, NWA Dog Walk
• Steven Galen, Bissell Pet Foundation
• Brent Toellner and Jackie Roach, Best Friends Animal Society
• Becca Hazelwood, Walton Family Foundation
Source: Staff report
Robinson and Becca Hazelwood, with the Walton Family Foundation, will head the ownership committee, which will explore public, private and public-private ownership possibilities.
Steven Galen, with Bissell Pet Foundation, will lead the funding committee to look at possible sources of money for the building as well as consider how much it will take to operate and maintain the facility.
Other task force members agreed to serve on different committees under the respective chairmen. Orman encouraged committee leaders to invite others who might not be on the task force but are interested in an animal shelter to participate on the committees.
Burckart presented a timeline the task force should try to abide by if a shelter were to be constructed and opened by the time the city's contract with Centerton expires in about three years.
"The goal is to make a report to the City Council by Oct. 24," he said, explaining that report needs to include the long-term feasibilty of a shelter, what the capacity needs are and how it'll be funded.
The task force set the first community meeting to be at 6 p.m. July 12 at the Community Center. It will meet to finalize the meeting format and agenda on June 28.
Orman said she keeps hearing how the shelter initiative needs to be community-driven.
"Those public meetings are going to be key to understanding what the community wants," she said.
All of the task force meetings are open to the public as required by the Freedom of Information Act since there's more than one City Council member on it.
While the public can observe task force meetings, the community meetings will be formatted specifically to retrieve public input and feedback.
NW News on 06/08/2018
Sign up for breaking news
& daily updates delivered
right to your inbox.
Print Headline: Animal shelter task force gets rolling
Sponsor Content
Comments