A global disruption in the market for recycled plastic bottles, paper and other materials has reached Northwest Arkansas, leaving one recycler with 200,000 pounds of cardboard waiting for a higher sale price and another paying paper mills to take its paper.
Area cities and companies are still accepting the same materials at drop-off sites and in curbside bins, and officials said they've generally been able to keep the stuff moving to companies that use it to make new products.
But material prices are down across the board, which means cities and businesses pay more for recycling.
China's government in the past several months stopped accepting several kinds of American recycled scrap and demanded others be nearly 100 percent free of trash, food residue and the like, according to The Wall Street Journal and other news outlets. China said the move was to lower pollution and the amount of foreign trash it takes in.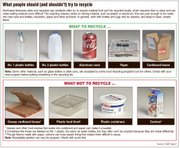 Residents' attempts to recycle materials that can't be recycled here -- what Marck Recycling Vice President Mike Wilson calls "wish-cycling" -- is also a widespread problem, he and others said. This sort of contamination is what China said it wants to stop.
One result has been upheaval among many recycling outfits around the world.
China was a major destination for global recyclables, previously taking in roughly one-third of all American scrap and paying billions of dollars for it, according to the Institute of Scrap Recycling Industries. With that door essentially shut, news reports around the world describe a glut of supply, leading some recyclers to stockpile or throw away their materials.
The problem could be a big one in Northwest Arkansas, where haulers and processors estimate they recycle 20,000 tons of material annually. But the situation's better here than in other places. Marck handles material from Rogers, Springdale and several other cities at a Rogers facility and hasn't yet had to take any to the landfill, Wilson said.
"At some point it could happen. I hope that it doesn't," he added. "The markets are horrific."
Mixed paper, cereal boxes and paperboard make up about half of Marck's intake. Usually the company can make money selling them, but prices have dropped to negative levels: Companies now charge to take it off Marck's hands. Wilson said Marck has raised fees for haulers that bring material to its Rogers facility.
The drop in prices comes months after the area's recycling groups were enjoying a bump in revenue stemming in part from high demand for cardboard, which they said was thanks to online shopping and the need for shipping boxes. Fayetteville, for instance, had recycling revenue jump from $678,000 in 2016 to $945,000 last year, according to the city budget.
The nonprofit Bella Vista recycling center at the end of 2017 could sell cardboard for more than $200 a ton, center board President Paul Poulides said. Now prices are half that because of the extra national supply. The center is sitting on five tractor-trailers each filled with 40,000 pounds of cardboard waiting for prices that will cover the center's costs.
"Nobody wants it, but it'll swing back," Poulides said. The center runs on volunteer labor, donating any profit to the volunteers' choice of charities.
Northwest Arkansas has the benefit of sending its recyclables mostly to domestic buyers, said Martha Treece, co-owner of ORE -- Recovered Material in Clinton. The company helps find buyers of recycled material from Bella Vista, Siloam Springs and other parts of the region. Paper often goes to companies in surrounding states, Treece said. Residential plastic typically goes to the southeast.
Northwest Arkansas' recyclable material is also clean enough to still attract "eager buyers," Treece said. Bella Vista, Fayetteville, Siloam Springs and the county solid waste districts divide their recyclables and pick out nonrecyclable trash at the curb or at drop-off centers, for example. Wilson said Marck hand-sorts material once it arrives at its facility.
Contamination is still a common occurrence when residents turn in their materials. Wilson said roughly a quarter of the material arriving at Marck's facility is trash, such as the wrong types of plastic. Marck and other local groups generally accept only bottles and milk or detergent jugs, not buckets or bins or other items.
Jerrold Haley, manager of Rogers' drop-off recycling center, said it received items as outlandish as mattresses and couch cushions when it started accepting plastic foam. People often seem to think that anything made of plastic can be recycled, he added. But throwing something in because someone thinks it might or should be recyclable doesn't work; unacceptable items just get thrown away.
The China issue could provide an opportunity to rethink the entire recycling system to make it better, Treece and others said.
She advises recycling programs stick to basic materials that buyers want and are cheaper to collect rather than trying to accept every kind of material, an approach that can be a magnet for unusable garbage. Northwest Arkansas has done a good job of that, she added.
"For communities, they have to pay attention to what they're trying to accomplish," such as helping to lower greenhouse gas emissions and save energy, Treece said. "It's not about just letting everybody feel good."
People who want to recycle must acknowledge the system can't take everything, and throwing in other materials is counterproductive and expensive for everyone involved, said George Wheatley, public affairs director for Waste Management. The company collects and hauls recycling for Springdale and other cities around the state and owns the Rogers facility managed by Marck.
"People are either going to do it right, or the cities and the people are going to have to pay," Wheatley said. But he added he sees the issue as similar to the gradual change in society to always wearing seatbelts. "We'll get there someday."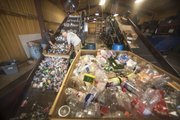 NW News on 06/04/2018
---
Sign up for breaking news
& daily updates delivered
right to your inbox.