BENTONVILLE -- Bike Rack Brewing Company is starting a record label, a move the brewers say not only helps local artists but reinforces the beer company's brand.
"We're not just in the beer business, we're in the experience business," Jeff Charlson, one of the company's founders, said during a sunny afternoon at Bike Rack's brewery at Bentonville's trendy 8th Street Market.
From the start, Charlson explained, Bike Rack's brand focused on three passions -- the area's biking community, beer and food and local artists from musicians to comedians. Bike Rack touts musicians playing at the brewery on its Facebook page and hosts intimate Brew Room Sessions that it records and features on YouTube.
"We decided to get out of the 'stick the artist in the corner' for background music concept," said Jerad Sears, Bike Rack's event curator and community ambassador. Sears coordinates entertainment for the brewery, from musicians to bean bag tournaments.
Bike Rack's first recording, in vinyl, is set to be released in early November. It will feature 10 local artists including Brother Moses, Jamie Lou and The Hullabaloo and Smokey & The Mirror. The recording is being done at Haxton Roads Studio and Ozark Collective is filming a documentary on the new label. Both outfits are based in Bentonville.
"It's going to be a non-traditional record label that's steeped in our community," Charlson said.
When Bike Rack opened for business in late 2014 it became Bentonville's first craft brewery. In addition to the 8th Street Market location, Bike Rack has a taproom in the Bentonville Arts District in the 400 block of Southwest A Street. Plans are in the works to open a Springdale location in August in the 200 block of E. Johnson Avenue. The new spot is downtown and a short pedal from Northwest Arkansas' growing walking and biking trail system.
Bike Rack sells its beer primarily in Benton and Washington counties to bars and restaurants and in retail locations. It recently began to distribute its beer in the Little Rock area.
According to data provided by the state Alcoholic Beverage Control Division, the brewery produced 1,191 barrels of beer in 2016. There are 31 gallons in a barrel of beer. Bike Rack's Charlson said the brewery looks to produce about 3,000 barrels in 2018.
Statewide, Arkansas' commercial brewers produced 28,543 barrels of beer in 2016, according to Alcoholic Beverage Control records. The state has 26 active small-brewery permits and 17 microbrewery restaurant permits. The Brewers Association, a trade group supporting craft breweries, said Arkansas ranked 38th in the nation in the number of craft breweries and 41st for breweries per capita for those over 21 years of age.
Martin Thoma, a principal at Little Rock-based Thoma Thoma, a brand leadership firm, and author of Branding Like the Big Boys, said Bike Rack's record label is an interesting branding move to differentiate itself from other craft breweries in the state.
"It's an interesting way to stand out, build community and play to your core audience," Thoma said.
He said music could help tie Bike Rack's brand to a broader audience, noting the company will have to decide if the record label is going to be strictly targeted locally or expanded statewide and even nationally. He said through the use of music Bike Rack is tapping into the experience economy, where brands strive to develop an emotional connection with their customers
"It could be a strong play," Thoma said.
Bike Rack's Charlson said the record label is another way for the brewery to communicate what the company stands for to current and future customers.
"We're building our tribe," he said.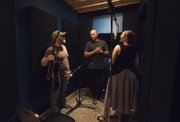 SundayMonday Business on 06/03/2018