FAYETTEVILLE -- Hunter Slater and Cole Donaldson hit home runs to back a gem from pitcher Nick Sandlin and the three led Southern Mississippi to a 9-0 victory over Dallas Baptist before an estimated crowd of 2,618 at Baum Stadium in the late game of the NCAA Fayetteville Regional on Friday.
Sandlin (10-0), the nation's ERA leader at 1.13 entering the game, threw another masterpiece to add to his growing collection. The side-arming right-hander allowed no runs on 4 hits and 3 walks and had 10 strikeouts in 102 pitches while lowering his ERA to 1.06.
Southern Mississippi (44-16) advanced to face Arkansas in today's 7 p.m. winner's bracket game. The game will pit left-handers Kacey Murphy (7-4, 3.15 ERA) and Stevie Powers (5-1, 3.28).
Dallas Baptist (40-20) will take on Oral Roberts in a 2 p.m. elimination game.
The Golden Eagles, winners of the Conference USA regular season and tournament titles, improved to 12-3 in Sandlin's starts.
The Patriots had multiple runners on base in three of Sandlin's last four innings, but the crafty junior, named first-team All-America by Collegiate Baseball on Thursday, escaped damage each time. He struck out clean-up man Garrett Wolforth and Tim Millard with runners at second and third in the fourth inning.
He induced a first-pitch double-play ball from Wolforth with the bases loaded and one out in the sixth. In his final inning, the seventh, with two runners on and one out, Sandlin fanned Hill Alexander and Blayne Jones.
"Just trying to minimize there in those innings," Sandlin said. "Just lucky enough to get that one ball hit right at Lebo [shortstop LeeMarcus Boyd] and then getting some guys to chase in that fourth inning or whatever that was."
Southern Mississippi Coach Scott Berry credited Dallas Baptist for working on Sandlin's pitch count.
"He had his strikeouts, but ... they ran that pitch count up and he had, what, three walks," Berry said. "That's usually not him.
"They competed really well. ... That pitch count fatigued him and they put some pressure on him those two innings."
Said Dallas Baptist Coach Dan Heefner, "Sandlin is a great pitcher. He threw well tonight. We had a couple of opportunities and didn't capitalize. He had a good strike zone to throw to tonight."
Mason Strickland and Bradford Keller worked the final two innings for the Golden Eagles.
Dallas Baptist outfielder Devlin Granberg, also a Collegiate Baseball All-America pick, went 3 for 4 and improved his batting average to .431, second in the nation, while becoming the Patriots' single-season hits leader as a Division I team with 103.
Donaldson, the Southern Mississippi catcher who hit .188 in May, is tearing up June. He went 3 for 3 with a home run and a double, drove in 5 runs and scored 2.
"That was my best game all year," Donaldson said.
Slater, the USM first baseman, opened the scoring with a solo home run against Trevor Conn (8-2) to lead off the second inning, an opposite field shot that was his 11th of the year.
The Golden Eagles scored two in the fourth as Donaldson had an RBI double and scored on a Mason Irby single. Donaldson added a three-run home run, after reliever Jordan Martinson hit Slater and Keating with pitches, to make it 7-0 in the sixth inning.
Donaldson's homer was his second of the year and his first since Feb. 24.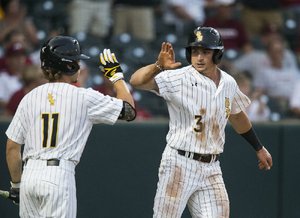 Photo by Ben Goff
Southern Mississippi's Daniel Keating (3) scored in the fourth inning Friday night against Dallas Baptist on a double by Cole Donaldson.
Sports on 06/02/2018