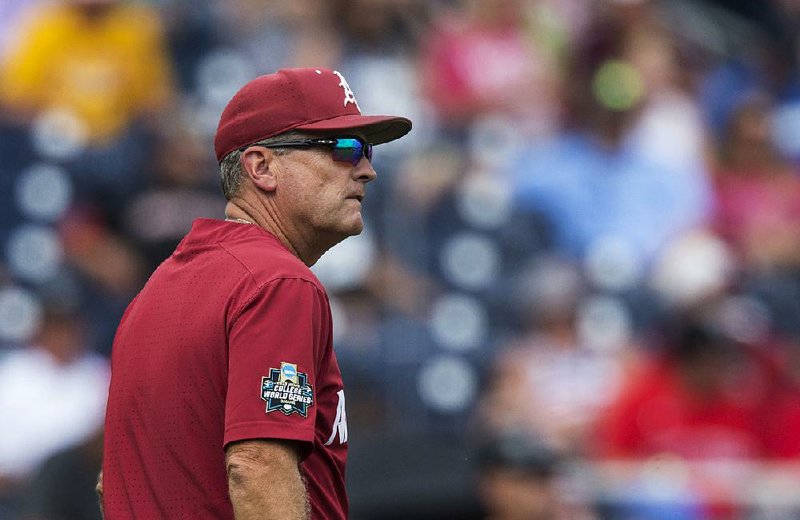 NWA Democrat-Gazette/BEN GOFF @NWABENGOFF Dave Van Horn, Arkansas head coach, visits the mound in the 5th inning vs Texas Tech Wednesday, June 20, 2018 in game eight of the NCAA Men's College World Series between at TD Ameritrade Park in Omaha. - Photo by Ben Goff
FAYETTEVILLE -- The Arkansas Razorbacks baseball team has added one of the top hitters from the Ohio Valley Conference.
Second baseman Trevor Ezell, who batted .377 for Southeast Missouri State in 56 games as a starting second baseman this season, is joining the Razorbacks as a graduate transfer, University of Arkansas, Fayetteville Coach Dave Van Horn said Tuesday.
Ezell, who is from Alexander and played at Bryant High School, had 6 home runs, 16 doubles, 4 triples, 50 RBI and stole 11 bases in 17 attempts as a redshirt junior. He received a medical redshirt year in 2017 because of a back injury.
Van Horn said Ezell underwent right shoulder surgery after this season.
"It kept popping in and out," Van Horn said. "He had to get it tightened up. He might not even get to hit until late fall. But he's very experienced and hopefully we get him rolling to help us early.
"If he's not ready to throw yet full go, he could DH for us. He's a switch-hitter and a very polished hitter."
The Razorbacks have openings at second base and designated hitter with the loss of seniors Carson Shaddy and Luke Bonfield from this season's team, which reached the finals of the College World Series and lost a decisive game three to Oregon State.
The Razorbacks' starting lineup lost six starting position players to the Major League Draft or graduation.
"If he can throw, he'll be more than in the mix [at second base]," Van Horn said. "We may not be done recruiting, either. We still have time."
Casey Martin, who as a freshman led the Razorbacks with a .345 batting average and hit 13 home runs, also could take over at second base after playing primarily at third this season. The former Lonoke star played 9 of 62 games at second base, including a five-game stretch against Alabama and LSU when Shaddy was out because of a hand injury.
"We already know he can play third," Van Horn said. "He played shortstop in high school. We're going to give him an opportunity to play short this fall and some second."
Jack Kenley, who will be a junior next season, also could be a starter at shortstop -- where the Razorbacks lost Jax Biggers -- or third base.
"I'm going to let those two guys battle it out," Van Horn said of Martin and Kenley at shortstop.
Heston Kjerstad, who as a freshman batted .332 and had team-highs of 14 home runs and 58 RBI, started all 69 games in left field, but likely will move to right, Van Horn said.
"To me, he's more of a right fielder," Van Horn said. "He actually throws really well."
Van Horn said there is less ground to cover in right field in most SEC ballparks.
If Kjerstad goes to right field, he'll replace Eric Cole, a fourth-round draft pick by Kansas City.
"He's actually a good outfielder," Van Horn said of Kjerstad. "Yeah, he dropped a couple balls late in the season, but running and getting the ball, he's been good.
"I think he got worn a little bit, to be honest with you. Probably the only freshman I've ever had in my coaching career that played every game his first year."
If Kjerstad doesn't play left field, one candidate to replace him is transfer Matthew Goodheart, who is from Magnolia and played the position this season as a freshman at San Jacinto (Texas) Junior College while batting .355 with 7 home runs and 43 RBI.
Van Horn said two freshmen also could be in the mix to play left field, but he didn't want to be specific.
"I won't name the freshmen, because they haven't done anything yet," Van Horn said.
First base is another open spot with the loss of Jared Gates, who recently signed a free-agent contract with Baltimore.
Jared McFarland, who will be a junior after losing the starting job at first base to Gates late in the season, is helping himself by batting .339 for the Conejo Oaks in the California Collegiate League this summer and earning All-Star honors.
"He knows he needs to make a jump to get in that lineup," Van Horn said.
First base is another possible position for Kjerstad.
"If we go through fall ball and we realize, 'Hey, [Kjerstad] could go there [to first base] and this kid could go in the outfield and that makes us a better team,' that's a good option," Van Horn said. "I think it makes him more valuable to the pro people, too, down the road. He's a legitimate average outfielder at their level, and he's a good first baseman."
Dominic Fletcher will return as the starter in center field as a junior after batting .288 with 10 home runs and 49 RBI. He played for Team USA this summer along with closer Matt Cronin.
Hunter Wilson, who will be a senior, also figures to see playing time at first and third base.
Sophomore Casey Optiz and senior Zach Plunkett will compete for the starting catcher's job after Grant Koch signed with Pittsburgh.
Junior pitcher Isaiah Campbell is a returning part of Arkansas' SEC rotation. Candidates to replace Blaine Knight, who went 14-0 and signed with Baltimore, and Kacey Murphy, who signed with Detroit, include Kevin Kopps -- who redshirted last season after undergoing elbow surgery -- and Kole Ramage.
Newcomers, Van Horn said, also could win rotation jobs.
"There could be a freshman or two with really good stuff," Van Horn said without naming them. "It's just a matter of mentally if they can handle it at this level. A lot of times the pitching thing is kind of between your ears."
Van Horn said Cronin -- who throws a fastball and slider -- might want to be a starter instead of coming out of the bullpen, despite setting a single-season school record with 14 saves this season.
"I think he does want to start, but he needs another pitch," Van Horn said. "He needs a changeup."
Van Horn sounded as if he prefers to keep Cronin, who had five saves for Team USA, in a closing role.
"He's so valuable at the end of the game," Van Horn said. "If [starting Cronin] is what we need to do, that's what we'll need to do. But his stuff when he's fresh, it's as good as anyone in the country."
Sports on 07/25/2018
Print Headline: Van Horn: Hogs far from settled
Sponsor Content
Comments