More Arkansans than ever are generating their own electricity, though the financial benefit of doing so could soon change.
The state's utility companies reported almost 1,000 households or other customers by the end of 2017 were feeding some power back into the grid, mostly using solar panels, rather than only using power. More than 400 of those net-metering customers are in Northwest Arkansas, utility officials said.
Net metering in Arkansas
More and more Arkansans are generating some of their own electricity, mostly using solar panels, in a process called net metering. It's still a small group relative to the entire electricity system, but these customers have enough capacity to power hundreds of typical homes.
Utility;Net metering customers at end of 2007;2007 net metering capacity;Customers at end of 2017;2017 capacity
Carroll Electric Cooperative;8;23 kilowatts;213;1,463 kilowatts
Ozarks Electric Cooperative;1;100 kilowatts;158;1,114 kilowatts
Swepco;0;0 kilowatts;77;1,968 kilowatts
Statewide;23;184 kilowatts;988;9,343 kilowatts
Source: Arkansas Public Service Commission
Both counts are almost double what they were a year before and more than 40 times the number in 2007, according to the Arkansas Public Service Commission, which regulates utilities. The commission's data shows net metering in the state at the end of last year could churn out enough power, about 9 megawatts, for 1,000 typical homes based on industry estimates.
The net metering share of the grid is small, accounting for less than 0.5 percent of customers and capacity in Carroll Electric Cooperative, which provides energy for much of Benton and Carroll counties. But the trend is part of a rising tide in solar power production by utilities and non-utility generators alike.
The state's power providers are in the process of bringing hundreds of megawatts of solar capacity online in the coming years. The country as a whole is harnessing enough electrons from sunshine to power more than 10 million homes, according to a report this year from the Solar Energy Industries Association.
Solar-panel installers credit falling prices for panels, interest in renewable energy over fossil fuel and the multiplying effects of marketing and solar's visibility for the net metering spike.
"We've kind of just hit this threshold here in Northwest Arkansas where it actually makes sense," said Caleb Gorden, co-founder and president of Shine Solar, which he said has installed panels for several hundred customers in Arkansas and Missouri since the company began in 2016. "If you're a homeowner and you pay an electric bill, you can go solar."
The solar shift can mean more electricity is available to other customers and comes from a more renewable mix of sources, but it's also the backdrop of a debate over net metering reimbursement that includes Walmart, the state's attorney general and other organizations around the state.
Utility officials said the net metering rules can also bring higher costs picked up by the non-net-metering crowd. Sandy Byrd, vice president of public affairs and member services for Arkansas Electric Cooperative Corporation, called the situation essentially a subsidy for the people who can afford net metering.
"Net metering is not an issue if it's priced appropriately," she added. "Obviously a lot of folks want their own energy supply."
Catching energy
Net metering typically works this way: Solar panels or small wind turbines generate electricity at a house or other building that's immediately soaked up on site, lowering the customer's demand on the grid. If a site happens to generate more than it uses, the excess flows into the wider system, with the utility paying or crediting the customer for the full retail price of the overflow.
Solar panel installations can cost thousands or tens of thousands of dollars, but a 30 percent federal income tax credit can soften the blow. It's available until the end of 2019, when it's set to begin decreasing in value, according to the U.S. Department of Energy.
Installers say the electricity savings can also pay back the investment over several years. Gorden said Shine Solar doesn't charge up front but instead allows customers to pay back the cost monthly by spending the equivalent of previous electric bills.
Solar installation prices from 2000 to 2016 fell from between $7 and $12 per watt to between $2 and $4, according to the Lawrence Berkeley National Laboratory in the University of California system.
"It's God-given free energy," said Jason Daniels of Elkins, who has a solar system at his house. Daniels works as a heating and air conditioning contractor and as a panel installer on the side through word of mouth. "There's definitely more interest. I'm sure I could just be consumed with solar if I run advertisements."
Lee DeLoach of Rogers had Shine install two solar arrays on his house early this year and said his monthly energy bill fell from about $200 to less than $15, enough to cover his 20-year payment plan.
"I'm ecstatic," he said. "The reason I did it is I felt like finally we're at parity," where the costs equal the benefits.
Utility companies have taken advantage of fallen costs as well, with Entergy Arkansas working to build 181 megawatts of solar capacity at two solar farms in the state and Arkansas Electric Cooperative Corp. planning a 100-megawatt facility around 2021. The cooperative corporation provides power to smaller regional cooperatives such as Carroll Electric and Ozarks Electric Cooperative, which has run a 1-megawatt solar farm outside Springdale since 2016.
The financial side
The companies want to change what they pay for customers' self-generated electricity, however. The state's Public Service Commission since 2016 has been considering whether utilities should be able to credit around half the retail price for customer-generated energy. Utilities for now pay for customer-generated power at the same retail rate they charge their customers.
Utility officials pointed to multiple reasons they should be able to pay less. Swepco and Arkansas Electric spokeswomen said paying retail price ignores the costs they shoulder for building and maintaining a grid and employing the people it needs. Attorney General Leslie Rutledge shares their stance, according to commission filings.
Utilities have made similar complaints about net metering compensation in states across the country. Nevada in 2015 lowered the reimbursement rate and allowed utilities to charge more from net-metering customers but reversed course last year after the solar industry collapsed, according to the Las Vegas Review-Journal.
Whatever credit the utilities pay, they must accept the input from net metering under state law as long as it meets certain conditions.
DeLoach said his utility, Carroll Electric, warned him about the possible loss in reimbursement and said his panels might not generate as much power as expected; he called the warnings "scare tactics." But the lower rates would likely have factored into his decision to install solar. Anyone who starts net metering before the rates change, if they do, can keep their original rates.
"It's in their hands as to what happens to the solar industry," DeLoach said of the utilities.
Carroll Electric spokeswoman Nancy Plagge said the cooperative runs a demonstration solar facility to give members hard data on what kind of power panels can provide. Arkansas' relatively low energy prices mean paying off solar installation can take longer than elsewhere, she added.
"We're totally supportive, if that's what the members want to do," Plagge said of net metering.
Gorden said residential solar needs utilities for it to work, and the two sides are partners. But he noted all utility customers pay a consistent connection fee regardless of the amount of energy they use or provide.
Other groups, including the state Sierra Club, have said utilities should prove net metering costs them more than regular customers and made other arguments to the commission. Walmart in its filings pointed to its own use of on-site energy production and noted the state's net metering policy is meant to encourage the practice.
The Berkeley lab last year found net metering likely would add less than a cent to kilowatt-hour prices for customers even if it were much more common.
"In my opinion, you're taking advantage of the person that's producing power" if net metering rates fall, Daniels said.
Ted Thomas, the governor-appointed chairman of the three-member service commission, said a decision could come before the end of the year but has taken so long because of the issue's complexity and changing energy technology. He declined to say which way he's leaning.
The dispute reveals the complicated relationship between utility companies and new ways of generating power, said Juan Carlos Balda, professor and department head of electrical engineering at the University of Arkansas.
Net metering is a type of distributed generation, where power comes from multiple, smaller points instead of a big, central power plant. That can be helpful for utilities, and their customers indirectly, if it means the companies have to spend less on building and keeping up infrastructure, for instance, Balda said. But it could have the opposite effect if too much power for a given area is generated, and it also means customers would pay less to utilities.
Balda suggested the credit for net metering should be high enough to not discourage renewable power and distributed generation. He also said utilities should take net metering and other renewable generation into account in long-term plans.
"The best solutions are accomplished when everyone gets together and we hear all sides so we can understand all issues," he wrote in an email.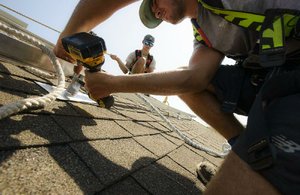 Photo by Charlie Kaijo
Tanner Mecham (front) and Jarren Stinson install a solar panel Friday at a home in Centerton. Solar-panel companies credit falling prices for panels, interest in renewable energy over fossil fuel, and the multiplying effects of marketing and solar's visibility for an increase in popularity.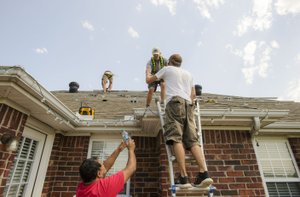 Photo by Charlie Kaijo
Juan Alanis (left) hands water bottles to master electrician Jonathan Pittman and installer Tanner Mecham as they install solar panels in Centerton.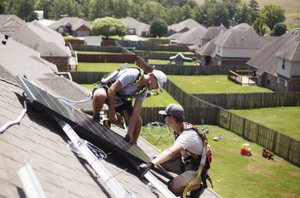 Photo by Charlie Kaijo
Installers Tanner Mecham (left) and Jarren Stinson install a solar panel Friday at a home in Centerton. Solar-panel installers credit falling prices for panels, interest in renewable energy over fossil fuel and the multiplying effects of marketing and solar's visibility for the net metering spike.
NW News on 07/22/2018