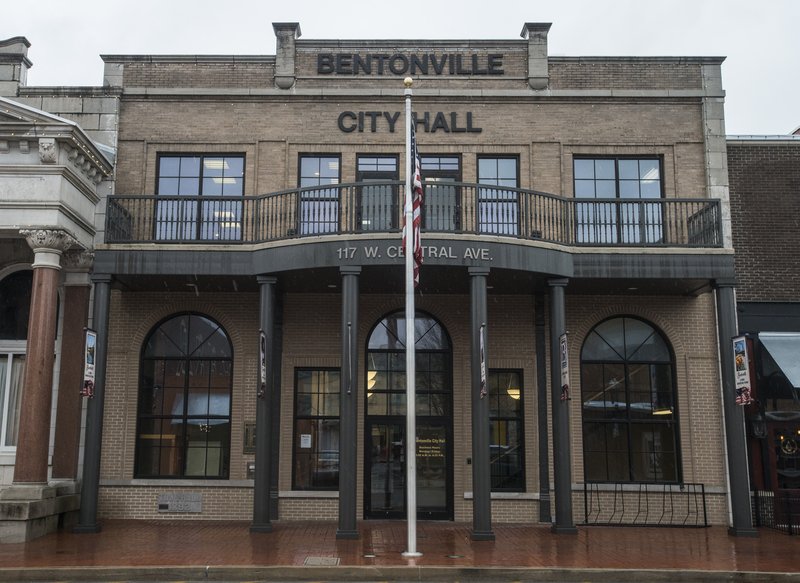 The Bentonville City Hall is shown in this photo.
BENTONVILLE -- The Planning Commission approved amendments to the subdivision code at its meeting Tuesday.
"Many changes are aligning the code with current policies and procedures and eliminating duplication," Shelli Kerr, planning services manager, wrote in her staff report about the amendments.
For example, the code requires applications to be submitted 22 days before the Planning Commission meeting. The process was adjusted to 36 days when development increased post-recession, so the code will be updated to reference the current policies, according Kerr.
Planning staff occasionally reviews the subdivision ordinances for clarification, corrections and needed changes to meet current conditions.
The changes are available on the city's website. No one spoke during the public hearing at Tuesday's meeting.
"Did you have any feedback on these over the last 30 days?" Commissioner Scott Eccleston asked Kerr.
"I have not," she said.
The commission approved the changes 5-0. Commissioners Richard Binns and Dana Davis were absent.
The changes will be sent to the City Council for adoption.
The commission also approved plans to renovate the building on the corner of Southeast 10th and South Main streets into office space as well as a property line adjustment at 801 and 803 N.W. Eighth St.
NW News on 07/18/2018
Print Headline: Commission OKs code revisions
Sponsor Content
Comments