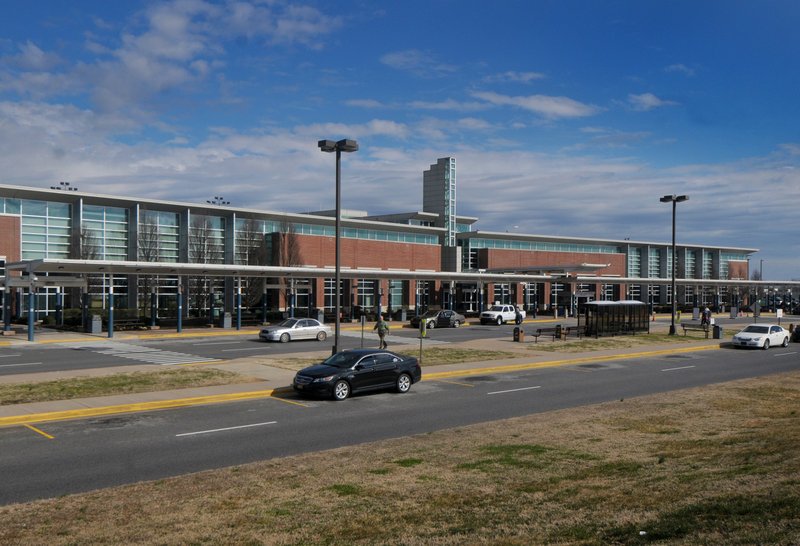 NWA Democrat-Gazette/BEN GOFF A view of the Northwest Arkansas Regional Airport on Thursday March 3, 2016 in Highfill.
HIGHFILL -- A group tasked with completing an access road to the Northwest Arkansas Regional Airport met for the first time Friday and brainstormed how to get the project moving.
Environmental concerns and getting state and federal officials to agree on the need for the road have stymied the project for years.
Mike Johnson, chairman of the task force, said he wants "a realistic schedule to road completion" identifying the various hoops supporters must jump through.
"Our job then becomes trying to shorten up that time line," Johnson said.
The group is made up of board members from the Northwest Arkansas Regional Airport Authority, including Johnson, Art Morris and Stan Green. Howard Kerr, also an authority member, sat in on Friday's meeting.
They want meetings with state and federal highway officials, various federal agencies, regional planners, county and city officials and entities such as the Northwest Arkansas Council to make sure they're all on the same page and support the project.
They'd also like to get consultants on board by December who can coordinate work on the project such as preparing traffic studies, environmental documents, construction design and planning. The consultant also would help with right of way acquisition, surveys and mapping and would conduct public comment sessions.
Task force members also want to start on a financial study to determine how to pay for the project.
It hasn't been decided whether it will be a dedicated, limited access road; a general access road that would also serve western Benton County or improvement to roads such as Arkansas 112 and Arkansas 264.
Members said Friday they're leaning away from the 4-mile "long driveway" concept and more toward a road that could help the surrounding community as well as the airport.
Members said improvement to Arkansas 112 and Arkansas 264 are probably doable, but likely wouldn't meet the airport's needs. Downtown Cave Springs could remain a choke point if some kind of bypass isn't part of the equation, they said.
Stan Green said a shared road promoting better access to western Benton County could benefit both area cities and the airport in their development effort and generate public support for the project.
There are about 2,000 acres west of the airport that might be ripe for industrial and technical development.
The task force is expected to meet every four to six weeks.
NW News on 07/14/2018
Print Headline: Airport group hopes to speed road project
Sponsor Content
Comments