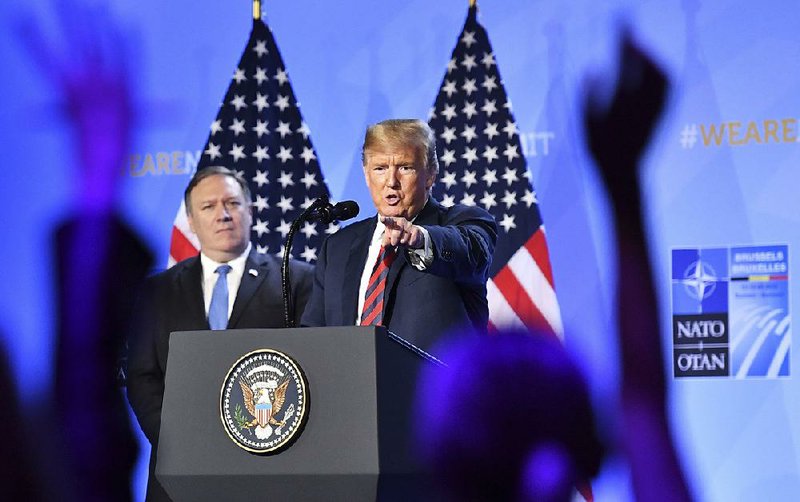 With Secretary of State Mike Pompeo beside him Thursday, President Donald Trump says at a news conference after a meeting of NATO leaders in Brussels that he believes in NATO but Western allies need to increase their defense spending.
BRUSSELS -- President Donald Trump reaffirmed support for NATO on Thursday, but only after stirring more discord with a vague threat that the United States could go its own way if the allies resisted his demands for additional military spending, making a dramatic exit after a summit punctuated by his escalating complaints.
A year after fueling doubts about whether Washington would defend allies who refuse to pay their fair share, Trump went into the two-day summit in Brussels by berating Germany, among others. Still, by the time it was over he was ebullient, saying that European allies and Canada had "really stepped up their commitment" -- and intimating that his relentless hectoring had forced other allies to spend more than NATO's long-term goal of 2 percent of GDP on defense.
"Now we're very happy and have a very, very powerful, very, very strong NATO -- much stronger than it was two days ago," Trump declared after what he described as a "fantastic meeting."
He was, however, short on details.
That's because, despite the political rhetoric, Trump -- like his other 28 allies -- signed a summit communique that had been agreed to by their ambassadors last weekend, five days before the summit began. Not a word was changed, officials confirmed.
The 23-page text did contain a reference to an old spending pledge the leaders made in 2014 after Russia annexed Ukraine's Crimean Peninsula, convincing NATO of the importance of halting spending cuts. The more than 20 allies not spending 2 percent of GDP on their national military budgets pledged at the time to start investing more as their economies grew, and to move toward that goal by 2024.
Trump claimed member nations had agreed to boost their defense budgets significantly and reaffirmed -- after days of griping that the U.S. was being taken advantage of by its allies -- that the U.S. remains faithful to the accord.
"The United States' commitment to NATO remains very strong," Trump told reporters at a surprise news conference after an emergency session of NATO members held to address his threats.
Neither Trump nor NATO offered specifics on what Trump said he had achieved. French President Emmanuel Macron quickly disputed Trump's claim that NATO allies had agreed to boost defense spending beyond their existing goal of 2 percent of gross domestic product by 2024.
"There is a communique that was published yesterday; it's very detailed," Macron said. "It confirms the goal of 2 percent by 2024. That's all."
Trump berated NATO members in Brussels for failing to spend enough of their money on military matters, accusing Europe of freeloading off the U.S. and raising doubts about whether he would come to their defense if attacked.
"I can tell you that NATO now is a really a fine-tuned machine," Trump said. "People are paying money that they never paid before. They're happy to do it. And the United States is being treated much more fairly." But several leaders said the gathering produced no new spending commitments. Instead, they said, members reaffirmed the need to stay on track with military-budget increases that have already been underway and were branded insufficient by Trump a day earlier.
"I made clear that we know that we have to do more and that we have been doing so for quite a while," German Chancellor Angela Merkel said.
NATO Secretary-General Jens Stoltenberg cited a "new sense of urgency, and all allies agreed to redouble their efforts."
U.S. leaders for decades have pushed NATO allies to spend more on defense to share the collective defense burden more equitably.
The White House hastily called the news conference after reports that Trump had unleashed a tirade at a private morning meeting against member countries he complained were still not spending enough on their militaries. Trump used the news conference to hail himself, again, as a "stable genius," saying he deserved "total credit" for pushing the allies to increase their military spending by more than previously agreed to.
According to a person briefed on the meeting, Trump told other NATO leaders that if their countries did not meet the 2 percent standard by January, the United States "would go it alone," a comment that some interpreted as a threat to withdraw from the alliance. (Other news reports quoted diplomats who said the president used slightly different wording -- saying that he would "do my own thing" -- but he was not specific about what he meant in either case.)
Trump asserted that the United States shouldered "probably 90 percent of the cost of NATO." U.S. contributions actually represent about 67 percent of all military expenditures by alliance members.
The United States pays 22 percent of NATO's budget, which covers things like offices, salaries and some equipment used in joint operations. According to the International Institute for Strategic Studies, of the $603 billion that the United States spends on the military each year, about $31 billion goes to Europe.
NATO members have pledged to devote at least 2 percent of economic output to military spending by 2024. But Trump, after berating alliance countries for not meeting a target that is six years away, then abruptly said Wednesday that they must do so immediately, and that the figure should in fact be 4 percent.
As Trump boarded Air Force One and flew to London for the next leg of his European trip, he left allies struggling to explain what had transpired. Macron called the meetings "active and demanding," but rejected Trump's assertion that the NATO member countries had agreed to anything that was not already in place. Prime Minister Giuseppe Conte of Italy sounded a similar theme.
"Italy inherited spending commitments to NATO, commitments that we did not change, so no increase in spending," Conte said
Macron added that the meeting had ended with a stronger alliance because of Trump's reaffirmation of his commitment to it.
Asked whether Trump had threatened to leave NATO, Macron said, "Generally, I do not comment on what goes on behind the scenes, but at no moment did President Trump -- neither bilaterally nor multilaterally -- say that he was intending to leave NATO."
Trump himself said, "It all came together at the end, and yes, it was a little tough for a little while." He added, "But ultimately, you can ask anybody at that meeting, they're really liking what happened over the last two days."
Among the most tangible decisions the allies did make was an invitation for Macedonia to join once its name dispute with Greece is resolved and a referendum held confirming its new name of North Macedonia. The leaders also signed off on a much-expanded military training mission in Iraq, and vowed to keep funding the Afghan military -- to the tune of about $1 billion a year -- until 2024.
More modest announcements were made, most aimed at an increasingly belligerent Russia. Many have been in preparation for at least six months, having been endorsed by ambassadors, foreign and defense ministers to make it easier for the leaders to put pen to paper.
Two new military commands will be created -- one in Norfolk, Va., the other in Ulm, Germany -- to better move troops and equipment across the Atlantic and around Europe in times of crisis. The leaders also backed a plan to deploy 30 battalions, 30 air squadrons and 30 battleships within 30 days as reinforcements, but it is unlikely to be close to operational before 2020.
On Thursday, Trump dismissed concerns that his relationship with Russia was too cozy, or that his hardball tactics at NATO had played into the hands of Putin, whom he is to meet in Helsinki next week. But after 48 hours of overt conflict with allies -- and the second international summit in two months where he has sparred openly with European leaders -- he said he looked forward to a positive encounter with the Russian president.
"I hope that we're going to be able to get along with Russia; I think that we probably will be able to," Trump said. "We go into that meeting not looking for so much."
Trump also previewed his plans for his meeting with Putin. He said he would discuss the extension of one nuclear arms control treaty and violations of another, and might broach the topic of possibly stopping military exercises in the Baltics, a goal of Putin's. He evaded a question about whether he would recognize Russia's annexation of Crimea in 2014.
Instead, he blamed his predecessor, Barack Obama, for the annexation, saying, "President Obama allowed that to happen. That was on his watch, not on my watch."
Trump said that, after a weekend in Scotland at Turnberry -- a golf course and Trump business -- he would go "to a pretty hot spot" to meet with Putin.
Asked to characterize his relationship with the Russian president, Trump referred to Putin as a "competitor," not an enemy, adversary or friend, and tried to wave off expectations that the "loose meeting" with the Russian president would result in a substantive policy outcome.
"It could lead to something very productive," Trump said, "and maybe it's not."
Asked whether Putin presented a security threat, Trump offered a grudging compliment: "Hey, I don't want him to be. And that's, I guess, why we have NATO."
Information for this article was contributed by Julie Hirschfeld Davis and Katie Rogers of The New York Times; and by Jonathan Lemire, Jill Colvin, Zeke Miller, Darlene Superville, Ken Thomas, Lorne Cook, Jamey Keaten and Raf Casert of The Associated Press.
A Section on 07/13/2018
Print Headline: Trump vows U.S. backing for NATO; After threat to go own way, president reaffirms support
Sponsor Content
Comments