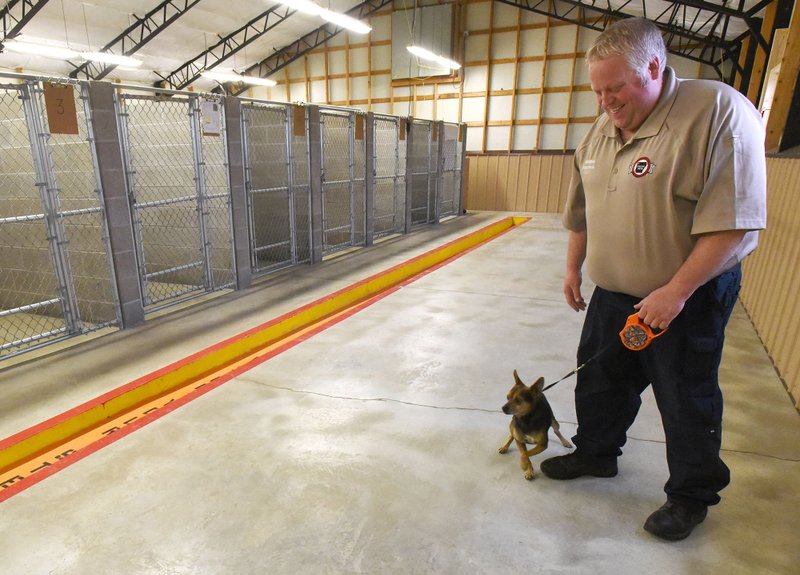 Cody Wilson, a Centerton animal control officer, shows a dog available for adoption at the Centerton Animal Shelter. Bentonville currently contracts with Centerton to take lost and stray dogs to its animal shelter but has selected land as its top choice for an animal shelter. - Photo by Flip Putthoff
BENTONVILLE -- Adoption services, low-cost spay and neuter services and low-cost wellness services -- such as vaccinations -- topped residents' desires if the city were to get its own animal shelter.
The animal shelter task force held its first meeting to gain public input Thursday. Nearly 100 people attended. The meeting was held at the Bentonville Community Center.
More information
The Bentonville animal shelter task force will update its Facebook page with information about the its activities.
Community members are also encouraged to offer thoughts by emailing [email protected]
Source: Staff report
"The purpose of tonight is to listen to you," said Bill Burckart, task force and City Council member. "This came from the citizens. The citizens asked why don't we have a shelter."
Brent Toellner, regional director of Best Friends Animal Society, gave an overview of an assessment the national animal rescue and advocacy program conducted last year. It identified the need for a Bentonville facility and more cat services in Benton County as two of the most pressing needs.
Shelters can range from housing animals for a short period of time to providing a variety of services to the community, Toellner said. He listed a long range of services he's seen other shelters provide from allowing people to surrender their pets to providing education to offering yoga classes with kittens.
A live polling activity allowed data and information to be collected regarding the demographics of those who attended as well as what services they would like to see and if they would support a small tax increase to assist with the construction of a shelter, which 94 percent of respondents answered yes.
A specific tax increase wasn't given since there's not enough information this early in the process, Toellner said.
The 12 tables broke off into small discussion groups to answer the question "what programs and services do you most want to see offered at the Bentonville animal shelter?"
The groups gathered ideas for 10 minutes and prioritized their top five, then each shared with the rest of the room.
Adoption, low-cost spay and neuter and wellness services topped most lists. Trap-neuter-return programs, which address feral cat colonies by ending reproduction within them, was also a commonly named priority.
New ideas kept being mentioned when the eighth, ninth and 10th tables shared their lists.
Several ideas received applause including providing services for cats, rehabilitation services for traumatized animals and a program to socialize animals where jail inmates and retirement home residents could participate.
The socialization program with inmates and retirement home residents was an idea that stood out to attendee and animal lover Megan Byrnes.
"These are marginalized populations that nobody thinks about, yet it would be mutually beneficial both to the animal and to the people involved," she said.
Byrnes and her husband moved to Bentonville in 2015 and "were shocked that they didn't have basic animal facility."
Byrnes said she was touched by the amount of community engagement and breadth of creative ideas at Thursday's meeting.
Bentonville is the only one of Northwest Arkansas' four largest cities without an animal shelter. It's in the first year of a three-year contract with Centerton to take dogs to its shelter.
The task force will take the information gathered Thursday and work on moving forward with design concepts and cost estimates. It will hold a second meeting to gather more public feedback, but details of when and where aren't known yet.
The task force is working toward bringing City Council a recommendation by October.
NW News on 07/13/2018
Print Headline: Public provides preferences for animal shelter
Sponsor Content
Comments