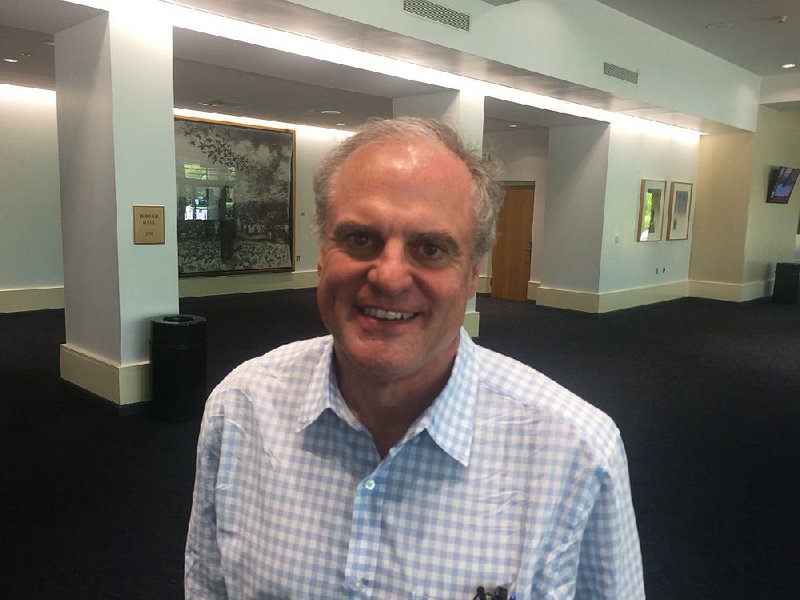 "I'm just trying to eat healthier and cut back on the carbs," said former U.S. Sen. Mark Pryor, shown at the annual Arkansas Bar Association meeting in June. - Photo by Frank E. Lockwood
WOMACK HITS BUSY TIME AT WEST POINT
U.S. Rep. Steve Womack is scheduled to attend today's meeting of the West Point board of visitors. The Republican from Rogers has been the board's chairman since March 2017.
Under federal law, the board monitors "the morale and discipline, curriculum, instruction, physical equipment, fiscal affairs, academic methods, and other matters" affecting the U.S. Military Academy.
It's a busy time of year at the 216-year-old institution 50 miles north of New York City.
Last week, Lt. Gen. Darryl A. Williams assumed command, becoming the academy's 60th superintendent. Williams, himself a 1983 West Point graduate, is the first black to hold the post.
He'll be overseeing an increasingly diverse campus.
On July 2, the academy welcomed the class of 2022, made up of more than 1,200 cadets from all 50 states as well as 13 foreign countries.
Ten of the cadets are combat veterans, the school announced.
Those taking the oath of allegiance on Reception Day included 294 women, 186 blacks, 104 Hispanics, 99 Asian Americans and 11 American Indians.
PRYOR SLIMS DOWN
AFTER CAPITOL HILL
Former U.S. Sen. Mark Pryor says there's no magic formula that's responsible for his post-Capitol Hill weight loss.
"I'm just trying to eat healthier and cut back on the carbs," he said.
Since losing his seat in 2014, Pryor says he's lost close to 40 pounds. And he's managed to keep it off.
"My life is a lot easier than it used to be and [there's] a lot less stress," he said. "I'm fortunate that I don't have to base my whole life now on whether [former Democratic Senate leader] Harry Reid and [Republican Senate leader] Mitch McConnell are going to agree to let us out this weekend. … I spent 12 years doing that."
Pryor, who now resides in North Little Rock, is a member of the bar in both Arkansas and the District of Columbia.
The former Arkansas attorney general works for Venable LLP, which has offices in Washington.
"When I got out of law school, I went to Wright Lindsey & Jennings, which is a wonderful firm," he said. "I never thought I'd have that kind of environment where I really enjoyed going to work every day and enjoyed my colleagues and my partners, and I found that again at Venable, so it's really been a good fit."
CABOT BAND MAKES PARADE APPEARANCE
WASHINGTON — The Cabot High School Band marched in the National Independence Day Parade on Wednesday, performing patriotic numbers for the crowds lining Constitution Avenue.
It's the fifth time the school has participated in the event. Band director Rusty Hart said 175 students made the journey.
"It was extremely hot the day of the parade. The heat index was over 100 [degrees Fahrenheit]," he said.
In a typical year, between 200,000 and 300,000 spectators line the mile-long route, according to Luke Wiscombe, national marketing director for Diversified Events, the parade's producer.
"The parade is one of the largest in America to celebrate the nation's birthday," he said.
In addition to playing "America" and "God Bless America," the Cabot musicians also paused to honor the nation's fallen servicemen and women, laying a wreath at Arlington National Cemetery, Hart said.
There was also time to enjoy the July 4 fireworks display on the National Mall and to visit most of the major tourist sites.
"We have seen basically every monument or government building in D.C. that you're going to want to see," Hart.
The band plans to return to Washington for the 2021 Independence Day Parade, he added.
Planning to visit the nation's capital? Know something happening in Washington, D.C.? Please contact Frank Lockwood at (202) 662-7690 or [email protected] online.com. Want the latest from the Arkansas Democrat-Gazette's Washington bureau? It's available on Twitter, @LockwoodFrank.
Sponsor Content
Comments