There are threads that link the artwork of Lauren Fensterstock and Amber Cowan -- although it's likely neither woman has thought much about them. They're obvious, though, in speaking with them both in relationship to the exhibit "The Bleak and the Burgeoning," open this summer at the Walton Arts Center in Fayetteville.
Fensterstock was inspired by what she calls "traditional women's crafts" -- particularly creations made of handcut paper or seashells -- things that were "relegated to the parlor" for other women to admire.
FAQ
'The Bleak and the Burgeoning'
WHEN — Through Oct. 7; gallery hours are noon to 2 p.m. Monday-Friday and one hour prior to most performances
WHERE — Joy Pratt Markham Gallery at the Walton Arts Center in Fayetteville
COST — Free
INFO — 443-5600, waltonartscenter.org
BONUS — Also on show are works by Maysey Craddock, Leonardo Drew and Judy Pfaff.
Cowan was inspired by poverty and necessity in grad school -- but she ended up using as her medium the kinds of decorative glass that would have also displayed in that same sacred women's space.
And that might seem to be where any tenuous similarity ends. Fensterstock's installation at the Walton Arts Center, titled "Colorless Field," exists in variations of black -- black paper, black sand and black Plexiglas. Cowan's, titled "Bridesmaid's Search for the Desert Rose," is fashioned from glass, all in shades of pink from blush to bashful. But both are intricate, inviting observation, consideration, discussion and interpretation. Both should be viewed from a distance and again from inches away. And both were selected for the multi-artist exhibit by curator Cynthia Norse Thompson to reflect on the Artosphere themes of nature, sustainability and environmental awareness.
"The works in this exhibition, including large-scale installations, are physically curated in ways that unite an experience of subjective topography while also allowing for an independent visual voice," Thompson writes. "The works reveal both an independent sense of personal geography, as well as a collective experience. Positive and negative space, as well as the concrete and the fluid are continually questioned. Terrains which are fragile and despondent are unearthed..."
Lauren Fensterstock
Growing up in Maine, Fensterstock "loved drawing from life," working in graphite to create realistic representations of the landscapes around her. Then she found away to "take a landscape and immediately take it out of the real," using an idea that dates to the 18th century.
A "Claude glass" -- or black mirror -- was used by artists to reflect a scene as it would look in the variations of black and white that a pencil sketch might capture.
"To use the mirror, travelers sat with their backs to the scene, holding the folding glass at shoulder height so they could see behind them," a May 2017 article in Atlas Obscura reports. "The convex shape brushed background objects into the far distance, and the tinted glass softened the reflected tones. Users loved how the Claude glass made landscapes look like a [Claude] Lorrain canvas, with no paint required."
For Fensterstock, the technique was a way to "shift from the real to the symbolic. But black is also this magical color. The more you look at it, the more you see."
"I still love the idea of representing the world, observing and then reflecting," she says. "It was interesting with this piece, I was there crawling around on the floor for three days, installing it, and it was a thing. Then we finished it and started lighting it, and it had become a place. That moment it went from being an 'it' to a 'where,' from a 'creation' to a 'location' -- that's what I love."
Amber Cowan
Cowan was studying at the Tyler School of Art in Philadelphia when she found "an old barrel of 'cullet' behind the furnaces at Tyler that was left behind, scrap glass from years before."
"The barrel I found was a beautiful pink color and was the scrap remnants from a run of Easter candy dishes from an old glass factory in West Virginia," she remembers. "I used this glass to make a large piece. From there I realized if I could use this glass, why can't I use any old glass I find?
"Now it has become more of a labor of love and history. I get glass all the time from people that I have never met from all over the country. They give me glass items that have history to them but are broken. They feel bad throwing them out, so giving them a second-life in my sculptures is a way to preserve the items."
Using both flame and a kiln -- plus bonsai shears, tweezers and presses -- Cowan incorporates piece of glass as she finds them or melts them to make new shapes. Included in the piece at WAC are a Fenton glass bridesmaid figurine, a Fenton cat, a giraffe that was a limited run done for the Heisey Glass Company in 1992, the base of an old vase she won in a bidding war on eBay and a barrel of old Rosalene cullet.
"The piece was inspired by many things but a few of those are Joshua Tree National Park, sunsets, journeys, getting through a lesson and coming out the other side, love, animals and perspective," she says.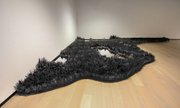 NAN What's Up on 07/08/2018