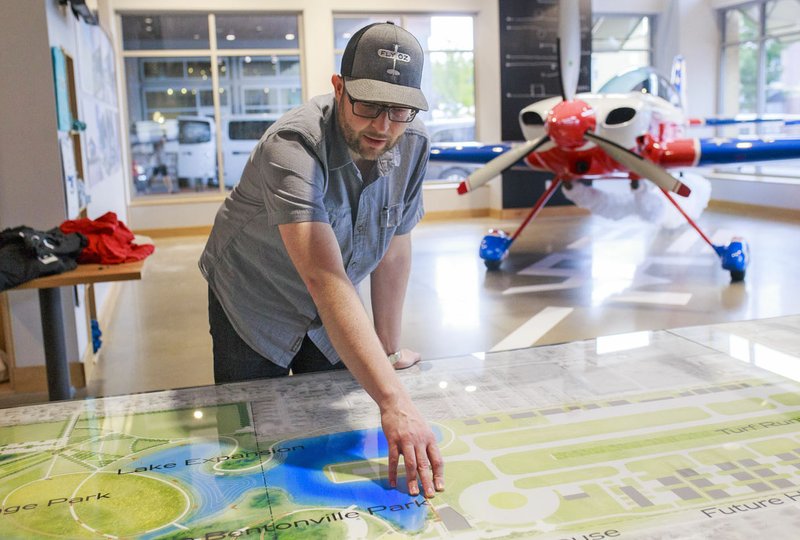 NWA Democrat-Gazette/CHARLIE KAIJO Phillip Johnson, director of OZ1, points at a map Friday of the grounds of the new Flying Club to be built by the end of the summer at the OZ1 Flying Club shop in Bentonville.
BENTONVILLE -- A downtown commercial space transformed into an aviation-focused center is providing a sneak peek into what's coming at the municipal airport.
Several local aviation groups -- Thaden Field, Summit Aviation, Fly Oz and OZ1 -- opened the space Friday to get people thinking about the municipal airport as a community amenity, organizers said.
Hours open
• 10 a.m. to 6 p.m. Monday through Friday
• 10 a.m. to 2 p.m. Saturday
Source: Staff Report
"It's going to be something that isn't exclusive to pilots but inclusive to the entire community," said Phillip Johnson, director of OZ1, the flying club that will be based at the Thaden Fieldhouse.
The 22,000-square-foot, two-story fieldhouse is the flight center under construction on the northwest corner of the airport's runway. Officials anticipate it opening in September. The municipal airport is named Thaden Field, after Arkansas pilot Louise Thaden.
The fieldhouse will have an aviation exhibition center, a retail space, a conference room, office space, a lounge for OZ1 and a diner-style restaurant called Louise. A large balcony will allow customers to watch planes take off and land.
A boardwalk between the fieldhouse and Lake Bentonville will provide recreational opportunities such as kayaking and stand-up paddle boarding. Osage Park, a conservation project north of the lake, is being developed. It includes expanding the lake.
An XtremeAir Sbach 342 XA42 aerobatic plane is the highlight of the temporary space at 110 N.W. Second St. in the Midtown Center just northwest of the square.
It's the forerunner to the GameBird, which Philipp Steinbach designed and manufactured through his company Game Composites, said Chad Cox, with Runway Group. Game Composites is southwest of the airport on Southwest I Street.
A video of the GameBird in flight plays next to the XA42.
The space also provides information regarding aviation opportunities throughout the state, such as Fly Oz, the network of rural grass runways throughout the Ozarks.
Sixty-three airstrips are within an 80-nautical-mile radius, Cox said.
Visitors can learn about Summit Aviation's flight school. Summit Aviation is the on-field service provider at Thaden Field.
"There's a huge, huge need for pilots," said Shannon Culler. Culler will oversee Summit Aviation's helicopter flight school that will open in September. "That's what part of this is about, just trying to get people interested in aviation."
Every airline is looking for pilots, every flight school is in need of certified flight instructors and becoming a pilot is an option most people don't think they can consider, Culler said.
The world's airlines will need 637,000 new pilots over the next 20 years, according to a Boeing study issued in 2017. That's about 87 pilots entering the industry every day -- or one every 15 minutes -- for the next two decades.
That number drops to 117,000 pilots needed for the North American airlines. The Asia Pacific region leads the worldwide growth for pilots with 253,000.
Helicopter pilots are also needed, and there's an interest to learn how to fly them among retired pilots and active pilots looking to add to their list of skills, Culler said.
Part of the purpose of OZ1 is to make aviation more accessible, Johnson said. Members will have access to club planes to fly and be able to develop relationships through events.
Membership rates haven't been determined yet. Rates for aviation enthusiasts who aren't pilots will be offered, he said.
"There's such a thriving community of aviators here," Johnson said. "We're really looking to figure out how to help others realize how it's accessible to them."
The space downtown exposes the community to what is happening locally regarding aviation, said Kalene Griffith, Visit Bentonville president and CEO.
"It's creating this awareness of what's happening, so Thaden Field isn't only an airport but an opportunity for our community to be involved in aviation from multiple levels," she said.
The Thaden Fieldhouse will be an added feature Visit Bentonville can highlight when recruiting groups to visit the city, she said.
Cycling, culinary arts and visual arts are focus areas for the tourism bureau. Griffith said she anticipates the Advertising and Promotions Commission discussing adding aviation as another focus during its annual planning meeting in August.
Connecting Thaden Field and its activities to the broader community has been a vision of airport officials and the Airport Advisory Board for several years. Making the city amenity more inviting to the public was a concept included in the airport's master plan.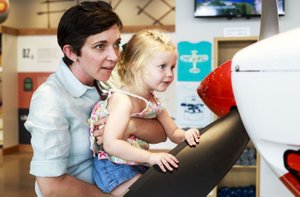 NWA Democrat-Gazette/CHARLIE KAIJO Rebekah Kingsley of Bentonville holds up Anna Grace Kingsley, 3 so she can see the engine of an airplane Friday at the OZ1 Flying Club shop in Bentonville. Organizers hope it will generate excitement about the new flight center at the city's airport, which is schedule to open in September and be accessible to the general public, not just the aviation community.
NW News on 07/07/2018
Print Headline: Space previews what's to come on aviation horizon
Sponsor Content
Comments