Those interested in getting their children into one of Northwest Arkansas' four open-enrollment charter schools this fall need to apply soon.
Application deadlines are within the next month for three of the four schools. Each school also has scheduled a date for its admission lottery for grade levels in which applications exceed slots available.
Deadlines
Here are enrollment application deadlines for Northwest Arkansas' open-enrollment charter schools:
SchoolApplication deadlineLottery date*Online application
Arkansas Arts AcademyMarch 28March 30*artsk12.org/enrollment
Haas Hall AcademyFeb. 4Feb. 20*www.haashall.org/admissions
Northwest Arkansas Classical AcademyFriday Feb. 22*nwa-classical.responsiveed.com
Ozark Montessori AcademyFeb. 9Feb. 20*ozarkma.org/?page_id=697
Source: Staff report
The four schools -- Arkansas Arts Academy, Haas Hall Academy, Northwest Arkansas Classical Academy and Ozark Montessori Academy -- are among the state's 25 taxpayer-funded, open-enrollment charter school systems. They operate independent of traditional public school districts and rely on state-issued charters for the authority to operate.
Three of the four schools are projecting significant enrollment increases next school year as they look to accommodate growing demand for their services. The four schools enrolled 2,600 students combined last semester, representing about 3 percent of public school enrollment in Benton and Washington counties.
Arkansas Arts Academy
Arkansas Arts Academy of Rogers anticipates adding 200 to 300 students next school year as a construction project at the high school campus provides additional capacity. Current enrollment is 814, but the school's charter allows a maximum of 1,225 students.
Seventh- and eighth-graders will be shifted from the academy's elementary and middle school on South 12th Street to the high school on West Poplar Street. Sections will be added to each of the elementary school grades.
The Arts Academy has 432 students on its waiting list. All but eight are waiting for a spot in grades kindergarten through eight. This is the first time, however, the high school has had any waiting list, according to Mary Ley, the academy's chief executive officer.
"We have never been healthier than we are now," Ley said.
Most of the school's students live in Rogers, but others come from as far as West Fork and Eureka Springs, she said.
The Arts Academy will accept applications through March 28 and hold a lottery on March 30, said Pam Lewis, a school registrar.
The lottery will be done by computer. A state education official is planning to be at the lottery to supervise, Ley said.
The Arts Academy opened in 2001. The state this month granted the school a 10-year extension of its charter, the longest extension the school has received.
Haas Hall Academy
Haas Hall Academy is accepting applications through Feb. 4, with a lottery to follow on Feb. 20.
Haas Hall expanded from two campuses to four this school year. While its Fayetteville and Bentonville campuses offer grades seven through 12, its new Rogers and Springdale campuses host grades seven through 10 and will add 11th grade next school year.
Haas Hall had received more than 1,100 applications as of late last week, according to Kelly Barnett, admissions director. Students may apply for admission to one or multiple campuses and will receive a lottery entry for each of the applications they submit.
Total enrollment across the four campuses was 986 as of Oct. 1. Barnett said officials want to increase enrollment at their Bentonville, Rogers and Springdale campuses by up to 150 students per campus next school year. Fayetteville's campus, with about 360 students, will stay at roughly that number.
Martin Schoppmeyer, Haas Hall's founder and superintendent, likes "slow, controlled growth to ensure our academic program stays consistent," Barnett said.
Northwest Arkansas Classical Academy
Northwest Arkansas Classical Academy's application deadline is the earliest of the four. Applications are due Friday.
The Classical Academy opened in Bentonville for kindergarten through eighth grade in 2013. It has added a grade level each year since. Its first senior class, a group of 10, will graduate this spring.
The school is hosting its first Upper School Open House at 1 p.m. Monday. The purpose is to showcase what the school does in grades seven through 12.
"We're the only school around offering logic class," said Susan Provenza, headmaster. "No other schools in Arkansas do Western Civilization I and II. We're the only school in Arkansas teaching a moral philosophy class. We want people to learn about those things, so if it's a good fit for their child, they have the opportunity to apply."
The school's enrollment is 570. The average number of students per grade level in grades kindergarten through sixth is 60, whereas average enrollment is 24 per grade level in grades seven and up.
The Classical Academy regularly gets swamped with applications for the lower grade levels. Next year it will add a third section at each of the kindergarten, first and second grade levels to help meet that demand. Provenza said she expects overall enrollment to be in the mid-600s next school year.
The Classical Academy, like the Arts Academy, just received a 10-year extension of its charter.
Ozark Montessori Academy
Ozark Montessori Academy in Springdale reported enrollment of 262 in grades kindergarten through eighth on Oct. 1, though as of Friday it was down to 215. The projection for next fall is 250, said Barb Padgett, interim superintendent.
"We are adding some programs next year that I think will attract some more folks," Padgett said, though she said she wasn't ready to reveal what those programs are.
The school's application deadline is Feb. 9. Between 85 and 100 applications have been received, Padgett said. She added the staff is looking at ways to better market the school.
Montessori is a special method of educating not normally available except in private schools, Padgett said.
"So it's an amazing opportunity for kiddos in Springdale to get this option," she said.
The Montessori method is based on the work of the late Italian physician and educator Maria Montessori. It features three-hour student work cycles, multi-age classrooms, small-group presentations, carefully selected learning material, foreign-language instruction and student choice.
Ozark Montessori Academy is in its third year. Padgett took over as interim superintendent after the school board voted Jan. 4 to accept the resignation of Christine Silano, who founded the school. Neither Silano nor the board have commented on the reasons for her departure.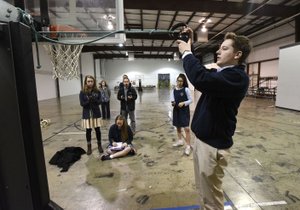 NWA Democrat-Gazette/FLIP PUTTHOFF Grant Reader, a junior at Northwest Arkansas Classical Academy, takes part Wednesday in a physics lesson involving a swinging ball. The school is hosting its first Upper School Open House at 1 p.m. Monday. The purpose is to showcase what the school does in grades seven through 12.
NW News on 01/14/2018