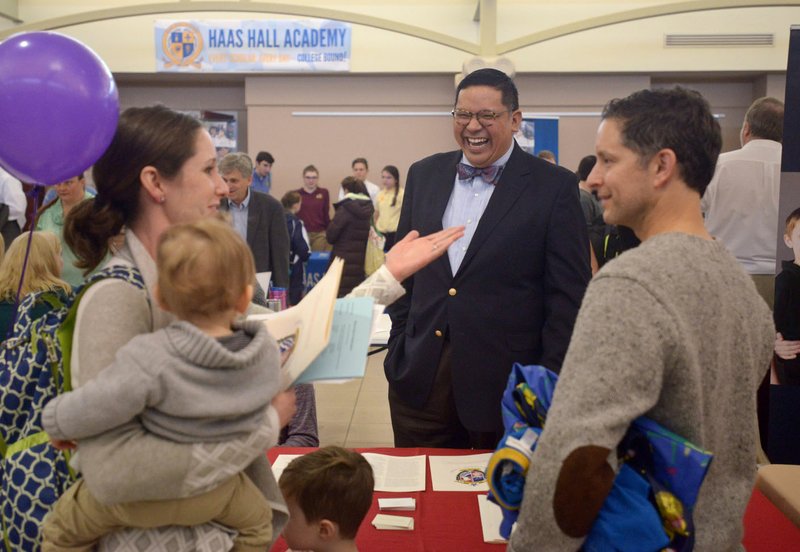 File photo/NWA Democrat-Gazette/BEN GOFF John Rocha, head of school for Ozark Catholic Academy, speaks Jan 14 to Mundo Harbaugh (right) and wife, Jennifer Harbaugh, with sons Henry Harbaugh, 4, and Leo Harbaugh, 15 months, of Rogers during the first Northwest Arkansas School Choice festival at The Jones Center in Springdale.
SPRINGDALE -- Organizers of the 2018 Northwest Arkansas School Choice Festival are looking to build on last year's inaugural event and provide more information about local educational options.
The festival, an initiative of Haas Hall Academy founder and Superintendent Martin Schoppmeyer, is scheduled for Jan. 20 at The Jones Center in Springdale.
Event
What: Northwest Arkansas School Choice Festival
When: 9 a.m.-noon, Jan. 20
Where: The Jones Center, 922 E. Emma Ave., Springdale
Why: National School Choice Week is Jan. 21-27, 2018. It's held each year in January because if parents start searching for schools in January, they should have enough time to enroll their children for the next school year, according to schoolchoiceweek.com.
Source: Staff report
Admission is free. The first 500 families will receive a "swag bag" filled with promotional material about the schools in attendance.
Last year's event drew about 1,000 people. Schoppmeyer said he expects at least 1,500 this year.
"I think it's important everyone understand they have a choice" when it comes to a child's education, Schoppmeyer said. "We have a lot of options here that many people don't think about."
Representatives of public school districts, public charter schools, private schools and home-schooling from Benton and Washington counties are expected to answer questions about their organizations.
Lt. Gov. Tim Griffin and Attorney General Leslie Rutledge have said they will attend and will speak at the event, Schoppmeyer said.
Heather Holaway, Haas Hall's director of marketing and communications, said about 20 schools and school districts -- including the Bentonville, Rogers and Fayetteville -- have confirmed they will send representatives.
Rick Schaeffer, director of communications for the Springdale School District, said he wasn't certain whether Springdale would be taking part.
Leslee Wright, director of communications for the Bentonville School District, said she's organizing its participation.
"We feel like we offer a really good product to parents in Northwest Arkansas, but at the end of the day, we want to be a part of helping parents find the right fit for their children," Wright said. "We want to have a seat at the table, visit with parents face to face and collaborate with other schools and school districts."
Northwest Arkansas' public schools enrolled about 86,000 students this past fall. The state's school choice law allows families to send their children to a school district other than the one they live in, though some restrictions apply.
Education options are steadily expanding in the region. The Thaden School, an independent private school in Bentonville, opened for grades seven and nine in August; it eventually will serve grades six through 12. Ozark Catholic Academy, Northwest Arkansas' only Catholic high school, is set to open in Tontitown in the fall.
The number of Northwest Arkansas students attending open-enrollment public charter schools grew about 20 percent from fall 2016 to fall 2017, largely because of Haas Hall's expansion from two campuses to four.
Mary Ley, chief executive officer of the Arkansas Arts Academy in Rogers, said her school will return to the festival.
"I enjoyed it," Ley said. "It gave me a chance to walk around and see what other schools were doing."
Four people filled out Arts Academy applications for their kids at the festival, Ley said. The charter school serves 800 students in grades kindergarten through 12.
Also at this year's festival, there will be college planning and financial aid presentations and a scholarship fair meant to connect applicants with scholarship providers.
Arts and crafts activities, live music and refreshments will be available. Swimming at the center will be free during the event, according to Schoppmeyer.
"There will be a lot of neat things going on, for students and for families," Schoppmeyer said. "It's an outing. It doesn't take up a lot of your day, but what's going on is pretty darn important."
The festival takes place a day before the start of National School Choice Week. The organization behind National School Choice Week has granted the festival $2,500 -- $1,500 more than last year -- for the event, Holaway said.
NW News on 01/05/2018
Print Headline: School choice festival returns for second year
Sponsor Content
Comments