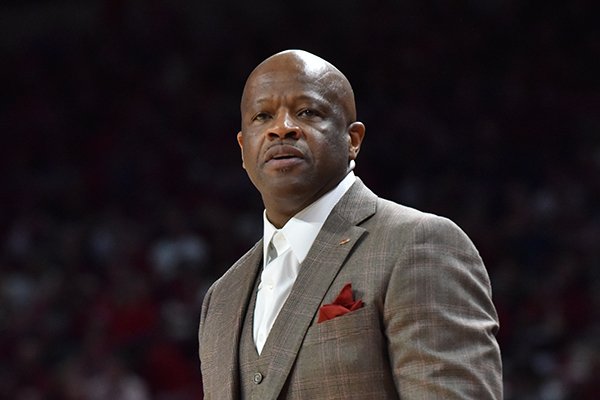 Arkansas beat Auburn 91-82 Tuesday Feb. 27, 2018 at Bud Walton Arena in Fayetteville. - Photo by J.T. Wampler
There is some uneasiness at programs such as Kansas, Duke and Kentucky as the FBI probe into college basketball has shown players, or former players, have had contact with an agent, or a representative of an agent, and received some cash.
In the world of perspiring arts, the amounts mentioned are mostly chump change.
More than 20 schools have been named so far.
There is no unease at the University of Arkansas, Fayetteville because Mike Anderson doesn't even flirt with breaking the rules. He hires assistant coaches who understand the rules. and he recruits only players who want to play for the Razorbacks.
Anderson takes real pride in graduating his players.
So as this investigation continues, the Razorback Nation can take comfort.
Meanwhile, this FBI probe into bribery and income tax evasion will continue to make headlines, and sports reporters and talk show hosts have jumped on this to bang the drum again that college players should be paid.
Well, they are. In addition to a full scholarship, books, room and board and free tutoring, athletes get a cost of attendance allowance. For the UA, that comes out to about $4,000 per athlete, per year.
Understand that is every athlete in every sport, not just the money-producing sports, which is how it should be. Schools have found the money to fund the allowance. They now need to find a way to give baseball 25 full scholarships a year, but that's an argument for a different day.
It may be hard for athletes to understand how coaches can be paid millions of dollars every year while they get a few thousand dollars a year.
Just look at the UA, which will pay about $15.5 million to Bret Bielema and Jeff Long the next few years for not producing.
Bielema didn't win games and Long didn't win the support of the fans unless they were multimillionaires, which is who he catered to, even allowing them to walk through the hallowed A before football games. There were not any teachers, policemen or firefighters who walked through that A.
Running through the A was a privilege earned on the practice field until Long arrived on the scene.
In the real world, if someone gets fired for not producing it is a termination with cause and that person gets a couple of weeks of pay and a good luck, but don't let the doorknob hit you on the way out.
College athletics is just not a good business model.
Thanks to Mike Slive, who got a 20-year contract signed with ESPN for the SEC Network in 2013, SEC schools didn't have real problems absorbing the cost of attendance when it was voted in.
Or paying coaches millions of dollars.
They just can't afford to pay every athlete $10,000 per year, but the majority of the athletes don't seem to expect more. But most of the athletes, especially the ones who graduate, will turn pro in something other than athletics.
The gifted athletes who are only going to be in school for one to three years, depending on their sport, may have a more legitimate gripe because schools are making a fortune off things such as selling jerseys.
How many No. 5 football jerseys did the UA sell when Darren McFadden was running through the SEC and becoming the runner-up for the Heisman Trophy twice? More than a few hundred.
That's not meant to make an example out of the UA, because it is just one of dozens of schools that prospers when it has athletes who excel.
This image thing and the players not making anything from it is an ongoing discussion, just like the FBI probe into college basketball.
Sports on 02/28/2018
Print Headline: Scandals do not inhibit Razorbacks' sleep
Sponsor Content
Comments