Health care providers, public officials and law enforcement officers in Northwest Arkansas are changing how they deal with opioid prescription medications as deaths tied to the drugs rise.
State and federal data show Arkansas' physicians are prescribing opioid painkillers such as Vicodin and Oxy-Contin at the lowest rate in years. Local law enforcement and state officials say they're spreading first aid and treatment for opioid addiction.
Several experts said there is still a long way to go to address the issue. The state's health department reports the deaths of more than 200 people annually in recent years were connected in some way to illegal and prescription opioids, an increase of 33 percent from 2010 to 2016. Several million prescription opioid pills are dispensed each year in Benton and Washington counties alone.
Kirk Lane, Arkansas drug director with the Department of Human Services and a former police chief, said methamphetamine is likely still the most widespread illicit drug in the state, but opioids are deadlier.
"There's not one solution — it's very multifaceted," he said, adding public and elected officials, care providers and law enforcement must work together to make a difference.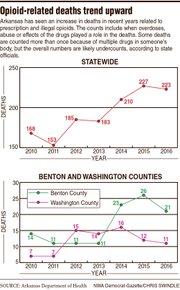 'THEY JUST DON'T LET GO'
Opioids still account for a small share of dying Arkansans; alcohol claims dozens more lives in a given year, based on federal Centers for Disease Control and Prevention data.
Lane, a Health Department spokeswoman, and others agreed the state's annual count of opioid-related deaths is likely underestimated because multiple drugs often contribute to deaths and coroners record the events differently. Lane said the actual opioid toll could be twice as high.
Opioids are connected to health care in a way many other drugs aren't. Use or abuse of legal, prescribed opioid medications can get someone dependent on opioids, which are some of the most addictive drugs, experts said. Sometimes a prescription medication is stolen or otherwise obtained by someone other than the person it was written for.
The CDC reported opioids of all kinds, whether prescription medication or illegal drugs such as heroin and fentanyl, killed more than 42,000 people in 2016, up about 500 percent from 1999.
"It's an easy transition from prescription opioids to heroin," Lane said. "The main reason is we haven't changed our prescribing habits."
Toni Whitt of Fort Smith suffered severe jaw pain and tried everything she could think of — homeopathic remedies, skin creams, a special mouthguard — before turning to opioids, said Storm Nolan, one of her sons. Only the opioids seemed to truly work, giving the lawyer and community volunteer enough relief to get back into jogging and other parts of a normal life.
Over the following years she began spacing out, randomly falling asleep and even driving in her sleep. She began seeing more than a dozen doctors to get prescriptions. Her children, once aware of the problem, found empty pill bottles in her home and called the doctors and police, trying to convince them, without much success, to stop the prescriptions. Nolan described it as a horrifying game of whack-a-mole.
The family was regularly in emergency rooms or intensive care units or rehabilitation facilities, which cut Whitt off from the pills with a cold-turkey approach. Still Whitt's addiction and the family's fears wouldn't end. Nolan recalled at one point his mother, whom he'd always known as a respectable, intelligent woman, tore apart her house trying to avoid the paramedics who came to pick her up.
"For those with addictive tendencies, the opiates, they just don't let go," Nolan said, using another term for many opioid substances.
Whitt died in 2013 from a heart attack while in rehab. Her son linked the attack to her sudden withdrawal from the pills.
"I think the most important thing is pain pills still flow freely," said Nolan, who has applied with his brother to grow and sell medical marijuana and sees the plant's painkilling ability as a safer alternative to opioids. "The source of it, the doctors' prescriptions — I still think there's a problem there."
CHANGING HABITS
Arkansas providers in 2016 prescribed opioids more often than in every state but Alabama, with enough prescriptions written that year to give one to every resident, according to the CDC.
But Arkansas might have turned a corner, federal and state numbers show. The prescription rate dropped from 2014 to 2016, the latest year available, reaching the lowest level since 2008.
The Arkansas Medical Society, a professional group for physicians, was among several organizations that created the Arkansas Prescription Drug Monitoring Program a few years ago, society executive vice president David Wroten said. The program tracks individuals' opioid prescriptions wherever they get them, letting physicians see if someone's getting an undue number of prescriptions.
Since late last year prescribers have been required to check the database before prescribing potentially addictive opioids, Lane said. He said Arkansas is also the only state to allow some law enforcement investigators to access the program without warrants to see if anyone's illegally prescribing or receiving the medications.
More than 40 people in the state "shopped" for doctors and pharmacists to get prescriptions over and over again in the first quarter of 2014, according to the monitoring program. That dropped to less than 10 in the first quarter of 2017.
"We've been able to show that it's been reduced, but our ultimate goal is that it's not happening," Health Department spokeswoman Meg Mirivel said.
Local health systems are taking their own steps. Mercy Northwest Arkansas added an alert to its electronic medical records to remind prescribers to check the monitoring program, spokeswoman Jennifer Cook wrote in an email. Mercy's system in multiple states is also working on measurement tools and other ways to identify opioid abuse. Its ultimate goal is to ensure patients' well-being while meeting pain management needs, Cook said.
Northwest Health and Washington Regional Medical Center officials said they have also imposed limits on prescriptions, such as 30 pills for someone recovering from an injury at Northwest.
The Arkansas State Medical Board, which licenses physicians and other health care providers, this year is considering requiring doctors to explore alternative treatments and document why a patient needs more than a certain amount of opioids. Wroten said the changes have the medical society's support and could push physicians to think hard about their prescribing habits.
The medical industry and government regulators in the '90s pushed prescribers to measure and aggressively treat pain, Wroten said. In 2016 Dr. Vivek Murthy, who was then U.S. Surgeon General, wrote an open letter to doctors throughout the country acknowledging that push and saying many doctors had been taught incorrectly that opioids aren't addictive when used for real pain.
These things have to be unlearned, said Dr. Sammy Turner, medical director at the Washington Regional emergency department. He's noticed younger doctors are less inclined to prescribe opioid painkillers and are more accustomed to prescription monitoring programs. The department generally sticks to just a few days' worth of opioids for any patient to lower the chance of addiction.
Turner also sees other issues. Federal policy expects emergency patients to get pain medications for long-bone fractures within 45 minutes of arriving, for example, sending a mixed message. Then sometimes patients with legitimate pain-control needs don't get opioids that can help, including Turner's 54-year-old sister who had a pinched nerve in February.
"That balance is still not there," he said.
FIRST AID
Deaths appear to be on the rise in Arkansas despite changes. The Department of Health counted 223 opioid deaths in 2016 and 227 the year before. The loss was 168 in 2010. Efforts are branching into first aid and treatment.
One prominent example is the spread of naloxone, a medication sold under the brand Narcan, that first responders, emergency departments and the general public can use to almost immediately counter the effects of an opioid overdose.
"It's dramatic," said Becky Stewart, chief of Central EMS ambulance service in Washington County. "It's like one minute they're in a very critical, near-death situation, and you administer the Narcan and they wake up a little bit confused about what's going on."
Washington Regional has had a rise in opioid and sedative drug overdose cases, reaching almost 200 last year, emergency services director Danita Mullins said in an email. Northwest hasn't had an increase, but several overdoses go into Northwest's emergency rooms every day, said Mickey Stout, the system's emergency department director, including many from prescription opioids and heroin.
Law enforcement departments in Northwest Arkansas have recently added naloxone to patrol and transport vehicles. A new state law last year made naloxone available to the public without a prescription, too.
Lane credited it with saving more than 50 lives so far. He's using part of a $3 million, five-year grant the federal Substance Abuse and Mental Health Services Administration gave to Arkansas in 2016 to send more doses around the state and create online training for first responders. About 200 doses were delivered early this year to Crawford County, which Health Department data shows has one of the highest opioid prescribing rates in the state.
Northwest Arkansas agencies reported seeing different needs for naloxone. Washington County Sheriff's Office deputies haven't used it yet, Lt. Tion Augustine said, for example. Stewart, meanwhile, said opioid overdoses seem to be on the rise and coming from more powerful versions of the drugs, and many people are repeat patients.
"It's hard for the paramedics and the EMTs and the firefighters to know they'll be back again. They want to see these people helped," she said.
THE LONGER TERM
Nolan, Stout and others agreed the state needs more widespread and accessible addiction treatment.
Cold turkey, as Whitt and her family found, nearly always fails, said Dr. Michael Mancino, an associate psychiatry professor at the University of Arkansas for Medical Sciences and clinical director of the school's Center for Addiction Services and Treatment in Little Rock.
The craving for opioids in someone who's addicted is enormous, doesn't go away even after the immediate misery of withdrawal ends, and appears to be even stronger than in alcoholism, Mancino said. The clinic uses milder opioids called methadone and buprenorphine, along with counseling services, to control that craving and allow people to return to normal lives. Patients must take one or the other continually for years because the craving never really disappears.
"We just consider it to be in remission," Mancino said. He noted the two drugs have their own abuse risks, but they won't get people high at appropriate doses and are given in a controlled way at the clinic. The clinic treats around 200 patients, most with opioid use disorder.
The approach is catching on slowly. A decade or so ago two clinics in Arkansas could administer methadone, both in Little Rock. Mancino said he knows of at least six today, including one in Springdale. But he said it's not enough yet. About 85 doctors have federal certification for the substance in Arkansas, compared to more than 900 in Tennessee.
Mancino said he and the Department of Human Services plan to use money from federal substance abuse grants to raise that number by educating physicians, countering the stigma of medical treatment for opioid addiction and helping them get the certification.
Arkansas Medicaid doesn't cover the clinic's treatment but should start to this summer, Mancino added.
Libby Bier, a licensed addictions counselor, directs substance abuse and recovery services for Ozark Guidance in Northwest Arkansas and said there's some controversy over Mancino's approach. The group still favors abstinence treatment along with counseling to learn new coping skills and change behaviors.
But she said Ozark Guidance is considering the medication approach, perhaps tapering it over time, and is looking for more counselors to expand its substance abuse work.
"There's not a whole lot of us out there that are duly licensed to address that," Bier said. "You really have to be able to put stigma aside and really work with the individual."
Dan Holtmeyer can be reached at [email protected] and on Twitter @NWADanH.