Candidates -- along with their supporters and families -- packed elbow to elbow on the second floor rotunda at the state Capitol on Thursday for the opening of the state and federal campaign filing season.
By the end of the day, 141 primary candidates, along with 10 nonpartisan judicial candidates, had thrown their hats in the ring for some of the 173 offices on the ballot this year. Before Thursday, another 29 nonpartisan judicial candidates qualified for the ballot by filing signature petitions. All who filed Thursday paid filing fees.
First-day filers included at least one for each of the seven constitutional offices except lieutenant governor. One of those offices -- secretary of state -- drew two Republican competitors on the first day, Land Commissioner John Thurston and state Rep. Trevor Drown of Dover. Secretary of State Mark Martin, whose office is in charge of candidate filing, is himself term-limited.
Filing will continue today and into next week; it ends Thursday. The process takes place during normal business hours. The primary and nonpartisan judicial general elections are May 22 and the general election is Nov. 6.
[2018 CANDIDATES: Full list of those who have filed to run for state, federal offices]
First through the line was state Treasurer Dennis Milligan, who was flanked by his wife Tina and 4-year-old twin granddaughters, Gabby and Gracie. The Saline County Republican, opening his arms wide to take in the jubilant crowd, said it was a "great day to be in Arkansas."
"It's important for them to see the process that makes America great," Milligan said, nodding to his granddaughters. "I want them to see the ability for Americans, Arkansans specifically, to run for public office and to represent. Public service is a great thing. All that's necessary for evil to triumph is for good men and women to sit aside and do nothing."
Gov. Asa Hutchinson, along with his wife Susan, strolled into the rotunda from his office down the hall shortly after 1 p.m., and was soon flanked by a gaggle of reporters and television cameras.
The Republican, who is seeking his second four-year term in office, reflected on years of filing past, which included mixed success in runs for governor, Congress, the U.S. Senate and -- at the reminding of his wife -- county justice of the peace.
Still, Hutchinson declined to be unequivocal when asked if he planned for this to be his last time filing.
"I would never say never, in politics," Hutchinson said. "I've got all the energy that I had when I started."
Susan Hutchinson laughed and gave a sure "no" when asked if she was planning to put her name in for any race.
"I have enough to do," she said.
Hutchinson's Republican gubernatorial challenger Jan Morgan, a Hot Springs gun-range owner, is expected to file at 11:30 a.m. Monday, Arkansas Republican Party Chairman Doyle Webb said.
Democratic gubernatorial candidate Jared Henderson, a former Arkansas Teacher of the Year, is set to file on Tuesday.
Attorney General Leslie Rutledge, who does not have an announced challenger, was followed from station to station by a group of cheering supporters holding campaign signs high in the air.
Rutledge said she would focus on federal regulations she has challenged, as well as continuing her recently opened investigation into pharmaceutical companies' role in the opioid epidemic.
"I'm just excited to be here today and be filing for re-election. Should someone decide to get into the race in the next week, then we'll welcome that opportunity." Rutledge said. "I feel like the campaign is prepared, that we've raised almost half a million dollars."
On her second time around: "I knew what I was walking into today, as opposed to, I guess four years ago now."
It was the 2nd Congressional District slot that garnered the most competitors Thursday. Three Democratic candidates filed for the primary, while a proxy filed for the Republican incumbent, U.S. Rep. French Hill of Little Rock. The Democrats included state Rep. Clarke Tucker of Little Rock and newcomer Paul Spencer of Scott, who lingered for conversations with supporters and the press. The other Democrat who filed was Gwen Combs of Little Rock.
Spencer said he was invigorated by the competition because it increases the chance of a runoff.
"The more ideas you get out there allows for a healthy debate," he said, adding that he's "pretty certain" the 2nd District will flip.
Tucker waited until after 3:15 p.m. to file so that he could collect his son Ellis, 8, and Mari Francis, 5, from school to join him and his wife Toni in the rotunda. Tucker said the number of challengers doesn't bother him because he's "running his own race."
"I'm going to get things done for the people of Arkansas and my loyalty is going to be first to the people here, not to any special interests or political party," Tucker said. "I want to make sure people are protected and can go to the doctor; make sure kids can get a quality education and we invest in pre-K[indergarten]. I want to make sure we have adequate infrastructure in the United States that includes broadband access, especially for rural Arkansas. There are just a whole lot of issues that need the federal government's attention. They're just not getting the attention they deserve right now."
Several political newcomers filed Thursday. Jamie Scott of North Little Rock, the executive director of Pulaski County Youth Services, filed for the District 37 state representative seat as a Democrat.
Scott said that in 2013, she was approached at a conference in Washington, D.C., by an Iranian female politician who pulled her aside and encouraged her to get into politics.
"She said, 'Women are being killed in my country for serving. There's no reason why your name shouldn't be on the ballot.' That's when I knew, in 2013, that I was going to run some day," Scott said. "I've been involved for many years helping Democrats get elected, but I finally felt like it was my time to step up and serve in a different capacity."
Dawn Clemence, a Republican and a pharmacy representative from Fayetteville who is running against Rep. Greg Leding, a Democrat, for the District 4 Senate race, said she just "figured out" last Friday that she was running for office.
"I talked to a lot of people out there, probably the most important thing to me is, I'm tired of yelling at the TV screen, wanting to get things done," Clemence said.
Leding said there's a lot of enthusiasm from Democrats in Northwest Arkansas.
"That seat is a good solid Democratic seat. Democracy deserves a choice, or you know is better served when people have a choice," Leding said. "We look forward to a good race, but we feel pretty good about things."
In a deserted hallway just a few feet from the hubbub, Michael Pakko, chairman of the state Libertarian Party, was honest about his expected tally of candidates for the day.
"Probably none," Pakko said.
Libertarians are waiting until after the party's convention this weekend, he said, to sort out who will file next week. In 2018, he said the party's primary goal will be getting more than 3 percent of the vote in the governor's race, to avoid having to petition again for ballot access during the next cycle.
"It's tough because people often look at that top-of-the-ticket race for governor and often right before the election think, 'I've got to vote for that guy or other one will win," Pakko said. "It's an uphill struggle to convince people we're a viable party and we are here to stay."
With about 30 minutes left on the clock, David Sterling, chief counsel for the Arkansas Department of Human Services, was the last candidate to file for the day. Seeking Position 3 justice on the Arkansas Supreme Court, Sterling said he wants to continue his contribution to public service that began three years ago when he was appointed by Hutchinson to the legal helm of the state's largest department.
"I want to continue that public service now on the state's highest court," Sterling said. "I think that Arkansans are looking for a justice who is going to bring values to the court, who agrees with their values, who is going to serve with integrity and who brings the right experience to the Supreme Court. That's what I'm offering."
At 10 minutes to 5 p.m., only the filing workers and a few press members remained. A custodian pushed a broom around the rotunda while workers at the six-step filing stations shuffled papers into order and readied the tables for today.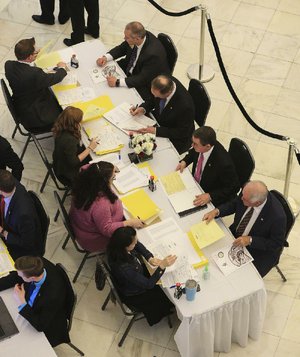 Photo by Staton Breidenthal
Candidates (at right) file paperwork with secretary of state employees Thursday on the second floor rotunda of the state Capitol.
A Section on 02/23/2018