BENTONVILLE -- Most of the more than 200 black people slain by a white mob in Phillips County in 1919 remain unnamed. There are no graves, said historian David Solomon.
About 60 people gathered Saturday to hear about black experiences as part of the annual Black History Month event at Northwest Arkansas Community College. The Race in Arkansas event was a chance for residents to learn history, hear stories of black people and turn information into activism, speakers said.
February: Black History Month
A weeklong celebration of black history and the achievements of black Americans was expanded to be monthlong in 1976. President Gerald R. Ford said Americans should "seize the opportunity to honor the too-often neglected accomplishments of black Americans in every area of endeavor throughout our history." The change was 50 years after the first weeklong celebration.
Source: Staff report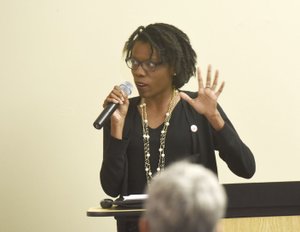 NWA Democrat-Gazette/FLIP PUTTHOFF Raven Cook gives speaks Saturday during the Race in Arkansa program at Northwest Arkansas Community College in Bentonville.
Sign up for breaking news
& daily updates delivered
right to your inbox.
There were laws meant to incarcerate black people who refused to work for their former slave owners, said author Lisa Corrigan. She is also an associate professor of communication, director of the Gender Studies Program and affiliate faculty in both African-American and Latin-American studies at the Fulbright College of Arts and Sciences at the University of Arkansas, Fayetteville.
Programs meant to help the poorest people in the United States were implemented in some states with criteria to keep black people from fully using those programs, including access to education, said Charles F. Robinson, vice chancellor for student affairs and history professor at the university.
A statue commemorating the Confederacy stands in the Bentonville square, but there are no nearby memorials for black people, said James L. Hawkins II, a counselor and marriage and family pastor for New Heights Church in Fayetteville.
February is Black History Month. Several Northwest Arkansas cities and Benton County have issued proclamations supporting the achievements of black people. Several of those proclamations were displayed for people to view.
White people, particularly white men, must be willing to dig for information and not be content just to interact with black people superficially, such as at work, said event organizer Jon Comstock, who's white and a former Benton County circuit judge. History must be uncovered for dialogue and healing to begin, he and others said.
"To me, the black experience -- for a person in my shoes -- the more I learn about the black experience in America, the obstacles they've faced -- I'm just in awe," Comstock said.
The event is meant to make people want to research more, Comstock said. Armed with knowledge, attendees can better get involved with their communities and help create an equitable society, Robinson said.
"It's important to educate the community about these issues," Robinson said.
The event also creates unity, said Pattie Williams, a Fayetteville resident and member of Compassion Fayetteville, a group connecting charities and philanthropic residents to the public.
"Building trust, too, among all of us -- that's important so we can move forward together," Williams said.
Hawkins said he wanted to hear both sides of stories, but right now, that isn't happening. There seems to be a growing divide in America, he said.
Most attendees Saturday were white. At least two people wore Black Lives Matter T-shirts. Comstock said white people need to hear the new information the event provides. Black people already know what they've experienced, he said.
Attendee Debbie Halbert of Fayetteville said she learned a lot. She and others said they never heard about the Elaine Massacre in Phillips County, for example.
"I'm starting to learn how much I don't know what I don't know," Halbert said.
NW News on 02/18/2018