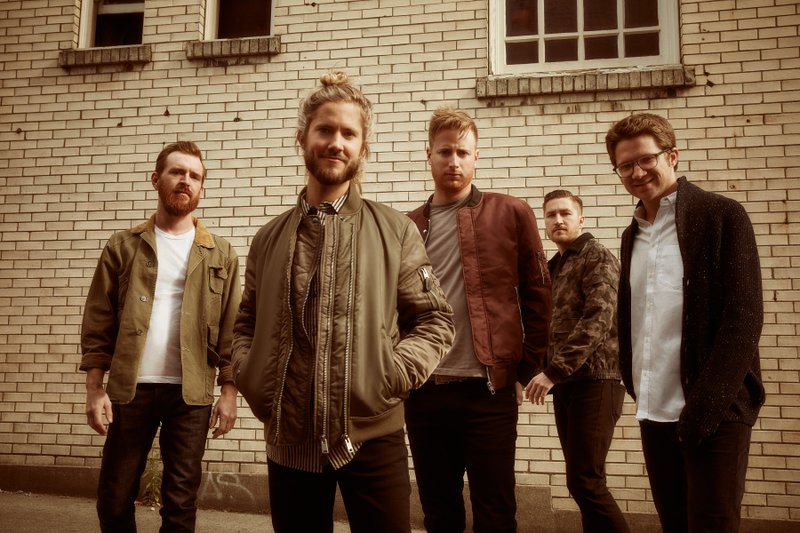 Photo courtesy: Harper Smith Nashville indie rockers Moon Taxi are in the middle of their "Let The Record Play Tour," which continues through March 25 before their return to Bonnaroo Music Festival June 7.
Nashville alt-rockers Moon Taxi brought their "Let The Record Play Tour" to George's Majestic Lounge in Fayetteville on Wednesday for a sold out Valentine's Day show. Lead singer Trevor Terndrup gave a short introduction as the band took the stage a few minutes after 10 p.m. for one of the few times he addressed the crowd. The room didn't seem to mind, though -- they were ready for the inspiring, guitar-driven indie-pop they came for.
The five piece's energetic set opened with the tour's -- and fifth studio album's -- namesake single. Most of the crowd seemed to know the words to most of the songs, from the new album out Jan. 19, to "Mercury" from 2012's "Cabaret." Moon Taxi performed nine of the new album's ten songs, along with more than half of 2015's "Daybreaker," and the biggest hits from 2013's "Mountains Beaches Cities." It was a crowd-pleasing and uplifting set that allowed each band member a moment to shine.
Although the audience consisted of predominantly college-aged fans who were equally concerned with drinking and talking with their friends as they were with the music, I did notice a decent range of fans blended throughout the crowd. And despite the constant level of chatter, the crowd did show appreciation for each solo and for each recognizable tune -- which was nearly all of them.
Moon Taxi last played George's in 2015 in support of then-new release "Daybreaker," and they've also appeared at few festivals in the area. With the disappointing dissolution of our biggest music festival and MT's continually rising star, though, I wouldn't be surprised if the next time Northwest Arkansas sees them, it's on the Walmart AMP stage. (Likely as an opening act, but hey, who knows?) But Moon Taxi is that good and that amphitheater-ready, it's only a matter of time before they conquer our biggest stage -- not to mention others across the country.
Read Jocelyn's interview with bassist Tommy Putnam before the show here.
NAN What's Up on 02/16/2018
Print Headline: REVIEW -- Moon Taxi at George's
Sponsor Content
Comments