Arkansas State University issued an ultimatum Monday morning to the University of Miami: If it does not reschedule its canceled football game from the 2017 season or pay the $650,000 buyout by Thursday, then ASU will file a lawsuit.
ASU informed Miami of its demand in a letter between the institutions' legal counsels, which said ASU "is left with no choice other than to seek damages" after negotiations between the programs failed to produce a solution.
The ASU and Miami athletic departments had signed a contract in May 2013 that stated the Red Wolves would play in Miami during the 2014 season and the Hurricanes would play in Jonesboro during the 2017 season.
The Miami game was played, and the Jonesboro game, scheduled for Sept. 9, was canceled when Hurricane Irma was about to make landfall in Florida.
[DOCUMENTS: Read letters from Arkansas State, University of Miami + game contract]
The letter, which ASU shared with the Arkansas Democrat-Gazette, said ASU Athletic Director Terry Mohajir "made numerous good faith efforts to accommodate Miami" to play the game as scheduled, and when Miami "refused to appear," ASU made "numerous attempts" to reschedule the game with Miami Athletic Director Blake James "instead of pursuing damages under the contract."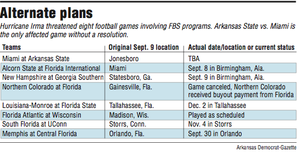 Photo by Arkansas Democrat-Gazette
Graph showing Alternate plans for football games affected by Hurricane Irma
The programs have yet to reschedule the canceled game, and the contract stated that if one team did not appear for one of the games, the other would receive a damages payment of $650,000 by Feb. 15, 2018.
ASU's letter stated Miami indicated during a telephone conversation Friday it "has no intention of paying."
"Unless Miami changes course on or before [Thursday]," the letter continued, "we will begin the process of filing a lawsuit against the university of Miami in the appropriate Arkansas state court."
James said in a written statement that he was aware of ASU's position.
"We believe strongly in our standing," he wrote, "and will not comment further as both parties' attorneys bring this to resolution."
ASU said its officials were not offering further comment due to the possibility of litigation.
The dispute began when James called Mohajir on the morning of Sept. 6 to cancel the game.
Miami's legal counsel sent ASU a letter Feb. 9, which said "information at that time indicated" that Miami's scheduled flight for the football game "might not make it out of Miami and a return flight would not be available in a timely fashion after the game."
ASU also shared Miami's letter with the Democrat-Gazette.
[🆕: Sign up for the Arkansas sports daily email newsletter]
Mohajir, according to ASU's letter, offered to pay $86,000 to $88,000 to fly the Miami football team and staff from Miami to Memphis on a separate air charter service to "ensure that Miami could travel safely to Jonesboro." He also said "their football team and staff could remain in the Jonesboro area after the game, stay in local hotels, and make use of [ASU's] indoor football practice facility."
James decided, according to Miami's letter, to cancel the game and release athletes and staff "to prepare for the storm and make decisions with their families."
Miami's letter claims the cancellation falls under the "Force Majeure" clause of the game contract, which states that the contract is void "in the event that it becomes impossible to play such game(s) by reason of an unforeseen catastrophe or disaster."
ASU contended in its letter that "it was not impossible" for the teams to play the game, since the game was located in Jonesboro and that out of the eight college football games that included Football Bowl Subdivision schools Sept. 9, the Florida-Northern Colorado game was the only other game to be completely canceled.
The University of Florida confirmed Wednesday it had paid Northern Colorado the buyout included in their contract. Florida did not disclose the buyout amount, but Northern Colorado's game guarantee was $625,000, according to The Coloradoan.
ASU also included a quote from Miami Coach Mark Richt, who said according to the Sun-Sentinel: "Could we have snuck out just in time to play that game? We could have, logistically."
The athletic programs then decided to reschedule the game, ASU's letter said, "although Miami's failure to appear was a material breach of contract."
Miami did not have an available weekend during the 2017 season, and James said, according to Miami's letter, that the earliest the Hurricanes could visit Jonesboro was Sept. 14, 2024.
Mohajir said that delay "would be detrimental" to ASU and "consulted a scheduling service," according to ASU's letter, "which revealed that Miami had openings in both 2020 and 2021."
ASU officials did not specify what "scheduling service" Mohajir used.
Mohajir asked James about the 2020 and 2021 seasons, and, according to ASU's letter, he "even offered that if Miami would schedule the contracted game" that ASU would agree to buy another "game at Miami."
Miami's letter said the Hurricanes do "not have the ability to play ASU in football in 2020 or 2021 because of current commitments," which include reserved games with Football Championship Subdivision opponents.
The Atlantic Coast Conference mandates its members schedule eight conference opponents and one nonconference opponent from another Power 5 conference. The members are permitted to freely schedule the remaining three games on their schedule.
According to the Miami Herald, the Hurricanes have two scheduling slots open during the 2020 season.
ASU's letter concluded that "it is not a matter of Miami's inability to schedule a game against [ASU] in a reasonable time frame, but rather it is Miami's unwillingness to play [ASU] in 2020 or 2021 because it would prefer to schedule a team from the FCS."
Sports on 02/13/2018
Print Headline: ASU says lawsuit vs. Miami possibility
Sponsor Content
Comments