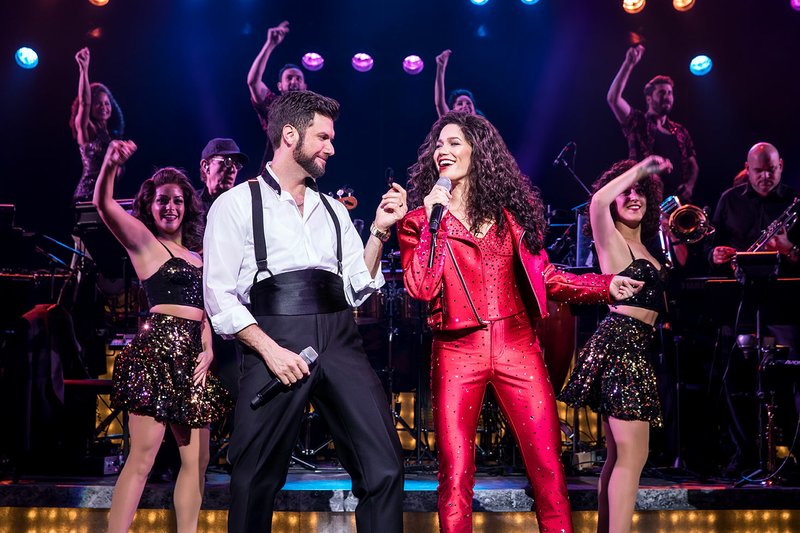 "On Your Feet" is Gloria Estfan's true story of her rise to super stardom and is showing at the Walton Arts Center through Sunday.
I'll keep this short and sweet because I have nothing bad to say about the first national tour of "On Your Feet! The Story of Emilio and Gloria Estefan," showing at the Walton Arts Center through Sunday. The dancing is phenomenal, the true story is inspirational and full of heart, the colors of Miami and Cuba pop and the music is infectious.
Full disclosure, as someone who born the year after the infamous bus crash that left both Gloria's career and ability to walk uncertain, the music feels very of the time to me. That being said, there is something so timelessly fun and energizing about the Cuban-influenced rhythms, and watching a strong woman find herself and her voice. "On Your Feet" moves quickly -- just like the tempos of many of the numbers -- to take us from Gloria's childhood, to her introduction to Emilio and The Miami Latin Boys, to their eventual marriage, career and her super stardom, seamlessly jumping between time lines all the time. The show is pure joy and had me dancing all the way home. But, as I mentioned, there are some heartbreaking moments and fraught relationships -- as there are in any life -- that ground the show and keep it from feeling like a fairy tale.
It is still a bit of a fairy tale, though. A Cuban immigrant with the weight of familial responsibilities on her shoulders from a young age goes on to become the most successful crossover artist ever, while everyone is telling her (and husband Emilio) they can't. The show makes a goose bump-inducing statement about what it means to be an American without being overtly political, but with the climate such as it is, it's impossible not to see the obvious connections to the same issues still being argued today. OYF is not a political piece, though. It's "a love story to this country, our love story, a love story to music," Gloria said ahead of the show's Broadway debut.
The music does get its own spotlight as a full live band -- including a few original Miami Sound Machine member -- performs the soundtrack, sometimes hidden by a backdrop, sometimes pulled out to center stage to convey a live concert. Sergio Trujillo's Tony-nominated choreography impresses at every turn, as does much of the cast. Mexican actor and recording artist Mauricio Martinez brings so much humor to the role of Emilio, especially if you've ever seen the real-life producer in interviews with his wife. Neither Martinez nor Christie Pradas in the role of Gloria is doing a full-on impression, but the voices and mannerisms are delightfully reminiscent of the icons. Also worth noting: Martinez returned to the tour literally last week following a break to focus on and recoup from chemotherapy treatments. He's once again cancer free and charming audiences back on stage!
The entire cast is excellent. I know I'm not the only one in the audience who was captivated, and maybe a little overwhelmed in the best way, by a full cast of stunning and talented Latinx people joyfully owning that stage. Two other standouts worth mentioning, though, are Carmen Sanchez who played young Gloria at the WAC's opening night, and Jordan Vergara as the Estefan's son Nayib as well as young Emilio. Sanchez's vocals and Vergara's fast feet both had the desired effect in earning oohs and aahs from the crowd.
"On Your Feet" has a handful of curse words here and there but other than that is fun most of the family (if the little ones enjoy keeping up with plot) can enjoy. There are two more chances to see the show, and the rhythm certainly is going to get you.
---
FAQ
'On Your Feet!
The Emilio & Gloria Estefan Broadway Musical'
WHEN — 8 p.m. Dec. 8; 2 p.m. Dec. 9
WHERE — Walton Arts Center in Fayetteville
COST — $38-$77
INFO — 443-5600, waltonartscenter.org
FYI
Back On Their Feet
Walton Arts Center, KNWA and Dress for Success NWA are joining forces to help women in Northwest Arkansas get back on their feet. Guests are encouraged to bring new or gently used women's winter coats, purses and professional shoes when they come see "On Your Feet!"
The donations go directly to the Northwest Arkansas Chapter of Dress for Success. The international nonprofit with offices in Rogers helps women break the cycle of poverty by providing programs and professional attire so that they can secure employment and a network of support and training to help them succeed in the workplace.
Donations can also be dropped off during lobby hours at WAC: 10 a.m.-6 p.m. weekdays and noon-4 p.m. on Saturday.
NAN What's Up on 12/08/2018
Print Headline: REVIEW: 'On Your Feet! The Story of Emilio and Gloria Estefan'
Sponsor Content
Comments