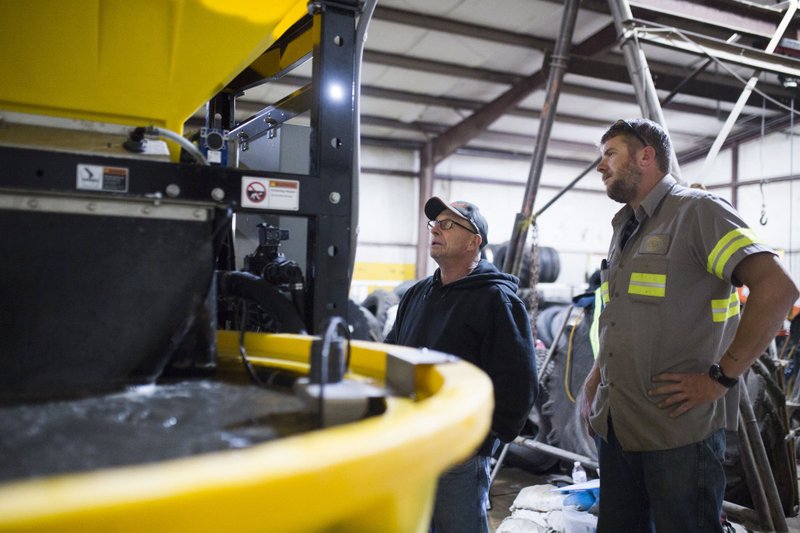 NWA Democrat-Gazette/CHARLIE KAIJO Steve Trogdon (left), road superintendent, and Patrick Clanton examine a brine maker at Benton County's Road Department in Bentonville. The brine maker mixes salt and water, the mixture used to treat the roads in Benton County.
Area road departments are in preparation mode as a winter storm gathers strength to the west.
A wintry precipitation is forecast to begin tonight or Saturday morning across northeast Oklahoma and Northwest Arkansas, according to the National Weather Service Office in Tulsa, Okla.
For road conditions
• Arkansas Highway and Transportation Department
www.idrivearkansas.com
twitter.com/AHTD
(800) 245-1672 or (501) 569-2374
• Oklahoma Department of Public Safety
www.dps.state.ok.us
(405) 425-2385
• Missouri Department of Transportation
www.modot.org
(888) 275-6636
• Kansas Department of Transportation
www.ksdot.org
(800) 585-7623
Rain or freezing rain is possible early Saturday, with a transition to a mix of sleet and snow by Saturday afternoon. Precipitation will become snow by Saturday night into early Sunday morning. Hazardous travel is expected, according to the Weather Service.
Benton County's Road Department began earlier this week treating trouble spots such as hills and intersections with magnesium chloride, which melts ice quickly. The department plans to use salt brine on some county roads.
The department was busy Thursday preparing machinery and equipment for winter work.
"This storm, the first storm, is the hardest to prepare for. We're just getting things ready to go," said Jay Frasier, administrator of public services who oversees the Road Department. "Making sure the equipment is ready and in place. Getting our ducks in a row before the storm gets here. After that, it's old hat."
The county maintains 1,600 miles of roads -- 800 paved and 800 dirt. The department will use 15 salt trucks with plows and 20 road graders this weekend.
A winter storm watch was issued for 22 counties across the northern part of the state. Snowfall of up to 6 to 7 inches is forecast for Harrison and Mountain Home. Minor snow, sleet and ice accumulations are expected in central Arkansas. Between 3 and 5 inches of rain falling today through Saturday are possible across southern Arkansas.
In Rogers, Street Department crews don't treat roads. They wait and put ice-melting material down as the snow begins to fall, said Frankie Guyll, the city's street supervisor. Guyll, on the job for more than 25 years, said crews would attack the winter weather with a mix of road graders, front-end plows, spreaders and front-end loaders.
"We will be as ready as we can be," he said.
Fayetteville also was waiting to treat roads because the first edge of the storm is expected to bring heavy rain that would wash away any salt brine, said Terry Gulley, Transportation Services director. Gulley said crews would begin to treat roads once the forecast firms up.
"It's all about timing," Gulley said. "We're ready. We will adapt to it as it gets here."
Bentonville street crews put salt brine down Thursday on Moberly Lane, J Street, Eighth Street, Tiger Boulevard and Central Avenue. Work on hills and bridges will start today, said Tony Davis, city street manager.
It was the threat of ice that sparked Bentonville crews into action Thursday, Davis said. Getting salt brine on the roads was important in the battle against any ice even if some of the melting solution runs off wet streets, he said.
"You make the best decision you can based on the forecast," Davis said. "The forecast can change tomorrow."
The Arkansas Department of Transportation began to treat roads under its supervision with salt brine Thursday. That work will continue today, said Danny Straessle, the department's public information officer.
The benefit of treating is to get a layer down so ice can't bond with the pavement, Straessle said. Salt brine is an inexpensive -- about 5 cents per gallon -- insurance policy, he said.
"The timing of this event has been a concern of the forecasters and us," he said. "There are a lot of variables out there."
Carl Gales, chief of staff for Washington County Judge Joseph Wood, said the county's Road Department is already on alert and ready for any winter precipitation. Gales said the county will notify crews who will be assigned to work and trucks will be fitted with snow plows and spreaders. Gales said Washington County uses gravel on county roads, explaining the larger "chunks" give better traction and liquid or even sand tends to freeze in some conditions and can make the roads worse.
The Washington County Road Department maintains 400 miles of paved roads and more than 500 miles of gravel roads, according to the county website.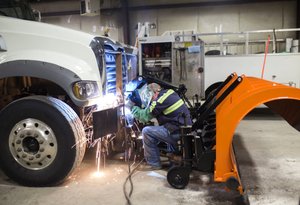 NWA Democrat-Gazette/CHARLIE KAIJO Derek Henson installs light bars Thursday above the snowplow of a dump truck used to plow the roads at Benton County's Road Department in Bentonville. The department is getting ready for the winter weather. The department has treated bridges, hills and intersections in Benton County with magnesium chloride to making plowing easier. The department expects 1-3 inches of snow going into the weekend.
NW News on 12/07/2018
Print Headline: Road crews prepare for winter weather
Sponsor Content
Comments