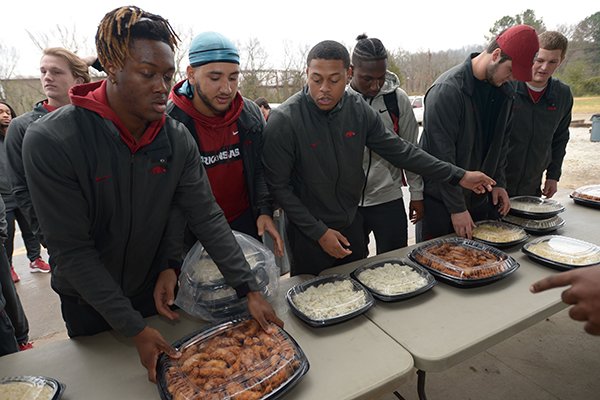 Mike Woods (from left), Isaiah Nichols and Devwah Whaley join other members of the University of Arkansas football team Thursday, Dec. 6, 2018, in serving a meal at the 7Hills Homeless Center's day center in Fayetteville. Members of the team served food at several locations around Northwest Arkansas including Arkansas Children's Hospital Northwest, Mercy medical center in Rogers and the Boys and Girls Club of Fayetteville. - Photo by Andy Shupe
FAYETTEVILLE -- University of Arkansas defensive lineman T.J. Smith still remembers a special visitor who came to his kindergarten class in southern Georgia 15 or so years ago.
Steve Smith, a receiver with the Carolina Panthers, made dozens of kids happy that day in Moultrie, Ga.
Smith and a large contingent of Arkansas football players hung out Thursday with kids at the Donald W. Reynolds Boys & Girls Club, while other groups went to functions at Arkansas Children's Northwest Hospital, 7hills Homeless Center and Mercy Hospital Northwest Arkansas during the team's day of service.
"You don't forget those types of moments you know, and the different moments you can help create for someone else," said Smith, a senior who built up a light sweat playing basketball with kids, while many of his teammates engaged in a massive, chaotic game of dodgeball.
"It definitely takes a village to raise a child," said Smith, who was named to the annual SEC Community Service team last month. "A lot of guys on our team, there was a village to help raise them. We've got to be a part of that village for somebody else."
Sophomore offensive lineman Dalton Wagner was with the group at the new children's hospital in Springdale.
"It's the season of giving and we're trying to give as much back to the community," Wagner said. "Coach Morris preaches it all the time. These people take care of us all the time. Our community, it's such a great outreach we have as Razorback Nation. Getting to come here and put a smile on the kids' faces is a really nice thing to do."
Smith said it was awesome to be named to the SEC Community Service team.
"It's not just me, it's our whole team," Smith said. "It's the people with academic support. They get us out here in the community. It's the SAC [student advisory committee], which does a great job of getting us out in the community."
The Razorbacks did strength and conditioning testing earlier this week as they began offseason workouts in an attempt to start turning around from a 2-10 season.
"The attitude is good," Smith said. "Everybody's excited to get started working and to do better than we did in the past."
Smith said the leaders in the offseason have largely been upperclassmen who have playing time under their belts, such as linebacker De'Jon (Scoota) Harris and defensive lineman McTelvin (Sosa) Agim.
"It's a lot of the same guys as last year, guys that were juniors like Sosa and Scoota and guys like that," he said. "Myself. Guys who have played, guys who have gotten snaps."
Sports on 12/07/2018
Print Headline: Hogs hit the community service trail
Sponsor Content
Comments