Runoff elections for Little Rock mayor, Jacksonville mayor and two Jacksonville City Council positions drew 14,980 votes cast during early voting in Pulaski County, the Pulaski County Election Commission announced after early voting ended at 5 p.m. Monday.
The runoff elections are today. Polls in Pulaski County will open at 7:30 a.m. and close at 7:30 p.m.
The early voting turnout is "about in the range we expected," Pulaski County elections Director Bryan Poe said just before the close of voting Monday, with the runoff election for Little Rock mayor driving up the vote total.
Statewide, there will be city, county or school board runoffs in 42 counties.
Baker Kurrus, 64, an attorney, and Frank Scott Jr., 35, a bank executive, are in the runoff to be elected to a four-year term as Little Rock mayor. Mayor Mark Stodola didn't seek re-election.
There were 1,536 votes cast on Monday at the Pulaski County Regional Building in downtown Little Rock, the only polling site open for the final day to vote early.
"That's pretty much all we've got right now," Poe said of the Little Rock mayor's race bringing in voters Monday. "Most of our Jacksonville votes came last week."
Scott led the Nov. 6 general election with 25,076 votes, or about 37 percent of the total from a five-candidate field. Kurrus received 19,620 votes, or about 29 percent, reaching the runoff by fewer than 600 votes over third-place finisher Warwick Sabin, a third-term Democratic state representative.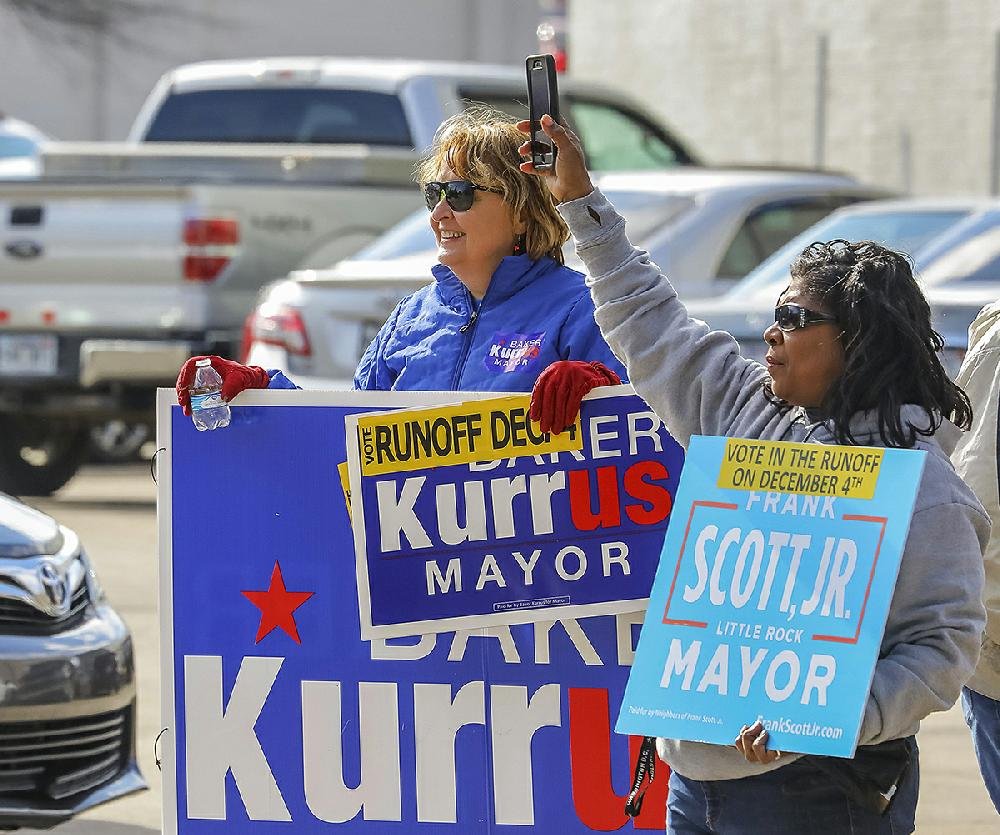 Ginny Kurrus (left) and Brenda Scott try to sway voters outside the Pulaski County Regional Building, an early voting site, in downtown Little Rock on Monday, the last day of early voting in the Little Rock mayoral race. Kurrus is the wife of candidate Baker Kurrus; Scott is the mother of Frank Scott, Kurrus' opponent.
Writer and activist Vincent Tolliver and marijuana decriminalization advocate Glen Schwarz each received about 3 percent of the votes cast in the Little Rock mayor's race.
[2018 ELECTION: Full Democrat-Gazette coverage of Arkansas races]
A candidate would have needed a minimum 40 percent of the vote in the general election to avoid a runoff.
Because this is the first Little Rock mayoral election to need a runoff -- Little Rock returned to electing its mayor by popular vote in 1994, the first mayoral election since 1957 -- there aren't comparable vote totals from previous local runoff elections to gauge this year's numbers, Poe said. The city Board of Directors chose the mayor from among its members prior to 1994.
"Usually it's all cleared up in the general election," Poe said.
In Jacksonville, the runoff for mayor is between state Rep. Bob Johnson, D-Jacksonville, and Patrick Thomas, a former Air Force master sergeant. Johnson, 65, led the general election with 2,808 votes, to Thomas, 58, receiving 1,578 votes.
Debra Fulton was third with 1,175 votes. Jacksonville Mayor Gary Fletcher withdrew his bid for re-election but remained on the ballot, receiving 1,107 votes.
In Jacksonville City Council elections, incumbent Kenny Elliott, 65, is seeking re-election against Jeff Elmore, 48, for Ward 1, Position 1. Elliott led a three-candidate field in the Nov. 6 election with 2,837 votes to 1,799 for Elmore.
Incumbent Kevin McCleary, 53, is running against Gary Sipes, 61, for the Ward 2, Position 1, runoff election. Sipes led the three-candidate field in the general election with 2,275 votes to 2,066 for McCleary.
Early voting was available last Tuesday through Friday at polling locations in Little Rock and Jacksonville and at the Pulaski County Regional Building on those same days and also on Monday.
Metro on 12/04/2018