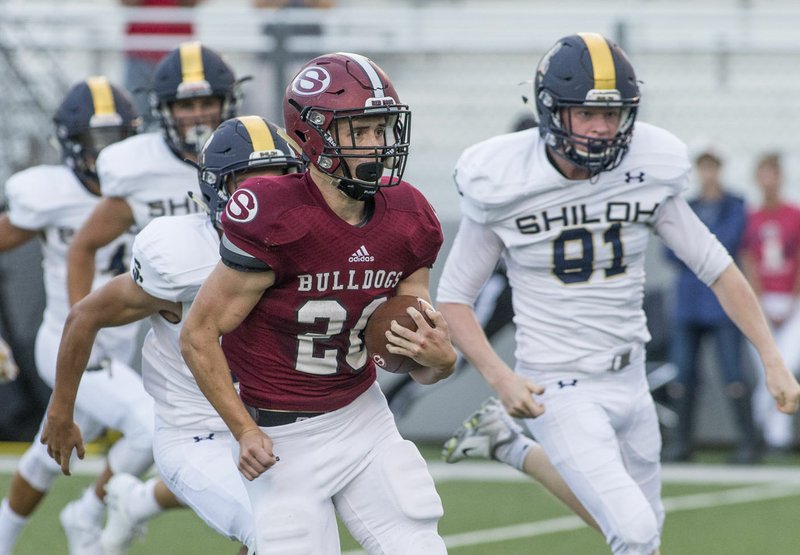 NWA Democrat-Gazette/BEN GOFF @NWABENGOFF Garrett Vaughan (20), Springdale High running back, runs the ball Tuesday, Aug. 14, 2018, during a scrimmage against Shiloh Christian at Jarrell Williams Bulldog Stadium in Springdale. Vaughan has added 10 pounds over the offseason and will lead the Bulldogs into the season-opener at home tonight against Joe T. Robinson.
SPRINGDALE -- At first glance, a Class 4A football team would appear to be a cupcake on the schedule of a Class 7A team.
Joe T. Robinson is anything but a cupcake for Springdale High. They go at it at 7 p.m. today in Jarrell Williams Bulldog Stadium in a Zero Week clash to open the 2018 season.
Joe T. Robinson at Springdale High
Jarrel Williams Bulldog Stadium
KICKOFF 7 p.m.
RECORDS Season opener for both teams.
ON THE AIR The game is live-streamed on the Springdale Schools web site.
BETWEEN THE LINES Robinson advanced to the Class 4A semifinals last season and have most of its key players back including top college prospect DL Zach Williams, who has committed to Arkansas. … The Senators have posted back-to-back double-digit wins seasons. … Robinson takes on another 7A-West team next week against Rogers High. … Springdale appears to have its strongest team in the Zak Clark era, bolstered by the transfer of six players from crosstown Har-Ber in the offseason. … Bulldogs' RB Garrett Vaughan is primed to have a breakout season after adding 15 pounds of muscle in the offseason. … Chops Sanders, one of the transfers, is a difference-maker at outside linebacker and will be hard to contain as an edge rusher. … Clark said the starting quarterback for this game will be a game-time decision. Transfer senior Grant Allen and senior Will Mueller have each been taking snaps since the spring.
PLAYERS TO WATCH Robinson — QB Greyson Tackett (Sr., 6-3, 215), DL Zach Williams (Sr., 6-4, 225), RB Zaytron Waits (Sr., 5-11, 210). Springdale — QB Will Mueller (Sr., 6-2, 190), QB Grant Allen (Sr., 6-1, 180), RB Garrett Vaughan (Sr., 5-11, 185), WR Conner Sikes (Sr., 6-0, 190), WR/DB Brock Pounders (Sr., 5-9, 160), LB Chops Sanders (Sr., 6-3, 215), WR/DB Juan Boyd (Jr., 6-0, 155).
HOOTEN'S RANKINGS Robinson is No. 2 in Class 4A; Springdale is No. 9 in Class 7A.
HOOTEN'S LINE Springdale by 9.
OUR TAKE Springdale 27, Robinson 20
— CHIP SOUZA • @NWAChip
WEEK ZERO
Today
Class 7A
Pulaski Robinson at Springdale High, 7 p.m.
Class 2A
Mansfield at Hackett, 7 p.m.
Friday
Class 7A
Bentonville West at Owasso, Okla., 7:30 p.m.
Fayetteville at (St. Louis) St. John Vianney, 7 p.m.
Rogers Heritage at FS Northside, 7 p.m.
Pulaski Academy at Springdale Har-Ber, 7 p.m.
Class 5A
Pea Ridge at Harrison, 7 p.m.
Clarksville at Booneville, 7 p.m.
Class 4A
Gentry at Dardanelle, 7 p.m.
Texarkana at Shiloh Christian, 7 p.m.
Cascia Hall at Gravette, 7 p.m.
Class 3A
Melbourne vs. Charleston at Conway (Hendrix College), 7 p.m.
Class 2A
Johnson County Westside at Cedarville, 7 p.m.
Magazine at Bigelow, 7 p.m.
Saturday
Class 7A
Tulsa (Okla.) Booker T. Washington vs. North Little Rock at Bentonville, 4 p.m.
Midwest City, Okla. at Bentonville High, 7:30 p.m.
Springdale coach Zak Clark, who begins his fourth season with the Red'Dogs, said the matchup was cemented in the spring and was made possible by the flexibility of the Zero Week schedule.
"There were not many options available when we were finalizing our schedule," Clark said. "I called a lot of schools and tried to get something in different states."
The Senators were a 12-1 Class 4A semifinalist last season, falling to Warren in overtime, and return a number of starters and Division I prospects, led by Arkansas verbal commit Zach Williams, a defensive lineman. Robinson's offense will be explosive, triggered by quarterback Greyson Tackett and senior Zaytron Waits, who plays all over the field and will take snaps as a wildcat quarterback.
Clark said this year's team has more speed all across the field than any he's had before. The team also added a number of offseason transfers that will have a huge impact on the field, especially at the skill positions.
Garrett Vaughan (5-foot-11, 185 pounds) is not a newcomer, and the senior is primed for a breakout season if he can remain healthy. Vaughan was headed to a banner year in 2017 before he was sidelined with a broken hand. He still finished with 644 yards and 12 touchdowns.
"I'm 10 or so pounds heavier than I was last year," said Vaughan, who spent his offseason working out twice a day in the weight room. "I feel like I can take contact better and give contact better."
Vaughan added the weight while keeping his sprinter speed, Clark said.
"Jajuan (Boyd) ran the fastest time and he and Garrett were the only sub-4.5s (40-yards) we had," Clark said. "He is just so consistent every single day."
Injuries have limited what Vaughan has been able to do on the field. As an eighth-grader, he suffered a compound fracture in his right leg that cost him most of his ninth-grade season, and the lingering effects continued into his sophomore season, he said.
"I was playing basketball for Lakeside and I went up to block a shot and went into the wall," Vaughan recalled. "I looked down and the bone was sticking out of my leg. All I could think about was good lord, this hurts."
A healthy Vaughan gives the Bulldogs a home run threat on every carry. And with the newcomers at receiver like Conner Sikes, Bryndell Cook and Brock Pounders, defenses won't be able to focus their attention just on Vaughan, Clark said.
Vaughan has not received any college offers but has been in contact with schools like Harding and Arkansas Tech. If he has the kind of season Clark thinks he will, the offers should follow.
"He is our bell cow," said Clark. "We need to keep him healthy. He just does things that very few people can do."
Sports on 08/23/2018
Print Headline: Springdale opens season against 4A power
Sponsor Content
Comments