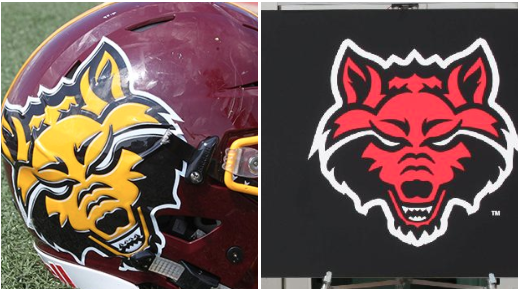 From left: The new decal on a Lake Hamilton football helmet, (The Sentinel-Record/Richard Rasmussen); and Democrat-Gazette file photo of Arkansas State University logo
Officials at an Arkansas school district said Tuesday that the high school football team will not use a logo that is similar to the Arkansas State University Red Wolf on its helmets.
The Hot Springs Sentinel-Record posted a photo of the new helmet to its sports-related Facebook page early Tuesday asking the public's opinion on the new look for Lake Hamilton High School, but the decal on the helmet quickly drew comments that noted its similarities to ASU's Red Wolf, except for having gold coloring instead of red.
The newspaper contacted Brian Bridges, communications coordinator for the school district, regarding the logos, and the district later responded with a statement that the helmets would not feature the logos.
"It has been brought to the attention of the Lake Hamilton athletic director and administration that our high school football personnel purchased a duplicate of the Arkansas State University mascot logo in gold with initial plans of using the logo on the football helmets for the high school team this season," the statement said.
"After speaking with football personnel, the district learned that this was a request of several players on the team. The Lake Hamilton High School football staff has been reminded that all mascot logos represented on Lake Hamilton uniforms and gear must be the official trademarked logo currently approved for use by the district. The district respects all trademark and copyright laws and would never purposefully infringe on other institution's property."
Bridges said 50 decals were purchased from the company Pro Cals for $9.98 a pair.
Bridges said the football team has several new helmets that are blank, which the team then puts decals on. He said the team will continue to use the same design it has used for several years for the 2018 season. The helmets have the Lake Hamilton Wolf logo on one side with the football player's number on the opposite side.
According to the merchandise guidelines on Arkansas State University's website, "Anyone wishing to use the marks, logos and symbols of the university must obtain a license."
Sponsor Content
Comments