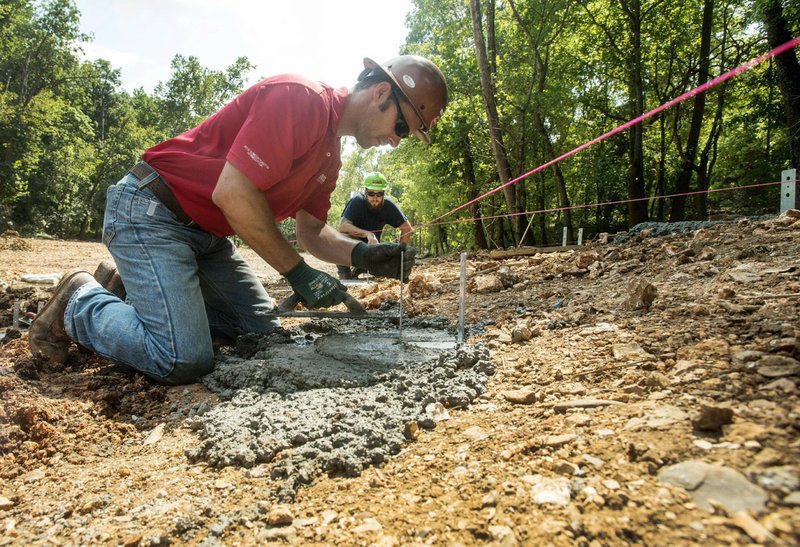 NWA Democrat-Gazette/BEN GOFF @NWABENGOFF TJ LaPlant (left) and Jeff Cargile with Crossland Construction set footings for a boardwalk Tuesday at Coler Mountain Bike Preserve in Bentonville. Crossland is working on a new trailhead and pavilion on Northwest Third Street and hard-surface greenway through the park connecting to the parking lot on Peach Orchard Road.
BENTONVILLE -- Visiting mountain bikers will have a place to stay in Coler Mountain Bike Preserve once plans for a camping area are implemented.
The Planning Commission unanimously approved plans Tuesday for the camping and recreational area along Peach Orchard Road.
Commission action
Bentonville's Planning Commission met Tuesday and approved:
• A property line adjustment at 1310 S.W. Elm Tree Road.
• Final plat for Oak Meadows Subdivision, 1601 Been Road, and PE Livingston Square Subdivision, 1111 S.W. Parnell Drive.
• Permits for digital billboards at 401 S.E. Walton Blvd. and 1400 S.E. Eagle Way.
• Sidewalk waivers at 802 and 804 N.W. 20th St. and 700 N.E. A St.
Source: Staff report
NWA Democrat-Gazette/BEN GOFF @NWABENGOFF The pavilion is under construction Tuesday at Coler Mountain Bike Preserve in Bentonville.
Access to the site, Coler-Saint, will be on Palladium Drive.
Plans show about 25 camping sites and hammock stands. A concrete loop drive connects the parking areas to soft surface trails that lead to the sites. There's a restroom facility with showers and a stone plaza with a community fire pit.
The development also includes a bike repair station and a four-bike bike rack. There will be 50 parking spaces.
All of that will be constructed in the first of two phases, Brahm Driver, civil engineer with Ecological Design Group, told commissioners at their Aug. 14 technical review meeting. Ecological Design Group and Modus Studio designed the project.
The second phase will include a camp manager's office and residence on the southwest of the site as well as camping huts on the sites northwest corner, according to development plans.
There won't be any hookups for RVs, Driver said. People who come will be able to stay for a few days up to a couple of weeks.
"Our strategy is to keep as many trees as we can and to work with nature," Driver said of building the site.
"This is going to get used quite a bit," Rod Sanders, commissioner, said at the technical review meeting.
"Totally needed," Dana Davis, commissioner, echoed.
The cost to stay hasn't been determined yet, Erin Rushing, executive director of NWA Trailblazers, said before Tuesday's meeting.
The Trailblazers, a nonprofit organization developing cycling and pedestrian infrastructure in Northwest Arkansas, owns the land where the campground will be built.
The camping area should be open by early summer 2019, Rushing said.
Camping has been the missing link in Bentonville, said Kalene Griffith, Visit Bentonville president and CEO, said Tuesday morning.
The city has hotels and Airbnb rentals, but camping right next to the trails allows mountain bikers a more convenient access to the trails, she said.
"Cyclists are looking for that alternative option," Griffith said.
Coler-Saint may be the first camping option near a trail system in Bentonville, but it won't be the first camping option near trail systems in Northwest Arkansas.
The Bella Vista Property Owners Association operates a 64-space RV camp facility near Blowing Springs Trail. It also has 11 primitive tent camping sites, according to its website.
A message left with the association wasn't returned before 7 p.m.
Mongolia Gardens in Springdale has two teepees next to the Razorback Greenway offering cyclists refuge for $160 a night. Campers may also bring their tents and camp on the lawn areas at Magnolia Gardens for $45 per night.
Commissioners also on Tuesday approved plans for Coler-Stanberry, a trailhead to the Coler trails along Northwest Third Street.
It will include 48 parking spaces and an outdoor pavilion with a public plaza, according to the plans. A concrete trail connects the plaza to the Coler trails. Plans also show a fitness station north of the pavilion.
The development also will include a 6-foot-wide sidewalk along Northwest Third Street.
The camping area and trailhead are just the next developments of the Coler Mountain Bike Preserve.
The commission approved plans for the Coler Homestead -- an outdoor activity area with trails, seating and a cafe -- in February.
The cafe building will be constructed to the east of the two barns that will be refurbished, according to Rushing.
Coler preserve will have 16 miles of soft surface trails and a mile and a half of hard surface trail, Rushing said.
It's been under construction since January 2016. The first eight miles of soft-surface trail were open in time for the International Mountain Bicycling Association's World Summit when it was held in Bentonville in November 2016.
Coler, as a whole, should be wrapping up in the summer of 2019, Rushing said when plans for the Homestead were approved in February.
NW News on 08/22/2018
Print Headline: Campsites to come to Coler Mountain preserve
Sponsor Content
Comments