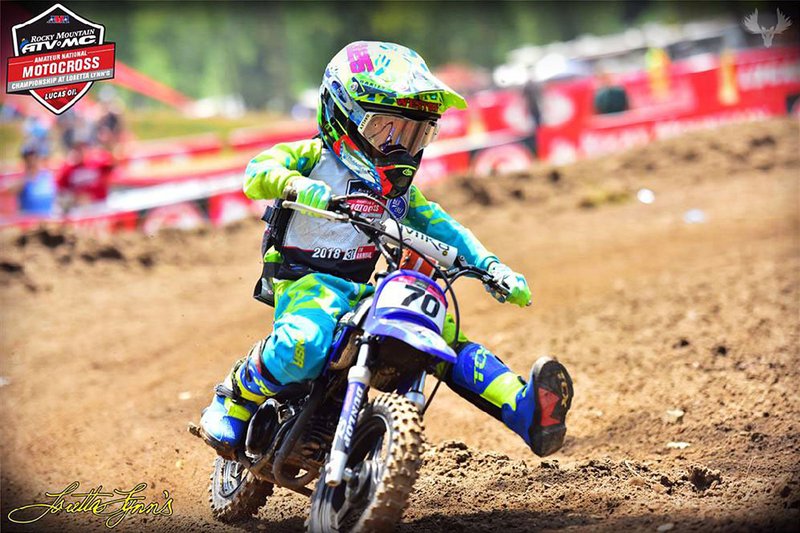 Jacksonville motocross racer Weston Fryar, 7, enters a turn at the AMA National Motocross Championships in Hurricane Mills, Tenn., earlier this month. Weston finished 10th overall in his class.
Off the start, Weston Fryar was looking good.
It was Aug. 3 and the Jacksonville motocross racer was in about fifth place heading into the first turn during the American Motorcyclist Association's Amateur National Championships in Hurricane Mills, Tenn.
He'd finished 11th and 5th, respectively, in his first two races -- "motos," in racing jargon. He needed to finish in 14th or better in the third moto to make his goal of at least a Top 10 overall at this, the biggest race of the year. His competition included 41 other riders from all over the United States.
But after that great start in moto three, Weston crashed in the second turn and ended up toward the back of the pack.
"I started in the middle and went full speed around the whole turn and then I crashed in the second turn," Weston says, back home in Jacksonville.
Picking himself and his blue Yamaha motorcycle up out of the dirt, he would have to make up a lot of ground to get to 14th and a Top 10.
Have we mentioned Weston is 7 years old?
GETTING THERE
It's a rainy July morning at the Fryar home a couple of weeks before the national championships. Weston's brothers, Wyatt, 3, and Walker, 2, are playing loudly in another room while sister Taylor, 9, is at gymnastics practice.
This is an active household. The garage is filled with dirt bikes and bicycles, and there's a balance beam used by Taylor -- the 2018 state vault champion -- in the sparsely furnished living room.
The parents of this nonstop brood are Mike and Lori, both 38. Mike grew up in Jacksonville, graduated from North Pulaski High School and joined the Marines. He met Chicago native Lori in Las Vegas and the two eventually moved back to Arkansas and took over ownership of Zaffino's by Nori, an Italian restaurant in Sherwood owned by Mike's mother, Nori.
Mike had long been a dirt bike fan and even raced a little bit. When Weston was about 18 months old, Mike had him on a strider bike with no pedals, getting accustomed to moving around on two wheels. Next, Weston rode a small Oset electric motorcycle.
"We worked on fundamentals, but we had no idea what we were doing," Mike says.
Weston then moved up to a Yamaha PW50, a 50cc, shaft-driven minibike.
Mike told him that when he could ride his PW all the way around the now-closed Tony Wynn Memorial MX track in Sherwood they could go race. Weston, who was 4 at the time, made it around. And off they went.
"I think we got last place the first five or six times we went out," Mike says of those early races. "I remember him getting last place in that first one, and it was really muddy. Our bike was stuck on the track, and I pulled him off the track. We hugged each other, and the next weekend we just went to another race."
They weren't racing much in Arkansas, focusing instead on AMA-sanctioned events in Missouri, Texas, Oklahoma, Alabama, Tennessee and elsewhere.
"We've always gone to big races," Mike says. "Whenever we go to backyard or small races, it doesn't feel safe. There's not an ambulance on site, the track's not roped off. When you go to the AMA races, there's a helicopter and two ambulances. It feels relatively safe and organized."
MISTER CONSISTENT
A typical race day finds Weston motoring through three to six and sometimes up to nine motos, and his overall place is an average of his moto scores. He also races more than just the 51cc (ages 4 to 6) Shaft Drive Limited class. For those divisions, 4-6 Limited and 4-6 Special Limited, he rides his Cobra Jr. and Cobra P3 bikes.(Weston turned 7 in March, but he is eligible to race in the 4- to 6-year-old class because he was still 6 on Jan. 1.)
Motos can last 8 to 10 minutes. At the national championships, there are three motos stretched over three days with each moto lasting 15 minutes plus two laps.
What's it like on the starting line, waiting for the gate to drop, with the noise of 40 other bikes revving up?
"I'm, like, a little scared and I kinda get real nervous," says Weston, who enters the second grade this fall at Immaculate Conception Catholic School in North Little Rock. "When I take off I get a little more excited."
By his second year, Weston was moving up and finishing midpack, Mike says. He attended the national championships as an alternate and actually got to race. His steady finishes landed him 21st overall.
"At Loretta's last year, he was Mr. Consistent," Michael says. "I was amazed at how calm he was and how the event, which is really big, didn't seem to get to him."
Wait. Did he say Loretta's?
He did. The annual amateur national championships are held on a ranch owned by country music legend Loretta Lynn, and the event is known among the amateur dirt bike racing crowd simply as Loretta's.
Thousands of hopefuls come from all parts of the United States and beyond to compete in more than 30 different classes each summer for six days at the ranch, where future champions like Ricky Carmichael, Jeff Emig, James Stewart Jr., Jeremy McGrath and others raced before turning pro.
To compete at Loretta's, racers first must qualify in the Top 8 at area races and in the Top 6 at regionals.
"It's insane," Mike says of the atmosphere. "It's like Sturgis, NASCAR and Woodstock had a baby."
The vibe is family friendly, Lori says, not only at Loretta's but at all the races on the amateur circuit.
"It's a big family sport," Lori says. "Taylor has made so many friends. She loves going. We've all made a lot of new friends."
"It almost feels like a refugee camp," Mike adds. "People are doing laundry, dads are letting me borrow parts. In Texas I worked on this other guy's kid's PW. I get his PW running and the next day, we can't catch him."
Typically, the Fryars take their camper when they go to races and make a family weekend of it, albeit a weekend with lots of dirt and the maintenance of moving parts involved.
"The whole sport is either hot and dusty or cold and muddy," says Mike, who is also Weston's mechanic. "The generator's down, the air conditioner isn't working. We once drove seven or eight hours [to a race], the race started and we broke down in the second turn. That was my fault. We'd come all this way and we were pushing the bike off the track."
At Loretta's this year, Mike's dad, Gary, had to fix the air conditioner on the Fryars' van.
But those are times for family bonding, on and off the track.
"When you're together as a family in a motor home in the pouring rain in the middle of a field you get a little camaraderie going on," Mike says with a laugh.
It's not a cheap sport, but the Fryars scrape by, maintaining the restaurant with help from Mike's parents and keeping Weston supplied with gear from sponsors like DCX Boots, Oakley, EVS Knee Braces and Arkansas Yamaha in North Little Rock.
"They are great folks," says Rich Cowell, owner of Arkansas Yamaha. "They're a super nice family, and they were looking for someone local to help him out. We heavily discount his bikes and parts and accessories. We try to give them a bit of a leg up so that it's not so expensive."
IN SHAPE
Dirt bike racing is surprisingly physical, so along with mechanic and dad duties, Mike is Weston's trainer.
At just under 4 feet tall and 48 pounds, Weston is muscling his 75-pound PW50 through deep ruts and over energy-sapping bumps and jumps, often in the blistering heat while wearing a helmet, goggles, boots, gloves and other protective gear.
"[Racers] probably stand up and sit down 150 times in one race," using their legs as secondary shock absorbers on rough tracks, Mike says.
"When you stand up on your bike, it's not as bumpy when you go over bumps," Weston says from beneath a large, flat-billed cap.
To train, Mike and Weston ride bicycles together, with Weston wearing a monitor to keep tabs on his heart rate zones. Weston logs training laps on his dirt bike in the Fryars' backyard, also while wearing a heart rate monitor and working on riding technique and fundamentals.
They even practice picking the bike up after a tip over.
"I sit the bike down and then do pushups for a minute, and then I have to get my bike back up as fast as I can and start it," Weston says.
Over the summer, he attended camps in Missouri and Texas, where he was coached by former professionals like Ryan Hughes and Kyle Regal and also by Colleen Millsaps, mother of ex-pro Davi Millsaps and owner of Millsaps Training Facility in Georgia.
The training and racing experience has paid off. In the three years he has been racing, Weston has seen more than 300 starts, or "gate drops," Mike says. The Fryars traveled a lot this spring, competing at Loretta's area qualifiers where Weston won some races by 20 seconds.
It all sounds rather serious, but Lori and Mike emphasize the fun part of racing rather than a win-at-all-costs approach.
"Weston is not the type of child that could handle us yelling at him 'Do more,'" Lori says. "Our motto is we want to have fun, we want to be safe and we want to be competitive."
"I've met a lot of dads who are all about winning," Mike adds. "It's not all about winning for us. What I've always done is phrase it as a question to Weston. Do you want to ride? Do you want to race this weekend? And he always says yes. He's never told me no."
LORETTA'S 2018
After last year's 21st place as an alternate and with another year of confidence-building race experience, a Top 10 at Loretta's was a reasonable goal for Weston this year, Mike says.
Having earned a spot through area qualifiers, Weston went 5-5-5 against 37 other riders over three motos at the Muddy Creek, N.C., regional to gain a place in the 4-6 shaft-drive class at Loretta's.
At Loretta's, he finished 11th in his first moto, after fighting his way through the pack from about 18th after the start, Mike says.
"We reset and the next day, Aug. 2, was the best motocross day we've ever had," Mike says. "Everything went great. He rode in fourth for most of the race and finished in fifth."
Weston's goal of a Top 10 was in reach -- if he could finish 14th or better in the third moto. But then he crashed in the second turn.
He remounted and rejoined the race even though his handlebar was bent one way, his front fender was bent the other way and his throttle cable was damaged.
He made some passes, then crashed again.
"It was a little bit worse because that's when I hit my head real hard," Weston says of the second crash.
He remounted again and charged, making as many passes as he could. When the checkered flag dropped, Weston was 14th, good enough for 10th overall.
"I was about to have a heart attack," Mike says. "It was such an intense week. He could have given up and we still would have been happy with the week."
Officials cleared Weston of any head injuries, Mike said.
Back home, with his Top 10 trophy from Loretta's to add to his growing collection of race hardware and his Yamaha bent from his crashes, Weston says he's not ready to take a break. His next race is in October at Ponca City, Okla.
"I don't think I'm gonna take a little time off," he says. "I'm gonna keep riding."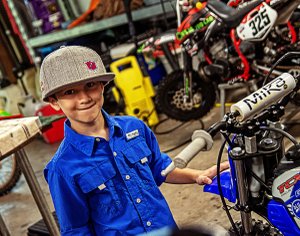 Photo by Cary Jenkins
Weston Fryar shows off his Cobra minibikes in the garage of his family's home.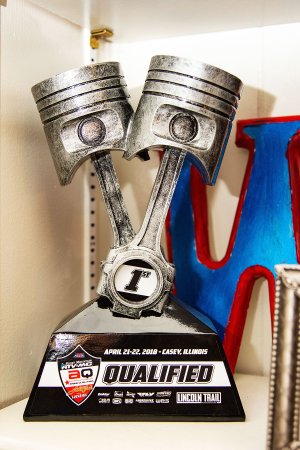 Photo by Cary Jenkins
This is one of Weston Fryar's first-place trophies, from an April event in Illinois.
ActiveStyle on 08/13/2018
Print Headline: The motocross kid: 7-year-old Arkansan is dirt bike champion in the making
Sponsor Content
Comments