Recently, during a visit to my dentist, Dr. Shawn Lee, he suggested I write a column about Rogers' legendary football coach, Gary "Blackie" Bond. Of course, I had heard of Bond, but I did not know much about him beause I am a relative newcomer to Rogers (1984).
I began my research and soon found out why Bond is truly a "legendary" coach. Everyone I contacted had nothing but praise for Blackie Bond and Sara, his wife. Bond and his family came to Rogers in 1959 as assistant to head football coach, Frank Tillery. He continued to serve in the Rogers' athletic department for the next 34 years, amassing an amazing 68 percent win record, with 190 games won and only 89 lost, and five undefeated conference seasons. Sara Bond also had a remarkable record in education -- she taught English at Rogers Junior High for 30 years and retired in 1989.
When the Rogers High School football hall of fame was established in 1999, Bond was one of the original inductees. His biography on the hall of fame web site reads: "Coach Gary 'Blackie' Bond is regarded as one of the most successful high school football coaches in the state and was a four-year letterman at the College of the Ozarks. He was named conference coach of the year six times, and All-Star coach three times. He was named Arkansas' outstanding football coach in 1978, and in 1979 was named head coach of the west All-Stars. Bond assumed the full time athletic director position at Rogers High School in 1988 and retired in 1993. Bond and his wife Sara have two children John and Lynn."
To get a better picture of the man, I reached out to some of the folks who played for him and knew him well. Here are some of the accounts of their experiences with Bond:
Jim Lingle: We were having a chalk talk during the week before a game late in the season. He diagrammed a play that the other team ran. He said it was a "Mickey Mouse" play that would never work against us and showed us exactly how to stop it. He then said we had a new play to use against this team and diagrammed it. It was the same play he had previously described as "Mickey Mouse." Someone asked him why it would work for us and not for them. He said, "Because we're wearing blue!"
There were also various signs all over the field house, such as "A quitter never wins and a winner never quits," and "You can't fly with the owls at night and soar with the eagles in the daytime." My favorite was the one over the equipment room, "We furnish everything but guts." I discovered that wasn't true, of course. They didn't furnish, size, strength, speed or talent.
Note: Jim Lingle is a Rogers' attorney who played for Bond on the 1964 undefeated conference championship team.
Garry Earls: It was my pleasure to play for Blackie Bond in the fall of 1964. That was a great year for Rogers football -- we went undefeated and beat really good teams in both Missouri and Oklahoma. We had some exceptional players -- I was NOT one of those great players. I was on the junior varsity team -- the cannon fodder that gave the real players, the 22 seniors, someone to help visualize what a player on the other side of the ball might look like if he were 120 pounds and slow.
One of the memorable players on that team was Jerry Don Winchester -- or just J.D. He was the biggest guy on the team and played defensive tackle. J.D. was an immovable object to us third-team tackling dummies. One day, the third-team offense was playing the first-team defense and Coach Blackie Bond was calling our offensive plays. Blackie called a cross-block play directed at J.D. Winchester. The theory of this play was to let the defensive tackle come through the line and the offensive fullback was supposed to block the defensive tackle and allow the right halfback to run thru the middle of the defense. Sure!
I was the third-team fullback, and it was my job to block J.D. We'd run this play several times before, and it had always ended the same -- I was like a bug on the windshield to J.D. But on this day, I had a plan -- I cheated. When I ran into J.D. on my block, I got really low and threw my arms around his legs. I was still a bug on the windshield, but I surprised J.D. and he wobbled. This allowed David Patton, the right halfback, to run under J.D.'s outstretched arms. The third-team dummies had gained 10 yards against the best defense in the state. Blackie went ... . Well, let's say he saw this as a teaching moment. I don't actually remember all the words Blackie used that day to describe J.D.'s miserable existence, but I'll never forget the last eight words -- "And we're gonna run that same play again."
Later that night, I played back that moment over in my head several times -- I had plenty of time. The nurse woke me every hour to check my vitals. The good news -- I got a new helmet. Beyond that, I played two more years for Blackie, and I loved every moment of it."
Note: Earls is a 1967 graduate of Rogers High School and retired as colonel from the Air Force.
Kim Dameron: In 1978, Bond had a great team, but needed a quarterback. Bentonville had a great quarterback, Kim Dameron, but he was the son of the Bentonville athletic director. Dameron's father changed jobs and moved his family to Rogers. According to Lee, Dameron was possibly the best athlete ever to graduate from Rogers High School. He only played one year for Rogers and was a starter for four years for Coach Lou Holtz at the University of Arkansas, then played professional football. Today, Dameron is the head coach at Eastern Illinois University in Charleston -- incidentally, the first team the Razorback play this year.
I moved to Rogers in 1978 from Bentonville. It was a tricky situation because Rogers and Bentonville were bitter rivals. Coach Bond was a great teacher, a great competitor and very professional. The team was like a family, and Coach very skillfully convinced the players to accept me and fit me in. We went undefeated in the conference but lost in the second round of the state playoffs. Coach Bond was everything that you could want in a head coach -- a great motivator, teacher and family man. He balanced family, coaching and his love of fishing.
Later, I talked to John Bond, Blackie's and Sara's son. The first question that I asked was, "How did Coach Bond get the nickname 'Blackie'?"
"His father gave nicknames to all of his children," John related. "Gary was given the nickname 'Blackie' because he was the only boy with dark eyes."
I asked, "What was it like having Coach Bond as a father and, later, as your coach?"
"I was in awe growing up, watching the practices and games as a young boy. It was a thrill playing football for my father. I believe that he was a little harder on me because I was his son. He was a great motivator. He could take average players and convince them that they could beat anybody -- and they did. We dominated Bentonville with Dad as coach with a record of 26-2. Bentonville even dropped Rogers from their schedule for a few years and refused to play us."
Roger Gregory: Coach developed an attitude of confidence in his players. We did not think about whether or not we would win a game, but how much would be the margin of victory. Once we played Subiaco, and the half-time score was 0-0. He gave us an attitude adjustment halftime talk, and we won the game 40-0. Hahaha!
Note: Gregory was the Mountie quarterback from 1968-1970, when the team was undefeateed conference champions.
From talking to friends and family, it appears that one of Bond's greatest strengths was his ability to motivate. Several players who played college and professional football said that none of their coaches could motivate and inspire like Coach Blackie Bond.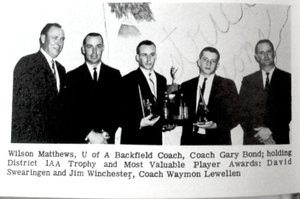 Courtesy photo Rogers High School coaches, team members and friends celebrate the school's 1964 championship team at the Mountie football banquet. This photograph was printed in the school's 1965 yearbook, showing (left to right) Wilson Mathews, University of Arkansas backfield coach; Coach Gary "Blackie" Bond; David Swearingen and Jimmy Winchester (holding the District 1-AA trophy and most valuable player awards); and assistant Coach Waymon Lewellen.
NAN Our Town on 08/09/2018