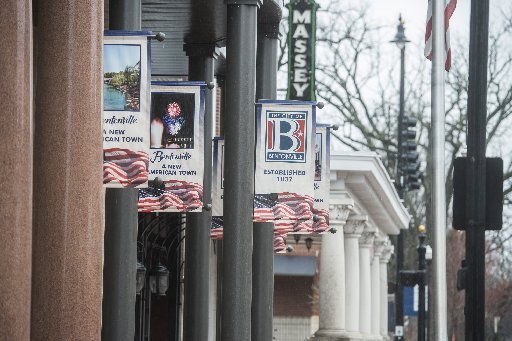 FILE PHOTO The Bentonville City Hall building.
BENTONVILLE -- Plans for a new hotel in the city's northeast will give visitors another place to stay.
The Planning Commission approved, 7-0, plans for a Home2 Suites by Hilton at its meeting Tuesday.
Commission action
Bentonville's Planning Commission met Tuesday and approved:
• A lot split at 701 W. Central Ave.
• A property line adjustment at Southwest B and Southwest Seventh streets.
• Permits for parking lots at 4405 S.W. Laurel Ave. and on Southeast Plaza Avenue.
• A sidewalk waiver at Fifth and Dickson streets.
• Development plans at 209 N.W. A St.
Source: Staff report
The 119-room hotel will be on 2.6 acres on Southeast Griffin Drive, which is between Interstate 49 and Northwest Arkansas Community College, south of Southeast 14th Street.
"It's good to see something going up out there," Jim Grider, commissioner, said during the commission's technical review meeting July 10.
Most recent development has been in and around downtown and the southwest area of the city.
The item was tabled at the commission's July 17 meeting as developers needed time to figure out the parking lot lighting.
Bentonville Lodging Group is the applicant. The company was created in February, has a Springdale address and lists Narendra M. Krushiker as its registered agent.
Bentonville Lodging Group requested a waiver from the perimeter landscaping and screening requirement, which commissioners also approved. It asked to be exempt from the landscaping requirements on the property's east side in order to provide a shared access drive to the adjacent property, according to the planner's report.
There are 294 Home2 Suites in the United States, according to the chain's website. The closest is in Fort Smith. KGH Hotels is building Home2 Suites at 1519 S. 48th St. in Springdale.
Commissioners also approved rezoning 502 S.E. C St. from single-family residential to downtown medium-density residential.
Nearby property owner Tom Gheen asked on behalf of him and surrounding neighbors what was permitted in the zoning. They were curious how many lots the property could be divided into and if there would be single family homes or multi-family homes built, he said.
The plan is to have three plats, each with a single-family home on them, said Jake Newell of Newell Development, who was representing the applicant, Inclusion Realty, at the meeting.
The homes will face the trail to the north and have a private, paved alley on the south side, Newell said.
Jon Stanley, city planner, said the zoning allows for two-family developments.
Commissioners also approved permits for Ashby Street Outdoor to install an 8-by-16-foot, one-sided digital billboard at Southwest 14th and Southwest I streets and a two-sided, 559-square-foot digital billboard at 1080 S.E. 14th Street, which is west of the intersection of Southeast 14th and Southeast J streets.
Ashby Street Outdoor will trade in 5,560 square feet of static sign area in order to install the digital boards, according to the planner's report.
NW News on 08/08/2018
Print Headline: Hotel planned for Bentonville's northeast
Sponsor Content
Comments