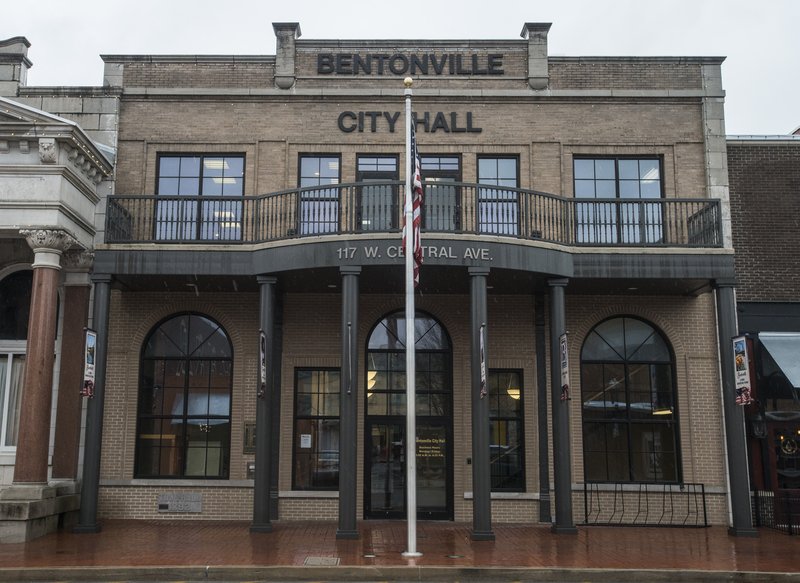 The Bentonville City Hall is shown in this photo.
BENTONVILLE -- The Bentonville Community Plan is a document to help city leaders make informed decisions as the city continues to grow, officials said Tuesday.
Houseal Lavigne, a Chicago-based planning, urban design and economic development firm, created the plan over the last three years.
Web watch
The Bentonville Community Plan is available online at www.bentonvillear.com/259/Benton-ville-Community-Plan. A survey about the concepts in the plan is also available online at hla.fyi/BentonvilleInput.
Source: Staff report
"We make it very clear it's not zoning. It's not regulatory. It's not an ordinance," said John Houseal of Houseal Lavigne. "It's a document that would serve as what I would call a foundation for decision making."
It will help guide growth for 15 to 20 years.
Representatives from the firm presented a draft to city staff Tuesday morning and then again to the Planning Commission, City Council and the plan's steering committee Tuesday afternoon. Information boards and copies of the plan were available for public review during an open house in the evening.
The 190-page plan establishes policies related to land use and development, transportation and mobility, community facilities, open spaces, environmental features, and image and identity.
The plan also includes smaller plans for five subareas -- downtown, downtown neighborhoods, Eighth Street, 14th Street and Southwest Regional Airport Boulevard/ Southwest I Street.
"It should help staff, elected, appointed officials, developers, residents make better decisions because they can use it as a reference document to evaluate proposals, prioritize capital improvements, consider zoning changes," Houeseal said.
The plan will help the Planning Commission, especially with the updated land use map it includes, said Rod Sanders, commission chairman.
The city's land use map is about a decade old. It categorizes land into uses the city would like to see in those locations, such as agricultural, residential, commercial or industrial.
It guides development but doesn't entail any specific or legal requirements such as the zoning code does, according to planning staff.
The updated map will help provide developers and residents a more clear idea of what should be developed where, Sanders said.
Sanders recalled when the commission approved the request to rezone two pieces of land in the city's southwest from agriculture to neighborhood commercial and medium-density residential in May.
Residents opposed the rezonings, arguing the land use map called for the land to be agricultural.
Some land use categories and zoning districts share the same label, such as agriculture, but their purposes are different.
Planning staff and commissioners said the map was in need of an update and one was coming in the Community Plan. The map recommendation was just that, a recommendation, and not bound by ordinance, they said.
When the City Council adopts the Community Plan, it will be done through resolution, not ordinance, said Mayor Bob McCaslin. A resolution expresses "good faith intent."
"We're not trying to tell the future [with this plan]," he said. "We're not signing a contract on what we're going to do or not do. It is intended ... to be a guide to help us make decisions that will hopefully produce the best Bentonville that's possible 15 to 20 years from now."
The community plan will cost $448,223. About half is being paid for with a $200,000 Walton Family Foundation grant.
The plan is set to go before the Planning Commission on Sept. 4 and the City Council on Sept. 11. Both meetings will include public hearings.
NW News on 08/08/2018
Print Headline: Community Plan draft presented
Sponsor Content
Comments