A look at a couple of recent openings:
• Mac and Ashley Murphy of M2 Gallery have long admired the art scene in Austin.
They share that admiration with their recently opened showcase of nine artists, including former Little Rock resident Emily Galusha, from Texas' capital city, "#ATX2LR," which hangs through May 11.
The show is kind of a mixed bag, but some works really stand out.
• A herd of vividly-colored, way-cool dinosaur planters ($39 each) by Plaid Pigeon greet visitors as they enter the gallery.
• Heidi Pitre's art on library cards, including S.E. Hinton's The Outsiders, L. Frank Baum's The Wizard of Oz (adorned with the film's ruby slippers, though in the book they were silver shoes); F. Scott Fitzgerald's The Great Gatsby and more.
• Cheryl Finfrock's cool painting An Inclination to Pause.
• Galusha's nostalgic and illustrative mixed-media Deer One and Appaloosa, along with an image of a gun with birds: Cactus Wrens Nesting, which shows two birds on a pistol with nesting material coming out of the barrel.
• Flip Solomon's limited edition prints are jewels, especially the fascinating Entanglement, depicting four of what appear to be addax (aka white antelope) crowding in at a bowl of food or water.
• Annalise Gratovich's etchings/hand-dyed chine-colle pieces are as exquisite as they are unique. To Awaken in Paradise is one of several fascinating prints.
While it is not part of the Austin-themed exhibition, it would be remiss if we didn't mention new photographic works by Ashley Murphy. Hope Gallery is especially startling, capturing a building exterior painted with a face that recalls a recent Vladimir Putin photograph and an array of graffiti and richly colored images on the walls.
"#ATX2LR," through May 11, M2 Gallery, 11525 Cantrell Road, Suite 918, Little Rock. Gallery hours: 10 a.m.-5 p.m. Tuesday-Saturday and by appointment. (501) 225-6257
• Artists Kellie Lehr and Yelena Petroukhina offer eye-catching new works at Boswell Mourot Fine Art through May 12.
Lehr was in last year's "Annual Delta Exhibition" at the Arkansas Arts Center with a stunning oil on canvas, Embedded Possibilities, which is being displayed along with Lehr's striking new work.
Petroukhina, who spent time last year at North Carolina's acclaimed Penland School of Crafts, used the opportunity to branch out in an intriguing new direction -- dwelling-themed sculptures, some of which can hang on the wall, in fired clay. Several have wooden bases, which the artist made during a woodworking class at the Arkansas Arts Center.
Lehr's canvases explore how people connect or disconnect from each other and the natural world due to digital media and the emergence of yearning for connection amid the disconnection.
Particularly powerful is Studio View, a striking landscape of oil on masonite which shows an intrusion of the digital world through the use of fractured imagery. It depicts a tense resistance to abandoning the digital to take refuge in the natural world. Sand Screen, oil on panel, again distorts what connection or disruption might mean.
Petroukhina's organic sculptures charm the viewer. The works with wooden bases, like houses on stilts, also convey a sense of spaciousness. Several of the works can also be disassembled into two or three parts. Clearly, Petroukhina has hit on a new inspiration. The works, upon closer examination, may also convey feelings about home and its closed or open nature.
New works by Kellie Lehr and Yelena Petroukhina, through May 12, Boswell Mourot Fine Art, 5815 Kavanaugh Blvd., Little Rock. Info: (501) 664-0030; boswellmourotfineart.com
BRIEFLY ...
• If you haven't seen it yet, you still have a week to check out Laura Raborn's lovely "Looking Closely" exhibit. It closes Saturday at Cantrell Gallery, 8206 Cantrell Road. Info: (501) 224-1335.
• "Southern Abstraction" has opened at Greg Thompson Fine Art, 429 Main St., North Little Rock; it hangs through June 16. Among the artists showing are Sammy Peters, Robyn Horn, Dolores Justus and Philip Morsberger. Info: gregthompsonfineart.com or (501) 664-2787.
COMING SOON
• "The Beyond: Georgia O'Keeffe and Contemporary Art," Crystal Bridges Museum of American Art, Bentonville, May 26-Sept. 3
This exhibition, which examines O'Keeffe's legacy and influence on contemporary art, will feature 35 of her artworks, including the classics Jimson Weed/White Flower No. 1 and Radiator Building -- Night, New York. An additional 53 works by 20 contemporary artists working with similar themes popularized by O'Keeffe will also be shown. They include works by Milano Chow, Negar Ahkami, Mark Lewis and Anna Valdez.
The exhibition is organized by Crystal Bridges and curated by the museum's curator of contemporary art, Lauren Hayes, and independent curator Chad Alligood. After the debut at Crystal Bridges, "The Beyond" travels to the North Carolina Museum of Art, Oct. 13-Jan. 20 and to the New Britain Museum of American Art, New Britain, Conn., Feb. 22-May 19, 2019.
For information, visit crystalbridges.org.
• "60th Annual Delta Exhibition," Arkansas Arts Center, Little Rock, May 25-Aug. 26
One of the hallmarks of the annual Delta Exhibition at the Arkansas Arts Center, which offers a glimpse at the work of contemporary artists in Arkansas and its border states, is its ability to raise eyebrows, startle the viewer and offer genuine thrills for art lovers.
The Delta, founded in 1958, returns to a format from early in its history. This year's exhibition is juried by three art professionals: Les Christensen, director, Bradbury Art Museum, Arkansas State University; Shea Hembrey, an American conceptual artist; and Brian K. Young, director, Baum Gallery, University of Central Arkansas. The three will select the $2,500 Grand Award and two $750 Delta Awards.
Award winners will be announced at the museum's members' opening May 24.
For information, visit arkansasartscenter.org
Email: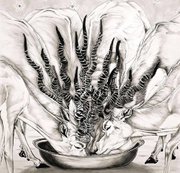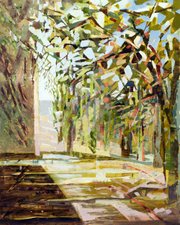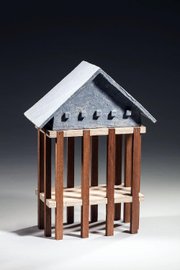 Style on 04/29/2018