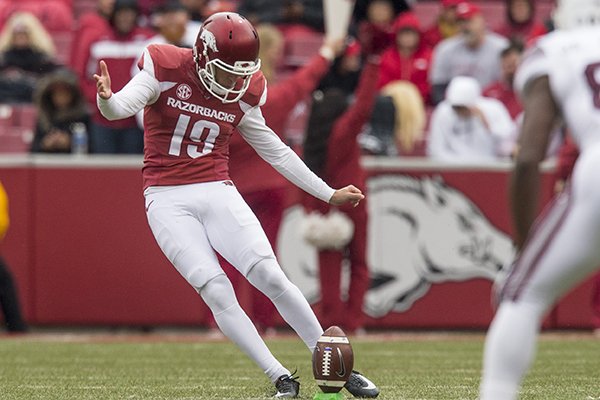 Arkansas' Connor Limpert kicks off during a game against Mississippi State on Saturday, Nov. 18, 2017, in Fayetteville. - Photo by Ben Goff
When the NCAA adopted the new rule that teams can fair catch a kickoff inside the 25-yard line, it set off a fiery debate that is the beginning of the end for kickoffs.
Someday soon, everyone will take possession at the 25 after situations that would have required a kickoff.
It is all about safety, and while it is better late than never, it might be time for the equipment industry to continue to step up improvements, especially in helmets, to cut down on concussions.
Things are changing, and the helmet that superstar quarterback Tom Brady -- who hasn't said he'll be back for this season -- wears is outlawed this football season because it doesn't meet stricter safety requirements the NFL has adopted.
If the NCAA does away with kickoffs, that could help the University of Arkansas, Fayetteville Razorbacks because they have struggled to find a kicker who can consistently kick it out of the end zone for the automatic touchback.
. . .
The busiest college athlete in the world Saturday might have been Oklahoma's Kyler Murray, who played quarterback in the Sooners spring game that afternoon before racing to the baseball stadium to start in center field in the Sooners' second game of a doubleheader against archrival Texas that night.
Murray, the only high school player ever to be named All-American in football and baseball by Under Armour, was a five-star recruit out of Allen High in both sports.
He led his high school team to three consecutive Texas football championships and signed with Texas A&M. Late in his freshman year, he took over as the starter but a month later announced he was transferring to Oklahoma.
Last year, he backed up Heisman Trophy winner Baker Mayfield, who transferred to OU from Texas Tech. Now Murray is competing for the starting job as well as starting for the Big 12-leading Sooners baseball team.
On Saturday, he completed 11 of 21 passes for 85 yards and ran for 35 yards. The wind was cold and gusting up to 30 mph.
Against the Longhorns, he went 0-5 but his day started at 9:15 in the morning with the football team's breakfast and ended at 11:30 that night. That's a long day for anyone, especially a two-sport athlete on the highest collegiate level.
. . .
Wednesday night is Bark in the Park night at Baum Stadium when the Arkansas Razorbacks host Texas Tech.
The Hog Pen -- the fenced area outside of left field -- will welcome one dog per ticket holder for an extra $10 admission.
There are some natural restrictions, such as being on a leash, signing a release and up-to-date dog shots.
This is the fifth year the Razorbacks have gone to the dogs for a night.
. . .
Last season, the Razorbacks basketball team had four freshmen and all were from Arkansas.
The latest class, which is now up to seven, includes three homegrown players in Ethan Henderson, Little Rock Parkview; Desi Sills, Jonesboro High; and Isaiah Joe, Fort Smith Northside.
Other players are from Nevada, Texas, Florida and Oklahoma.
Without wanting to put pressure on any 18-year-old, the young man who might be of the most immediate help is Joe, who was the Democrat-Gazette All-Arkansas Preps boys Player of the Year and the Arkansas Gatorade Player of the Year.
The 6-3 shooting guard handles the ball really well, is an excellent passer, can play on-ball defense and of course shoots it.
Best news is he is unselfish. He committed almost two years ago to the Hogs so he didn't get a lot of offers, but he's a baller.
He's also a 4.0 student.
Sports on 04/19/2018
Print Headline: College kickoffs closer to getting the boot
Sponsor Content
Comments